Singapore is one of the most opulent and fashionable cities in the world. The swanky city/country at the lower tip of Malaysia in Southeast Asia offers a mesmerizing fusion of tradition and modernity making it an ideal destination for a two-day getaway.
If you are looking to spend 2 days in Singapore on your way to or from another destination in Asia, there are so many things to see and do during your brief visit.
From the futuristic skyline of Marina Bay to the rich cultural heritage of Chinatown and Little India, we'll guide you through the ultimate itinerary to make the most of your 48 hours in Singapore, ensuring you get a taste of its iconic landmarks, tantalizing cuisine, and unique charm.
About Singapore
Also known as the Lion City, Singapore is a dynamic and cosmopolitan island nation located at the southern tip of the Malay Peninsula.
Despite its relatively small size, Singapore stands as a towering example of what can be achieved through innovation and meticulous city planning.
Boasting a diverse, multicultural population Singapore is a blend of different cultures, languages, and traditions, with Chinese, Malay, Indian, and Western influences converging to create an inviting and inclusive city. In fact, it's diversity is one of the most interesting facts about Singapore.
The city-state is renowned for its stunning skyline, impeccable cleanliness, and sustainability.
Beyond its gleaming skyscrapers, Singapore offers a wide range of unique experiences that make it one of the best places in Asia for a family vacation.
From eating street food at bustling hawker centers to exploring botanical gardens and temples, you can pack a lot of fun into a 2 day Singapore itinerary.
BOOK A HOP-ON HOP-OFF SIGHTSEEING BUS TOUR IN SINGAPORE
How to get to Singapore
Although Singapore is one of the smallest countries in Asia, it boasts one of the best airports in the world. Because of this, getting to Singapore is remarkably convenient.
The most common way to reach Singapore is by air, with Changi Airport being a major international hub. It offers direct flights from numerous cities around the world, including New York, Los Angeles, and San Francisco in the US.
You can fly directly to Singapore from London, Frankfurt, Amsterdam, and Paris in Europe. Within Asia, you can fly directly to Singapore from Tokyo, Hong Kong, Bangkok, and Beijing, to name just a few of the nonstop routes.
If you're traveling from neighboring countries in Southeast Asia, there are often short-haul flights, or you can opt for overland travel by bus or train.
Finally, Singapore is also a popular cruise destination, and several cruise lines offer voyages to its modern and bustling port.
To speed up the arrival process and maximize your 2 days in Singapore, be sure to fill out your arrival card information online in advance.
When you first arrive, stop inside the Jewel at the airport to see the world's tallest indoor waterfall, among other things. This area of the airport, connected to Terminal 2 by a skybridge, is one of the best Singapore attractions in and of itself and is easiest to see upon arrival rather than departure.
How to get around Singapore
Once you arrive, Singapore provides efficient public transportation, including a comprehensive metro system, buses, and taxis, ensuring easy access to all its attractions without having to rent a car.
There is typically an MRT Station near most attractions, which makes navigating the city easy and quick.
Where to stay in Singapore
The area surrounding Marina Bay makes for the most convenient place to stay for 2 days in Singapore.
Choose any of the hotels along Beach Road, near City Hall, the National Gallery of Singapore, and Esplanade Theatres on the Bay. This puts you within walking distance to Gardens by the Bay, the Singapore Flyer, Chinatown and Arab Mosque.
For a hotel stay as luxurious as the city is, opt for Marina Bay or Raffles Hotel.
A few hotels in Singapore to consider during your 2 night stay:
2 Days in Singapore Itinerary Overview
Day 1
9am – Breakfast in Chinatown
10am – Wander through the streets of Chinatown
11am – Visit the Buddha Tooth Relic Temple
12pm – Explore Sri Mariamman Temple
1pm – Lunch at Lau Pa Sat in Clarke Quay
2pm – Marina Bay Sands SkyPark
4pm – Gardens by the Bay
9pm – Late Dinner by the Marina Bay
Day 2
9am – Universal Studios
4pm – Singapore Aquarium
6pm – Dinner along Arab Street
7:30pm – Sultan Mosque
9pm – Singapore Flyer
Detailed Singapore 2 Day Itinerary
Now that you have a general idea of what 2 days in Singapore looks like, here's a deeper dive into how you will spend your time and what you will see during this 2 day Singapore itinerary.
Day 1 of 2 Days in Singapore
Begin your first day in Singapore by heading directly to Chinatown. This is a great district to explore and have at least one authentic meal.
Chinatown
Start your day with breakfast at one of the famous hawker centers in Chinatown, like Maxwell Food Centre or Chinatown Complex Food Centre. Try some traditional dim sum or Singaporean-style coffee and kaya toast.
Chinatown Murals
After you indulge your taste buds, spend an hour wandering through the streets of Chinatown, one of the oldest neighborhoods in Singapore.
Pause to appreciate the well-preserved shophouses and the beautifully painted murals that tell the stories of the original Chinese immigrants that settled the district.
Buddha Tooth Relic Temple
As you roam through Chinatown, you will inevitably stumble upon the Buddha Tooth Relic Temple. Visiting this incredible, 4-story temple is one of the best things to do in Chinatown Singapore.
The temple boasts a grand prayer hall and a museum which contains more than 300 artifacts including a sacred relic believed to be the tooth of Guatama Buddha.
Sri Mariamman Temple
Another must-visit attraction located in Chinatown, the Sri Mariamman Temple is the oldest Hindu temple in Singapore. This colorful and intricately carved temple is not only beautiful but a fascinating cultural experience for those who are less familiar with the Hindu religion and rituals.
While the temple is a sacred place of worship for Hindus, it is open to visitors of all faiths and creeds.
Clarke Quay
After you've explored Chinatowns and its most famous temples, head to Clarke Quay for lunch at Lau Pa Sat. This historic hawker center is in the heart of the city. Here, you can enjoy foods from all parts of the world, but you'll definitely want to sample a variety of local dishes like Hainanese Chicken Rice.
The hawker center, which is basically a giant food court, is known for its lively atmosphere and a variety of dining options.
Marina Bay Sands Skypark Observation Deck
From Clarke Quay, it is just a short and pleasant walk along Marina Bay to the Marina Bay Sands Hotel complex. Visit the observation deck for a panoramic view of the city.
If you are a guest of this luxury hotel, you will want to fit in some time to relax by the famous infinity pool on the rooftop. If you aren't staying there, book tickets for the Marina Bay Sands SkyPark Observation Deck to get an unparalleled vantage point of the spectacular skyline of Singapore.
From its lofty height of 200 meters above ground, visitors are treated to breathtaking, 360-degree panoramic views of the city's glittering skyscrapers, bustling harbor, and iconic landmarks like the Singapore Flyer and Gardens by the Bay.
BOOK TICKETS TO THE MARINA BAY SANDS OBSERVATION DECK
Gardens by the Bay
After taking in the views from Marina Bay Sands, you'll spend the rest of your afternoon and evening at Gardens by the Bay. This botanic garden with its towering collection of 18 artificial trees is the most popular attraction in Singapore.
The gardens are free to walk around, but tickets are required if you want to walk along the Supertree Observatory or visit any of the greenhouses, like the Flower Dome, Cloud Forest, or Flower Fantasy.
The Flower Dome is the world's largest glass greenhouse and the Cloud Forest is an indoor replication of a tropical mountain, complete with a waterfall and mis that fills the air.
Stick around for the free evening light show at the Supertree Grove. The trees all light up and dance in sync to music. The show is roughly 30 minutes long and occurs twice each night at 7:45 PM and again at 8:45 PM.
BOOK TICKETS TO GARDEN BY THE BAY'S CLOUD FOREST, FLOWER DOME AND SUPERTREE OBSERVATORY
Marina Bay
Following the light show at Gardens By the Bay, head to Marina Bay for a late dinner. You will likely want to make reservations at one of the restaurants beforehand, as this is a popular district year round.
This iconic waterfront area is characterized by its stunning architecture. Choose patio seating to enjoy dinner with views of the skyline and bay.
After dinner, stop by Merlion Park on your way back to your hotel to see the iconic Merlion statue.
Day 2 of 2 Days in Singapore
If you are visiting Singapore with kids, your second day on your Singapore itinerary will be their favorite. On day 2, you'll head to Sentosa Island, which is an adventure-lover's dream destination.
Universal Studios Singapore
The main draw to Sentosa Island is Universal Studios Singapore. This world-class theme park offers a thrilling experience for visitors of all ages.
As the only Universal Studios theme park in Southeast Asia, it features a wide range of attractions and entertainment zones inspired by popular movies and television shows, like Transformers, Shrek, and Madagascar.
Beyond the rides, the park also has entertaining shows, and character meet-and-greets. It's the perfect place for a day of family fun in Singapore.
BOOK TICKETS TO UNIVERSAL STUDIOS SINGAPORE
Singapore SEA Aquarium
After a full morning and most of the afternoon at Universal Studios, check out one of the other attractions on Sentosa Island. The Singapore S.E.A. Aquarium is a mesmerizing underwater world and marine sanctuary where visitors can learn about the world's oceans and the different species that live in them.
With more than 1,000 species, from dolphins to sharks, and jellyfish, the aquarium is a delightful and educational experience for anyone who is fascinated by the mysteries of the deep sea.
BOOK TICKETS TO THE SINGAPORE AQUARIUM
Dinner along Arab Street
Although you will likely be exhausted after a full day on Sentosa Island, grab a taxi or take the metro to Arab Street in the heart of Kampong Glam in Singapore for a delicious feast of kebabs, shawarma, and other Middle Eastern cuisine.
This culturally rich neighborhood boasts both charm and heritage. After dinner, take a stroll along Arab Street's cobbled lanes and discover a treasure trove of eclectic boutiques, textile shops, and art galleries offering everything from traditional carpets and fabrics to contemporary artworks.
Sultan Mosque
At the corner of Arab Street and North Bridge Road, the Sultan Mosque, also known as Masjid Sultan, stands as a striking and historically significant landmark.
This magnificent mosque, with its distinctive golden domes and majestic minarets, is an architectural masterpiece that dates back to 1824, making it one of Singapore's oldest mosques.
Its intricate details and stunning Arabian-inspired design make it a captivating sight. The interior is equally impressive, adorned with vibrant carpets and intricate calligraphy.
Unlike many mosques in places like Morocco or the UAE, non-Muslims are allowed to enter the Sultan Mosque, even though it is a place of worship for the Muslim community.
Little India
After visiting the Mosque you have two options. You can head to the Singapore Flyer or Little India.
Little India is another ethnic enclave that celebrates the melting pot that is Singapore's heritage. This bustling neighborhood is a sensory delight, with its aromatic spice shops, vibrant textiles, and an array of authentic Indian eateries serving up delicious curries, dosas, and sweets.
Strolling through Little India, you'll encounter intricate Hindu temples like Sri Veeramakaliamman Temple, adorned with ornate sculptures and vibrant deities, like the temple in Chinatown.
You'll also find lively markets, filled with everything from intricate jewelry to traditional saris, making it a fantastic place for shopping and experiencing the essence of Indian culture.
Singapore Flyer
If you have extra time and want to experience breathtaking views of the city at night, consider visiting the Singapore Flyer, one of the world's largest observation wheels.
The Singapore Flyer is an iconic attraction that stands at a height of 165 meters (541 feet).
As you board the spacious, climate-controlled capsules, the slow and smooth rotation of the Flyer takes you on a journey around the Ferris Wheel lasting approximately 30 minutes.
This leisurely spin offers a unique perspective of Singapore's renowned landmarks, including the Marina Bay Sands resort, the shimmering waters of Marina Bay, Gardens by the Bay, and the historic districts nestled along the Singapore River.
FAQs about Spending 2 Days in Singapore
If you're planning a 2 day Singapore itinerary here are a few frequently asked questions about the Lion City.
How Many Days are Enough for Singapore?
If you're on a tight schedule or just passing through, you can see some of Singapore's highlights in a day or two.
If you have 2 days in Singapore, focus on iconic attractions like Marina Bay Sands, Gardens by the Bay and Chinatown on the first day. Then spend the second day on Sentosa Island where you can visit Universal Studios and some of the other best attractions to visit in Singapore with kids.
However, you'll want to allow yourself at least 3 or 4 days in Singapore if you want to visit some of the city's incredible museums, like the National Museum of Singapore, or visit the Singapore Botanic Gardens. The garden is home to the National Orchid Garden and is Singapore's only designated Unesco World Heritage Site.
Additionally, if you love to shop, you could easily spend a full day in the city's shopping districts like Orchard Road. So, plan your itinerary and the number of days you have based on your individual interests and what you want to see and do while you are there.
What is the best season to visit Singapore?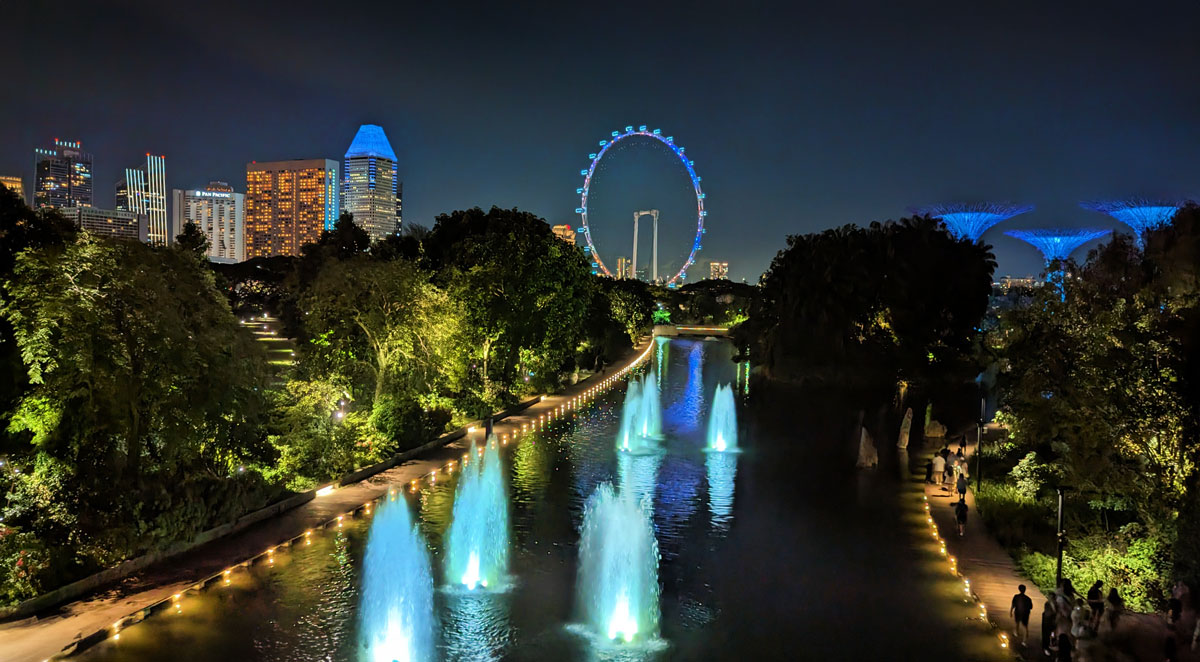 Singapore has a fairly consistent climate throughout the year, but there are some differences in weather and events during different seasons.
Dry season occurs during December through March. This is generally considered the best time to visit Singapore. The weather is relatively cooler and less humid during these months. However, this is also the peak tourist season, so you can expect higher prices for accommodations and more crowds.
During the months of April, May, October and November, you can expect occasional short and heavy rain showers, but they typically do not last all day.
Singapore's wet season occurs from the month of June through September. You are more likely to experience heavy rainfall and occasional thunderstorms during these months. Humidity is also high. However, we visited during this time and lucked out with perfect weather.
Do you have a question or comment about this 2 day Singapore itinerary? We'd love to hear from you! Leave your thoughts in the comments below.
Like it? Pin this 2 days in Singapore itinerary to save it for later!
Did you know…
When you make a purchase or book hotels, tours, or other travel services, through our links, we receive a small commission, at no extra cost to you. We only EVER recommend service providers, websites, or products we personally use when booking our own travels. Your support enables us to keep producing helpful travel content. Thank you!