The holiday season is a great time to visit Oklahoma City. Christmas in OKC means holiday events, neighborhoods covered in vibrant light displays, and unique festive activities in Oklahoma City.
About Christmas in OKC
While Oklahoma City isn't necessarily a snowy winter wonderland or a world-renowned Christmas destination, it is still a wonderful place to spend the holidays. With typical high temperatures in the 40s during the month of December, it is warm enough that you can enjoy outdoor activities if you bundle up, while still feeling chilly enough to get you in the holiday spirit.
This list of the best Christmas events in Oklahoma City, includes both free things to do during Christmas in OKC and activities that require tickets or admission.
Christmas in OKC | 15 Fun things to do in Oklahoma City at Christmas
As OKC locals and lovers of the holiday season, we have personally tried out most of the festive Christmas experiences in Oklahoma City for families. In fact, having lived in OKC for nearly a decade, we've done just about all the fun things to do in Oklahoma City with kids. But, if you are specifically looking for fun things to do at Christmas time in OKC, we've compiled a guide to the best Oklahoma City Christmas events and activities to add to your list this holiday season.
Drive through Christmas in the Park in Yukon
One of the best free places to see Christmas lights in OKC, this Yukon holiday staple draws thousands of people each season to the western OKC suburb.
Christmas in the Park is both a drive-through Christmas lights display and a walk-through event, for those who want to get out of their car and walk below archways of lights and past larger-than-life holiday motifs. 
Walk through an illuminated garden at Myriad Botanical Gardens
Myriad Gardens is another place where you can stroll through a beautiful light display during Christmas in OKC. Beginning in late November and running through early January, the downtown botanical garden not only beautifully lit up, but hosts several festive events. During the holiday season, Myriad's Santa Claus Lane is a great place to bring kids (and pets! ) to meet the jolly bearded guy in the red suit. Although, you'll need to check their event calendar, as dates and special events vary by year. But the botanical garden is just one of the awesome attractions in OKC that make it one of the most underrated cities to visit in the United States.
Go Ice Skating at the Devon Ice Rink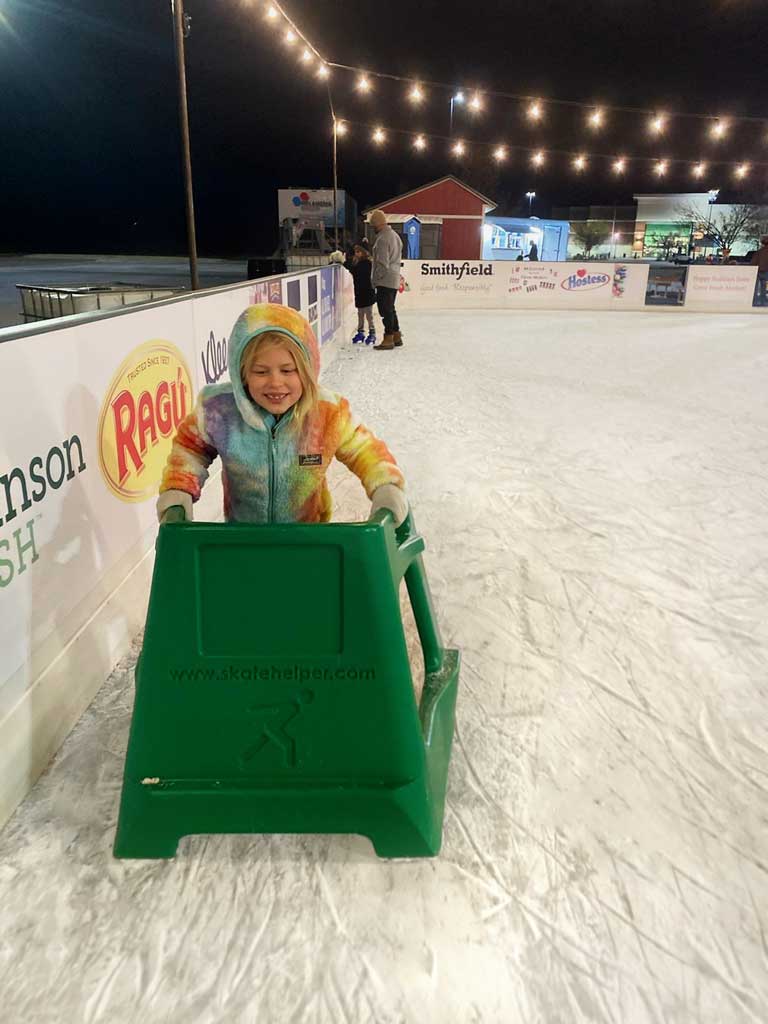 In the heart of downtown, the Devon Ice Rink is a fun place to test your talents at Ice skating. Located directly below the Devon Tower that dominated the city's skyline, the outdoor ice rink is fun for the whole family. You can rent skates and even rent skating trainers for young kids who might need a little extra help staying upright on the skating blades. Be sure to bundle up for this Christmas activity in Oklahoma City! Seeing as it is an outdoor rink, you'll want to have on a couple of layers, particularly on cold nights.
Celebrate Holiday in the Park at Frontier City
Do you enjoy your holiday spirit with a side of adrenaline? Holiday in the Park is the Christmas celebration at Six Flags Frontier City. During this December special event at the theme park, you can visit Santa, ride rides, watch festive shows, and eat s'mores and other fun winter foods.
There's something fun for all ages. Be sure to check the dates and hours before venturing to the amusement park in north Oklahoma City, as Frontier City is not open every day during the winter season.
Spend an evening at the Chickasha Festival of Light
A bit of a road trip from Oklahoma City, Chickasha is worth the 45-minute drive to visit this OKC area Christmas event. Each year, the town, located south of Oklahoma City, hosts a free holiday event, called Festival of Light. The festival includes light features, rides, food, and more which you can purchase individually.
While in Chickasha, be sure to check out the enormous Chickasha Leg Lamp, a 50-foot tall sculpture inspired by the tacky yet beloved novelty lamp in the classic holiday movie "A Christmas Story".
Go snow tubing at Bricktown BallPark
You don't have to live in a mountain town like Steamboat, Colorado or Jackson, Wyoming to play in the snow. You can do so each winter at the Chickasaw Bricktown Ballpark's Winterfest. From late November through the end of December, families can have a blast at the Triple-A baseball stadium riding down a gigantic snow tubing slope.
There are also lights, festive decor, and holiday movies playing on the jumbotron.
Take a Stroll down Automobile Alley
Perhaps my favorite one of OKC's holiday light displays, Automobile Alley is always aglow at Christmas time. Located just north of Downtown OKC, Automobile Alley is not only one of the best places to see Christmas lights in Oklahoma City, it is also one of the best places in OKC for quirky street art.
Each holiday season, the district drapes all the buildings in strands of colorful lights. From roof to pavement, each building is robed in a different vibrant set of lights, creating a rainbow of color as you drive or walk down the urban street. This is a must-visit Downtown in December in OKC.
See the zoo aglow at OKC Zoo Safari Lights
One of the best events hosted around Christmas in OKC takes place at the Oklahoma City Zoo. Safari Lights begins in mid-November and runs through January 1. Every night, the zoo is illuminated with larger-than-life light displays that are, fittingly, wild-life themed.
Visitors can either choose a drive-through experience or purchase walk-through admission tickets. The walking path winds through the Children's Zoo, butterfly garden and along the lake, featuring interactive light exhibits and musically choreographed light shows. It is not only a fun experience on a winter night, but it is filled with great photo ops that guests will love!
Visit Santa at North Pole City
North Pole City is an indoor winter wonderland. The massive Christmas store is fun to wander through and look at all the beautifully decorated Christmas trees. It's a festive place to visit and let kids pick out an ornament before you decorate your own tree.
And if you want to visit Santa, this magical store typically has a wonderful setup for pictures with Mr. Claus.
Ride the Polar Express Christmas Train
Albeit a pricey OKC Christmas event, the Polar Express is a memorable way to celebrate Christmas in OKC.
The one-hour trip to meet Santa boards at the Oklahoma Railway Museum, just south of the OKC Zoo. During the adventure, guests get to relive the classic children's story through a cast of actors on board the train. The performers engage with passengers, lead them in song, read a book, and even serve hot cocoa and cookies to kids who are decked out in pajamas while they all eagerly await for the main event – when Santa boards the train to greet families and hand out the first gift of Christmas to the kids.
Prices range from $42-$60 per person, but if you're looking for a bucket-list OKC Christmas activity, this is one that is very memorable for kids.
Attend the Nutcracker at the OKC Ballet
A Christmas time tradition for many families, the Nutcracker is a great way to introduce children to performing arts. The classic ballet enchants and entertains audiences at the Oklahoma City Civic Center Music Hall for three weekends each December.
Featuring choreography and dance performed by students from the Oklahoma City Ballet School and live music from the Philharmonic, the Nutcracker is a beloved holiday event and one of the best Christmas shows in OKC.
Take festive photos at a Christmas Tree Farm
There is nothing quite like visiting a Christmas tree farm to get you in the holiday spirit. Whether you are picking out a fresh cut tree or simply wandering through the rows of evergreens, you'll feel like you are in a Hallmark movie when you visit one of OKC's Christmas tree farms. Wells Christmas Tree Farm in Norman and All Pine Tree Farm in Yukon are both great options for festive family photos – whether professional or amateur.
Drive through the Midwest City Holiday Lights Spectacular
Looking for things to do on the east side of the Oklahoma City metro? The Midwest City Holiday Lights Spectacular is the free drive through holiday light display you'll want to check out. With more than 100 animated light features, the 1.5 mile long drive through boasts one million lights! Open each night from December 1st through Christmas, the Holiday Lights Spectacular draws thousands of cars filled with families each season. And if you prefer to walk through the event and take lots of pictures, go on Wednesdays, when drive-through access is closed to allow foot traffic only.
The crown jewel of the drive-through event is the 118 foot Christmas tree and the impressive tunnels of lights. While the event is free, donations are accepted to keep the annual tradition in Midwest City open and running year after year.
Walk along the canal in Bricktown
Bricktown is the city's premier tourism and entertainment district. For this reason there are so many things to do in Bricktown OKC year round. However, the downtown Oklahoma City district off Main Street, and its signature canal feels extra special during the holiday season. The trees on each side of the canal are beautifully wrapped in Christmas lights, while even more lights are draped across the canal. Whether you want to bundle up and take a stroll along the canal, take a canal boat tour underneath the lights, or go for a winter carriage ride along Main Street, Bricktown is one of the best places to visit in Oklahoma City at Christmas time.
Attend the Christmas Tree Lighting Festival
Located in the Mickey Mantle Plaza, directly in front of the Chickasaw Bricktown Ballpark, the annual Oklahoma City Tree Lighting Festival is a must-visit during the holiday season. But this event only takes place on one night in mid-November. The free festival includes fun activities like face-painting,caricatures, and pictures with Santa.
The 2-hour long festival also includes a variety of holiday performances, and of course, the official tree lighting ceremony. This annual tradition is definitely one of the best free Christmas activities in OKC.
Have a question or comment about any of these OKC Christmas events and activities? We'd love to hear from you! Leave your thoughts in the comments below.
Like it? Pin this list of the best Christmas in OKC events to save it for later!