The Lone Star State is teeming with unique experiences and adventures as vast as the state's horizon. From its major cities to its sprawling deserts, Texas is as diverse as it is big. As the second largest state in the USA, it seems only fair that Texas deserves its own bucket list.
So, with this list of Texas Bucket List places and things to do, you can embark on an unforgettable journey, experiencing the best of the Lone Star State.
Whether you're a born-and-bred Texan or a curious traveler seeking to experience the essence of this legendary land, we have compiled the ultimate Texas bucket list, filled with incredible activities and attractions that will make you fall in love with this captivating state.
About Texas
Texas is the second-largest state in the United States, both in terms of area and population. With a diverse landscape this massive state stretches for 268,597 square miles. That is larger than the entire country of France!
Within its borders, you'll find beaches along the Gulf Coast, vast deserts, and even mountains in the far western region of the state.
Texas is also home to some of the cities in the country (and some of the most underrated) such as Houston, Dallas, Austin, and San Antonio. Each city and region of this fascinating state has its own distinct personality and culture.
Texans take pride in their cowboy heritage, with ranches, rodeos, and Western culture deeply rooted in the state's identity.
And chances are, if you are on a Texas bucket list trip, you'll be greeted with the warm and welcoming hospitality that this larger-than-life state is known for.
40 experiences to add to your Texas Bucket List
I was raised in Texas and some might say Texas is still in my blood. Having called the state home for half my life, putting together a Texas bucket list was somewhat of a personal bucket list thing for me.
So, whether you're from Texas and want to explore more of your home state, or you are visiting from elsewhere and want to soak in all the best things to do in Texas, this bucket list for Texas is a good place to start.
Remember the Alamo
The Alamo, located in San Antonio, Texas, is a historic site that holds significant cultural and historical importance. Originally constructed as a Spanish mission in the 18th century, it later became a pivotal battleground during the Texas Revolution in 1836.
The Battle of the Alamo, where a small group of Texan defenders fought against a much larger Mexican army, is ingrained in the fabric of Texas history and symbolizes courage, sacrifice, and the fight for independence.
Although small and a bit underwhelming, touring this Texas landmark is a must for anyone who wants to learn more about the state's history.
Visitors can explore the mission's iconic façade, walk through the small museum, and learn about the events that unfolded within its walls.
The Alamo serves as a reminder of the indomitable Texan spirit and the enduring legacy of those who fought for freedom.
Tour the state capitol in Austin
Another iconic Texas landmark, the Texas State Capitol in Austin is the largest state capitol building in the United States. Like they say, everything is bigger in Texas!
Touring the state government building is a memorable experience where you will be surrounded by political history and architectural grandeur.
Designed in the Italian Renaissance Revival style, the capitol boasts stunning details, including intricate carvings, majestic columns, and a prominent dome that leaves visitors gazing up in awe.
On a tour of the capitol, you'll walk through the different chambers, admire ornate artwork, and learn about the state's legislative process.
As you move through the tour, your knowledgeable guide recounts the capitol's significance, from the early days of Texas' statehood to the present day political process.
Take photos in a field of Bluebonnets
Spring is perhaps the best time to visit Texas, especially if you want to scratch taking photos in a field of Bluebonnets off your Texas bucket list.
Every year around the month of April, vibrant blue wildflowers bloom across the state. These wildflowers, known as the Texas Bluebonnets, blanket empty fields, pastures, and even highway medians.
While you can find patches of Bluebonnets all over the state, the Texas Hill Country as well as the tiny town of Ennis, located south of Dallas, are perhaps best known for their Bluebonnet displays.
Ennis even has the Ennis Bluebonnet Trails, where you can drive down serene back roads surrounded by the beautiful flowers as far as the eye can see.
Love wildflowers? Also read about where to find wildflowers in Oklahoma.
Go on a winery tour in Fredericksburg
A self-guided winery tour in the Hill Country of Texas is a delightful way to spend an afternoon near Fredericksburg.
With its rolling hills, picturesque vineyards, and great kid-friendly wineries, the Hill Country offers a perfect setting for wine enthusiasts. Each winery in the Hill Country has its own unique charm and character.
Many wineries offer tastings where you can sample their handcrafted wines, learn about the winemaking process, and even see the behind-the-scenes operations and process.
In between tastings, take a moment to savor the stunning landscapes or explore the quaint town of Fredericksburg.
Have Tex-Mex along the San Antonio Riverwalk
The San Antonio Riverwalk is one of the most visited places in Texas. The picturesque urban walk winds along the banks of the San Antonio River.
The attraction in downtown San Antonio has a vibrant entertainment. Lined with lush greenery, vibrant flowers, and enchanting bridges connecting all the restaurants, cafes, shops, and galleries on both sides of the river.
While you can find a diverse range of cuisines at the various restaurants, you should make it a point to try one of the Tex-Mex restaurants, for a true taste of Texas.
Unlike the Mexican food you'll eat in Mexico City, Tex-Mex is fusion cuisine that combines elements of traditional Mexican cuisine with flavors and techniques from Texas.
Tex-Mex often incorporates ingredients like tomatoes, beans, flour tortillas, and lots of cheese!
Watch a live cattle drive at the Fort Worth Stockyards
The Fort Worth Stockyards is a national historic district that dates back to the mid-1800s. One of the best things to do at the Fort Worth Stockyards is to catch the twice daily cattle drive down the brick streets.
The district is the only place in the world where you can watch an actual cattle drive each day.
While you're there, you can meet the Fort Worth herd, visit the largest dance hall in Texas, or take the kids through a Cattle Pen Maze or on a vintage train ride.
Do some Prada window shopping near Marfa
One of the quirky stops on our Texas bucket list, the town of Marfa in far west Texas is an artistic haven where you'll find strange public art installations, and eccentric restaurants and lodging options.
A must-visit on any West Texas itinerary, Marfa is fun and unique, and one of the top small towns in America to visit.
Perhaps the most famous draw to Marfa is a faux Prada storefront located in the middle of the desert about 20 minutes outside of the small town.
The art installation designed to look like a small Prada store has attracted celebrities, like Beyonce, which has put the previously unheard of town on the map.
Have dinner at Dallas Reunion Tower
Reunion Tower, located in downtown Dallas, stands as an iconic symbol of the city's skyline and offers a panoramic view of the bustling metropolis below.
Rising 561 feet into the air, this architectural marvel provides visitors with a unique and memorable experience.
The observation deck, known as the GeO-Deck, offers breathtaking 360-degree views of Dallas, allowing guests to see landmarks, skyscrapers, and sprawling neighborhoods in all directions.
Dallas is known for being posh and cosmopolitan, as our Dallas travel guide will tell you.
So, for a fancy dining experience, Five Sixty by Wolfgang Puck, located within the tower, provides exquisite cuisine with stunning views of the city.
Hang out at the beach on South Padre Island
Padre Island is the largest barrier island in the world. This coastal paradise hugs the southern Texas shore along the Gulf of Mexico.
Spanning approximately 70 miles, South Padre Island offers plenty of things to do for beach lovers. With its soft sand and gentle waves Padre Island National Seashore beckons visitors to unwind and soak in the beauty of its untouched coastline.
With some of the best beaches along the Gulf of Mexico, Padre Island is a great place for sunbathing, strolling along the shore, or collecting seashells.
Adventurers can partake in thrilling water sports such as kayaking, kiteboarding, and surfing, or explore the island's diverse ecosystems.
Padre Island is also a haven for wildlife, with the Kemp's ridley sea turtles frequently nesting along its shores.
Climb the highest peak in Texas at Guadalupe Peak National Park
As the highest point in the state of Texas, standing tall at 8,749 feet, Guadalupe Peak offers a challenging but exhilarating trek.
The trail winds through rugged terrain with no shade from the Texas sun. However, the awe-inspiring panoramic views of the surrounding Chihuahuan Desert and the dramatic Guadalupe Mountains make every step worthwhile.
Reaching the summit, hikers are greeted with a breathtaking 360-degree view that stretches for miles, allowing them to soak in the majesty of the vast Texas landscape.
Unleash your inner Joanna Gaines at Magnolia Market
Magnolia Market, located in the city of Waco, rose to fame alongside their founders, Chip and Joanna Gaines. The couple hosts the hit TV show "Fixer Upper," a home improvement show often credited for the rise in the Farmhouse style in home décor.
Spread over several acres, Magnolia Market is both a market where you can shop for home goods, as well as a gathering place for families, with outdoor games and plenty of seating.
The renovated grain silos now house an impressive selection of home décor, furniture, and unique finds, carefully curated to reflect the Gaines' signature style.
The market's vibrant atmosphere is further enhanced by its beautifully landscaped grounds, featuring lush gardens, food trucks, and inviting picnic spots.
Visitors can enjoy a leisurely stroll, grab a delicious bite to eat, and browse the carefully crafted merchandise, all while immersing themselves in the Gaines' vision of creating a welcoming and inspiring space.
Tour the NASA Johnson Space Center
Touring NASA's Johnson Space Center in Houston, Texas is an exciting and educational experience that offers a firsthand look into the incredible world of human space exploration.
As the hub for human spaceflight training, research, and mission control, the Johnson Space Center is at the forefront of NASA's endeavors.
The Space Center offers a behind-the-scenes glimpse into the astronaut training facilities, where you can see mockups of the International Space Station and experience the sensation of walking in space through virtual reality simulations.
The highlight of the tour is undoubtedly the iconic Mission Control Center, where history was made during the Apollo missions. Standing in the same room that guided astronauts to the moon is a humbling experience.
Additionally, visitors can explore the extensive Space Center campus, which includes the Astronaut Gallery, Rocket Park, and the fascinating Lunar Sample Laboratory.
NASA's Johnson Space Center is just one of the reasons Houston is one of the most underrated US cities to visit.
Cross the Mexico border in a row boat in Big Bend National Park
This is one of the most unique Texas bucket list items because it actually involves leaving the state – and even the country! So, make sure you have your passport handy for this one.
The Boquillas Crossing, located in Big Bend National Park, connects the United States and Mexico. Situated along the Rio Grande River, this border crossing allows visitors to embark on a cross-cultural adventure.
To reach Boquillas del Carmen, one can take a short row boat ride across the river, then walk, take a donkey or a horse to the town for a small fee.
About one mile into Mexico, you'll reach the small village of Boquillas del Carmen. The village offers a chance to experience authentic Mexican culture, taste traditional cuisine, and appreciate local crafts.
You can also walk through the village with a local guide who will show you their church, school, grocery store, and power station. You can even buy homemade tortillas to take back with you to the United States!
Become a graffiti artist at Cadillac Ranch
Cadillac Ranch, located on Route 66 in Amarillo, is a quirky roadside stop that has become a must-see destination for travelers from around the world.
This unique installation features a row of ten classic Cadillac cars half-buried nose-first in the ground.
The vibrant and playful atmosphere of Cadillac Ranch invites visitors to become part of the art, encouraging them to bring their own cans of spray paint and leave their personal artistic expressions on the cars.
Over the years, visitors have embraced the interactive nature of the artwork, leaving their mark by spray-painting graffiti on the cars, resulting in an ever-changing kaleidoscope of colors and messages.
This blending of art, culture, and individual creativity has turned Cadillac Ranch into a symbol of freedom, self-expression, and the enduring spirit of the American road trip.
Eat authentic Texas BBQ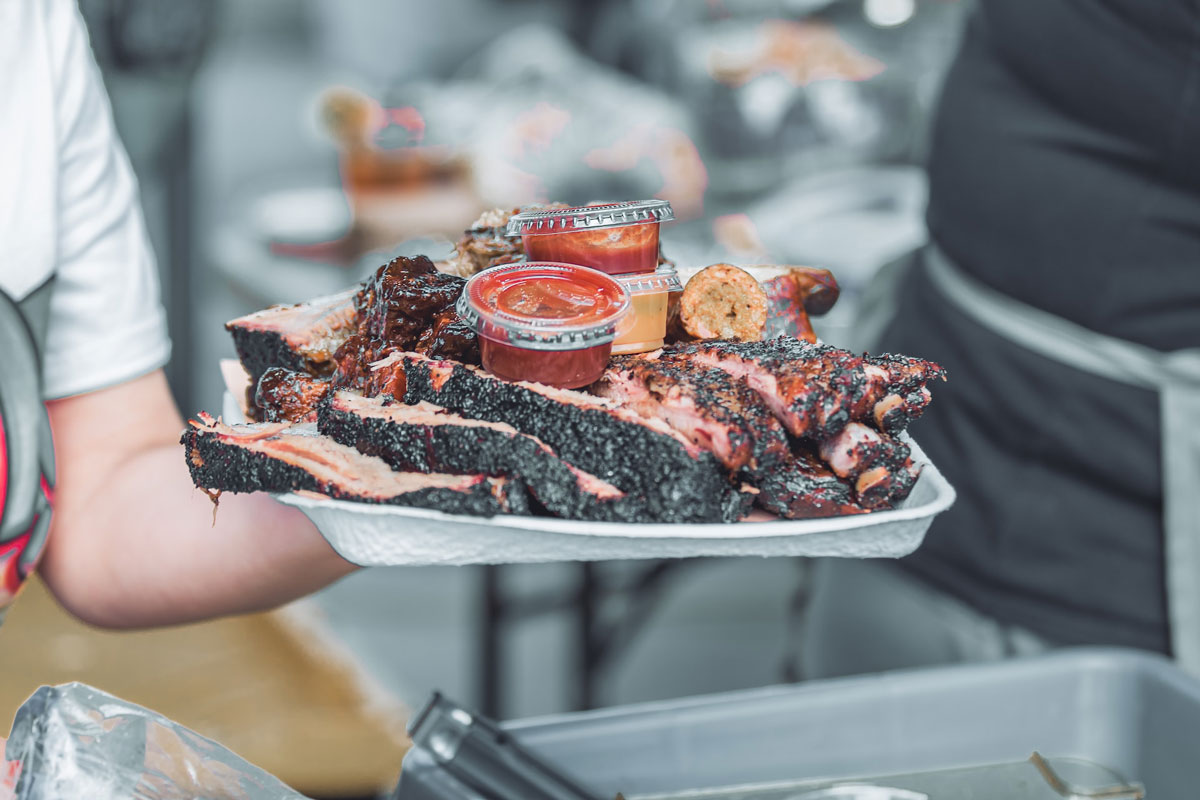 Texas barbecue is a culinary tradition deeply ingrained in the Lone Star State's culture and cherished by both locals and visitors. Known for its mouthwatering flavors and slow-cooked perfection, Texas barbecue is a true culinary art form.
Whether it's brisket, ribs, sausage, or chicken, the emphasis is on the quality and preparation of the meat. Texas barbecue is typically cooked low and slow, using a variety of wood such as oak or mesquite to impart a rich smoky flavor.
The result is tender, juicy, and flavorful meat that falls off the bone and melts in your mouth.
The barbecue joints across Texas are diverse and each has its own unique style, whether it's the Central Texas-style with its simple salt and pepper rub, the East Texas-style with its sweet and tangy sauce, or the South Texas-style with its Mexican influences.
Texas barbecue is not just about the food, it's also about the sense of community and camaraderie that comes with it. It's gathering around a picnic table, savoring the smoky aroma, and sharing stories with friends and family.
Go for a swim in Hamilton Pool
Hamilton Pool, located just outside of Austin, Texas, is a natural oasis that beckons both locals and tourists seeking respite from the summer heat.
Formed by the collapse of an underground river dome, the pool boasts a mesmerizing 50-foot waterfall cascading into the crystal-clear jade-green waters below.
Swimming in Hamilton Pool feels like entering a hidden paradise, surrounded by towering limestone cliffs and lush vegetation.
It's not just the swimming experience that makes Hamilton Pool worthy of a Texas bucket list; it's also the opportunity to explore the nearby hiking trails, observe unique plant and animal species, and bask in the breathtaking scenery.
Go to Luckenbach, Texas
Luckenbach, Texas may be one of the smallest, yet most famous towns in Texas.
This iconic small town nestled in the heart of the Texas Hill Country has a population of just three residents, but has gained worldwide recognition for its laid-back atmosphere and rich musical heritage.
Luckenbach's history dates back to the mid-1800s when it served as a trading post and gathering spot for settlers. However, today, it is a popular destination for music enthusiasts.
The Luckenbach Dance Hall, an old-time honky-tonk, is a legendary venue that has hosted renowned artists such as Willie Nelson and Waylon Jennings, the latter of which wrote a hit song about the town.
Visitors can stroll through the picturesque town and soak up the warm Texan hospitality that permeates the air.
Kayak through Caddo State Park
The gem of East Texas, Caddo State Park is likely not what you picture when you think of Texas.
Situated on the banks of Caddo Lake, this state park offers a unique kayaking experience amidst a captivating blend of lush cypress trees, serene marshes, and abundant wildlife.
As you glide along the calm waters, you'll be enveloped by the peaceful ambiance of the park, with the sounds of chirping birds and the gentle rustle of leaves creating a symphony of nature.
Paddling through the channels feels more like the bayous of Louisiana, making it one of the more unique Texas bucket list experiences.
Whether you're a seasoned kayaker or a novice looking for a fun outdoor adventure, Caddo State Park offers a serene escape and a memorable time in Texas.
Float the River
Floating the river is somewhat of a rite of passage for young adults who live or grew up in Texas. It is a quintessential summer pastime that captures the essence of relaxation and outdoor enjoyment.
Whether it's the Guadalupe River, the Comal River, or the Frio River, Texans and visitors alike flock to these waterways to escape the scorching heat and embrace a laid-back adventure.
Drifting lazily along the gentle current in a tube or a raft, surrounded by scenic landscapes and crowds of friends. Friends gather to share laughter, cold drinks, and good times while soaking up the sun's warmth and occasionally taking a refreshing dip in the cool, sparkling waters.
The riverbanks are often dotted with lively gatherings, from floating parties to riverside barbecues.
These gatherings typically involve a fair amount of alcoholic drinks, making this a Texas bucket list activity geared more toward adults only.
Learn about President Kennedy's assassination at the 6th Floor Museum
The 6th Floor Museum, located in downtown Dallas is a powerful and iconic institution that preserves the history and legacy of one of the most significant events in American history: the assassination of President John F. Kennedy.
Housed in the former Texas School Book Depository building, from where the fatal shots were fired on November 22, 1963, the museum provides a comprehensive and thought-provoking exploration of the events surrounding that fateful day.
Exhibits within the museum offer a detailed account of Kennedy's presidency, the social and political climate of the era, and the subsequent investigation into the assassination.
The highlight of the museum is the sixth-floor window, restored to resemble its appearance in 1963, offering a somber reminder of the tragic event.
Keep it weird on 6th Street or Congress in Austin
Known for its eclectic mix of art, music, food, and unique local businesses, Austin embraces a sense of quirkiness that sets it apart from other cities.
The city's "Keep Austin Weird" mantra embodies Austin's commitment to preserving its distinct character and supporting independent establishments.
Exploring the South Congress district reveals a treasure trove of funky shops, vintage boutiques, and one-of-a-kind eateries serving up unconventional fare.
The vibrant nightlife scene of both South Congress and 6th Street provides a chance to take in live music, catch an independent film, or drink a selection of craft brews and just as fun mocktails.
Hike Enchanted Rock
Hiking Enchanted Rock is one of Texas' remarkable outdoor adventures. This iconic pink granite dome rises majestically above the surrounding Hill Country, offering hikers a challenging yet rewarding trek.
As you ascend the rugged trails, you'll be rewarded with awe-inspiring panoramic views of the surrounding countryside, dotted with oak trees, cacti, and wildflowers.
The sheer size and geological significance of Enchanted Rock make it a fascinating destination for nature enthusiasts and geology lovers.
Stop for Kolaches in West, Texas
The town of West is a must stop on any road trip down Interstate 35 from Dallas to Waco, Austin or San Antonio. And there is one thing that makes the tiny town a popular stop – their famous kolaches. The small town has become renowned for its delectable pastries.
These Czech-inspired treats feature a soft and slightly sweet dough, often filled with a variety of mouthwatering fillings.
Traditional fruit fillings like apricot, cherry, or poppy seed are popular choices, while savory options like sausage, cheese, or jalapeno are also embraced by visitors.
Visitors flock to the local bakeries and pastry shops in West, which are always full of people eager to indulge in these delightful pastries and experience a taste of this Texas bucket list food.
Descend into the Active Pool at the Fort Worth Water Gardens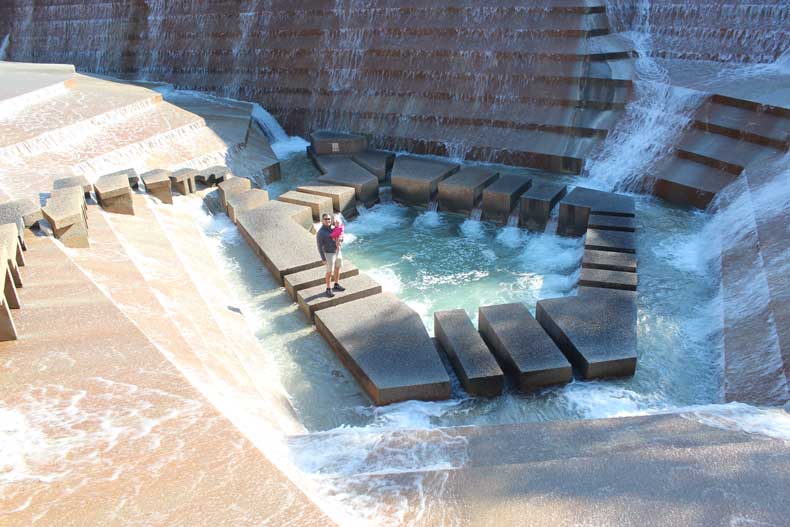 The Fort Worth Water Gardens is a place of both serenity and exploration.
Located about a 15 minute walk from the downtown area known as Sundance Square, the garden is an urban oasis where the sight and sound of moving water mixes beautifully with concrete terraces and perfectly places plants and trees.
The Active Pool is the highlight of this free public garden and one of the best things to see in Fort Worth.
Visitors can descend into the pool's various levels, feeling the mist on their skin as they are surrounded by cascading water on all sides.
It is strangely both relaxing and energizing at the same time!
Go snorkeling at Balmorhea State Park
Balmorhea State Park, located in West Texas, is a small desert oasis that offers a refreshing retreat for visitors.
Home to the world's largest spring-fed swimming pool millions of gallons of water flow into the pool from the San Solomon Springs. The water remains a constant 72 to 76 degrees Fahrenheit year-round, providing a refreshing respite from the scorching desert heat.
Apart from the pool, Balmorhea State Park also offers opportunities for hiking, birdwatching, and camping, allowing visitors to fully immerse themselves in the natural beauty of the area.
Order a 72 Ounce steak at The Big Texan in Amarillo
The Big Texan in Amarillo is a legendary steakhouse that has become a renowned landmark along Route 66.
The centerpiece of the restaurant is the famous 72-ounce steak challenge, where brave souls can attempt to devour a colossal steak, along with all the fixings, in under one hour.
This challenge has garnered worldwide attention and attracts daring eaters from far and wide.
Of course, if you don't desire to take the challenge, The Big Texan serves up a menu of steaks, juicy burgers, and other hearty Texas favorites.
Stay for last call at Gruene Hall
Like Luckenbach, Gruene Hall, located in the historic town of Gruene, Texas, another famous Texas destination for music lovers. Built in 1878, it is the oldest continuously operating dance hall in the state of Texas.
Stepping into Gruene Hall feels like taking a step back in time, with its rustic wooden floors, weathered walls, and vintage décor.
The hall's intimate setting and exceptional acoustics have attracted renowned musicians from various genres over the years, making it a hub for live music.
From blues and country to rock and Americana, Gruene Hall showcases an impressive lineup of talented performers, both emerging and established.
Gruene Hall is not just a place to experience incredible music, but also a cherished piece of Texas history that continues to captivate all who enter its doors.
Go thrifting in Denton
The northernmost suburb of DFW, is a treasure trove for thrifters and vintage enthusiasts.
In fact, scouring through the many thrift stores, consignment shops, and vintage boutiques is one of the best things to do in Denton.
Whether you're on the hunt for retro clothing, vintage home décor, vinyl records, or quirky collectibles, chances are you'll find it in Denton. The downtown area is particularly known for its eclectic mix of shops.
Denton has a hipster reputation, and as a college town home to the University of North Texas, there is an ever-changing inventory of pre-loved treasures, and budget friendly finds.
So grab your reusable shopping bags and embark on a delightful thrifting journey through the historic streets of Denton.
Watch a Dallas Cowboys game
Baseball may be America's pastime, but football is definitely Texas' pastime! So, when in Texas, catching a football game, whether high school, college or professional, is a must.
Of course, there is one Texas football team known worldwide – the Dallas Cowboys. Attending a Dallas Cowboys game, or at least touring Cowboys AT&T Stadium, should be on every Texas bucket list.
Even if you are not a fan of American football, experiencing the atmosphere at a game when the Dallas Cowboys are playing is as Texas as it gets!
Celebrate Christmas in Grapevine
Known as the "Christmas Capital of Texas," Grapevine transforms into a winter wonderland during the Christmas season.
With lots of festive activities and events, dazzling lights, and beautifully decorated streets, Grapevine is one of the best Christmas destinations in the world!
The charming downtown area becomes a hub of holiday cheer, with live entertainment, parades, and opportunities for holiday shopping.
And of course, one of the highlights of the Christmas season, families can embark on a journey aboard the Grapevine Vintage Railroad's North Pole Express or take the kids to visit Santa and Mrs. Claus.
Hike in Palo Duro Canyon
Palo Duro Canyon is a breathtaking canyon system located in the Texas Panhandle. The second largest canyon system in the United States, this magnificent canyon offers trails that cater to hikers of all skill levels.
Vibrantly colored stone and towering rock formations surround you as you trek through the canyon's rugged terrain. You'll even find a narrow slot canyon similar to the famous slot canyons in Utah.
Whether you're seeking a leisurely stroll or a more exhilarating adventure, Palo Duro Canyon provides an isolated experience in nature and sweeping views that will leave you with a greater appreciation for the Texas Panhandle.
Stop for gas and a bunch of other Stuff Buc-ee's
Sure, most people wouldn't consider a gas or petrol station to be bucket list worthy, but this isn't just any gas station – it's a Texas gas station!
Buc-ee's is a beloved convenience store chain in Texas that has captured the hearts of locals and visitors alike, becoming a cultural phenomenon in the Lone Star State.
Buc-ee's is a convenience store colossal in scale, offering an astonishing array of merchandise, snacks, and Texas souvenirs.
At Buc-ee's you'll find an extensive selection of Texas-themed products, from apparel to specialty food items. Even Buc-ee's own branded goods have become popular souvenirs for many first-time visitors to one of these massive stores.
So, when you make a pit stop to fill up the tank, plan to spend at least 30 minutes getting your fill of this Texas bucket list store.
Spend a night in a ghost town
Terlingua, Texas, is a tiny desert town situated just outside the scenic Big Bend National Park. The old mining town is now considered a ghost town, with only a few dozen residents.
This tiny town, with its abandoned mining shaft, haunting cemetery and decaying buildings, is one of the best places to visit in West Texas.
Although the town is no longer a thriving mining community, you'll still find a few charming locally owned businesses, like restaurants, a trading post, and even a hotel where you can spend the night in Terlingua.
Explore the Texas underworld at Natural Bridge Caverns
Natural Bridge Caverns, located near San Antonio, is a breathtaking underground marvel that enthralls visitors.
As one of the most extensive and accessible cavern systems in the state, Natural Bridge Caverns offers a captivating journey into the depths of the Earth.
Exploring this subterranean wonderland reveals an enchanting world of towering stalagmites, delicate stalactites, and unique formations that have been meticulously shaped over thousands of years.
Guided tours provide insights into the geological processes that formed these stunning formations, while also highlighting the rich history and legends associated with the caverns.
Eat at Whataburger
Whataburger may be a fast food joint, but eating at this iconic restaurant is Texas bucket list worthy.
The fast food burger restaurant originated in Texas and has become an iconic part of the state's food scene since its founding in 1950.
Texans take pride in this fast-food chain, known for its fresh and made-to-order burgers that are larger than life. The distinctive orange and white striped A-frame buildings are recognizable and nostalgic for many.
Besides burgers, the menu also features other Texan favorites like chicken strips, breakfast tacos, and Honey Butter Chicken Biscuits.
Soak up the sun and fun at the Galveston Pier
Spending a day at the Galveston Pier is a delightful summer tradition for many Texas families seeking a coastal escape without venturing out of the state.
Located on the Gulf Coast of Texas, Galveston Pier offers a fun, family-friendly atmosphere with its lively boardwalk, sandy beaches, and stunning ocean views.
You'll find thrilling amusement rides and classic carnival games as you stroll along the pier.
Stop for some freshly cooked seafood and listen to live music at one of the many local restaurants.
Afterwards, sink your toes into the warm sand, swim in the ocean waves, or simply relax under the shade of an umbrella. It won't take long until you see why this coastal attraction is Texas bucket list worthy.
Meet Big Tex at the Texas State Fair
Big Tex is the iconic symbol of the Texas State Fair. Standing tall and proud, he has been welcoming visitors to the fair in Dallas since 1951 with his larger-than-life presence.
The 55 foot tall figure is an embodiment of Texan hospitality and charm. Clad in his signature cowboy attire, complete with a ten-gallon hat and a warm smile, he even speaks, greeting guests with a booming "Howdy, folks"!
Over the decades, Big Texas has become a beloved, animated representative of the spirit of the Lone Star State.
Each year, fairgoers eagerly pose for photos in front of the Texas legend, bringing back nostalgic memories of previous state fairs – an annual tradition for many Texans.
Eat at Perini's Ranch Steakhouse
Located in the small town of Buffalo Gap, just outside of Abilene, Perini's Ranch is a legendary Texas steakhouse with foods so delicious the restaurant even catered for a White House picnic.
This family-owned restaurant has been delighting diners with its mouth watering cuisine since its establishment in 1983. Perini's is renowned for its Texas-style mesquite-grilled steaks, which are infused with a smoky, aromatic essence.
The rustic ambiance of the restaurant, adorned with vintage ranch décor and western charm, adds to the authentic dining experience.
In addition to their renowned steaks, Perini's menu showcases an array of delectable dishes such as hearty burgers, succulent seafood, and traditional Texan sides.
Go sandboarding at the Monahans Sand Hills
Located in West Texas, about 45 minutes from Midland and Odessa, the Monahans Sandhills offer a mesmerizing landscape that transports visitors to a desert oasis.
Spanning over 200 square miles, this natural wonder consists of rolling sand dunes that shift and reshape with the winds.
The golden-hued dunes stretch as far as the eye can see, inviting adventure seekers to explore their sandy slopes.
Whether it's sandboarding down the undulating peaks, embarking on a thrilling dune buggy ride, or simply basking in the serenity of the vast desert expanse, Monahans Sandhills State Park provides a desert landscape worthy of your Texas bucket list.
Looking for other states worthy of their own bucket list? Check out our Colorado Bucket List!
Have a question or comment about this Texas bucket list? We'd love to hear from you! Leave your thoughts (or any additions to our bucket list for Texas) in the comments below.
Like it? Pin this Texas bucket list to save it for later!