Winter in Jackson Hole, Wyoming is best known for skiing and snowboarding. The Jackson Hole Mountain Resort is one of the premier ski resorts in the United States, and boasts some of the most extreme ski runs in North America. But even if you aren't a skier or boarder, I would still recommend visiting Jackson Hole in winter.
You'll find plenty of other great winter activities besides skiing that families can do in Jackson Hole.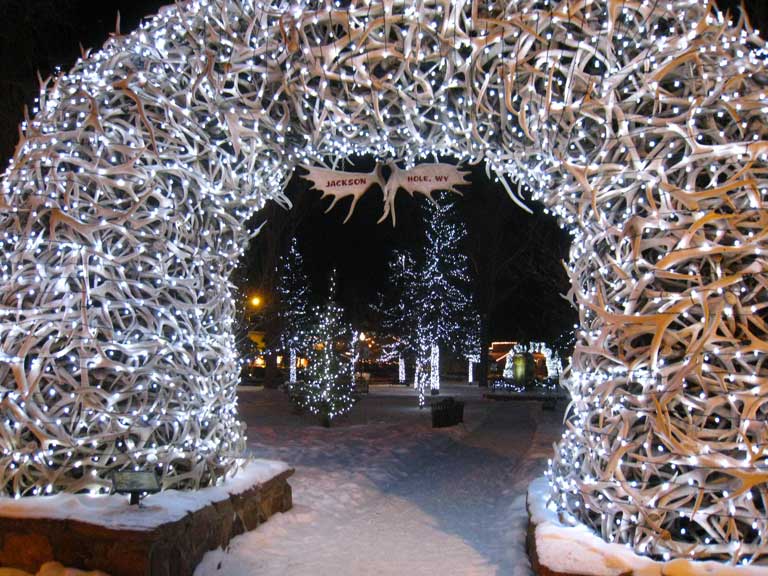 Winter in Jackson Hole, Wyoming
If you are looking for a winter paradise or a great Christmas destination, look no further than Jackson Hole.
Although summer is the most popular time to visit Jackson Hole, winter in Jackson Hole is magical! Snow capped mountains surround the valley while strands of white lights decorating the entire town of Jackson.
Here are our top five activities to do in Jackson Hole in winter, besides skiing.
Of course, you can also check out our guide to skiing and snowboarding in Jackson Hole if you are interested in hitting the slopes.
Snowmobiling in Yellowstone or on the Continental Divide
One of the best ways to explore the Jackson Hole valley is on a snowmobile.
Two people can ride together, and children must (and should) ride with a parent. I am on the petite side and had trouble operating the snowmobile on my own, so even teenagers would likely have issues controlling the snowmobile.
Snowmobile tours can take you into Yellowstone, to public hot springs for a quick swim, or up on the continental divide for some amazing views of the mountains and valley.
We had a blast snowmobiling, although, this is definitely not something you can do with toddlers or babies. It's better to leave them behind in the childcare at the base of the mountain.
Visiting one of the nearby National Park in winter is a great adventure, and doing so on a snowmobile only enhances the experience!
Snowmobiling is definitely more prevalent in Yellowstone than it is in Grand Teton National Park.
Dog Sledding
Dog sledding is another popular winter activity and one in which children of any age can participate. For kids, it is usually the highlight of a family trip to Jackson Hole.
The dogs are all well-trained and friendly and love to go on the sledding adventure. It really is fun for them, and you can tell.
We are dog lovers and would never recommend anything if we thought it was remotely cruel or inhumane, but we recommend dog sledding. These dogs have a great and fun life.
Although on the pricier side dog sledding in Jackson Hole in winter is an unforgettable experience, especially if visiting Jackson Hole with kids.
Sleigh Rides through the National Elk Refuge
This is another activity that children of all ages can enjoy, and a great way to get up close to the wildlife in Jackson Hole, Wyoming. Horse drawn sleigh rides through the National Elk Refuge.
The National Elk Refuge is located just outside of Jackson, between the town and the airport. It can give you a much closer encounter with the elk than I got in this picture.
The sleigh takes you safely next to a herd of thousands of elk on the protected land inside the refuge.
Snowshoeing in Grand Teton National Park
Snowshoeing is a fun activity that anyone can do, and it is one of the best ways to experience Grand Teton National Park in winter. You can find various snowshoeing trails to explore during the winter in Jackson Hole, Wyoming, particularly in Grand Teton National Park.
The trails range in difficulty level, so families even with small children will enjoy this activity.
If you can walk, you can snowshoe. For a more challenging workout, snowshoe in the fresh snow that hasn't been compacted yet and on steeper terrain. You'll be warming up, if not sweating, in no time!
Visit Snow King for tubing and a mountain coaster
Inside the town of Jackson you'll find a small mountain called Snow King. At Snow King you can find a variety of fun winter activities like tubing and a winter cowboy coaster. Kids need to be roughly 40 inches tall to participate (38″ for the coaster and 42″ for tubing).
It's a great and fun place to spend the day if your kids (or you) aren't quite ready to conquer the runs at the Jackson Hole Mountain Resort.
Other things to do in Jackson Hole in Winter
If you're looking for winter activities that are a little more relaxing and require less physical exertion, here are a few options for a more low-key Jackson winter vacation.
Stroll through a charming Wild West town
Jackson, Wyoming is a great town to just spend some time in, wandering down the covered, wooden sidewalks and ducking in and out of the local shops and stores.
There are a lot of great things to do in downtown Jackson, Wyoming from the theater to a stroll underneath the antler arches in the beautiful town square.
Go on a winter safari
You don't have to strap snowshoes to your feet to see the wildlife in Jackson Hole, Wyoming during the wintertime. For those who would rather see Wyoming's wildlife from the comfort of a vehicle, book a winter safari.
You'll have the chance to watch moose, bison, elk, and maybe even wolves in their natural environment. And you'll do it all with an experienced guide who can also fill you in on the region's fascinating geology and history.
Have waffles with a world-class view
Even if you are not skiing at Jackson Hole Mountain Resort, it is worth a trip up the tram to have some incredible waffles with an even more incredible view.
At the top of the tramway in Jackson, you can have breakfast or even order waffles for lunch at Corbet's Cabin while you stare out across the valley.
From the top of the tramway, you can see into neighboring states on a clear day.
Things to know about winter in Jackson Hole, Wyoming
Before planning a trip it is always good to do a bit of research on the climate, the cost, and the region's clientele. Here are a few important things to know about visiting Jackson Hole in winter.
It's really cold
Jackson Hole, Wyoming is one of the coldest places we've ever traveled.
The cold air tends to settle down into the valley and just stay there. There may be a good 20 degree difference between the top of the mountain and the valley floor. But you'll be fine as long as you dress for the conditions.
Even if you aren't skiing, you will want to invest in a few key apparel pieces that skiers wear to stay warm.
It's really expensive
There is a saying in Jackson Hole, Wyoming that the billionaires are driving out the millionaires. While the quote is referring to the real estate trend in Jackson, it is also an indicator that Jackson Hole is not cheap.
In fact, it is known as one of the most expensive ski resorts in the United States.
While it is possible not to blow your budget in Jackson Hole, you will want to be selective of your activities, your lodging, and your dining options.
It's a ski town
Whether you are a skier or just want to see this stunning part of the country covered in a blanket of snow, expect to find crowds of skiers each winter.
Jackson Hole is known as one of the United State's top ski resorts, after all. If you don't ski or snowboard, you can still have a great time in Jackson, just know you'll be having a great time with a bunch of skiers and boarders. 🙂
It is the Old West
Jackson Hole takes pride in its cowboy heritage. And you will see the area's Old West roots just about everywhere you go.
Western Wyoming was once the center of the fur trade in the Rocky Mountains, so don't be surprised to see animal furs of all kinds and taxidermy animals everywhere… in stores, in restaurants, and in hotels.
Like it? Pin this list of winter activities in Jackson, Wyoming to save it for later!
Have a question or comment about visiting Jackson Hole in winter? We'd love to hear from you! Leave your thoughts in the comments below.