Nara, Japan is a city like no other on the planet. Home to more than 1,000 sacred deer, the capital of the Nara Prefecture is a surreal experience for visitors. The city is best known for the famous Nara deer. The four-legged residents are the city's number one attraction. Visitors can experience a unique and ethical animal encounter with hundreds of protected deer that roam around Nara Park. But there are more things to see in Nara, Japan than the Nara Park deer. It is also home to some of the oldest wooden buildings in the world and the country's largest statue of Buddha.
When initially planning our Japan itinerary, we debated whether to include Nara as a stop along our route. But we are so glad we did because this delightful Japanese city was the highlight of our trip!
Nara is a must-visit for those planning a trip to Japan. In fact, is one of the top places to visit in Japan with kids, and along with neighboring Kyoto, it is considered one of the best places in Asia for a family vacation.
How to get to Nara, Japan
Nara, Japan is an easy day trip from either Osaka or Kyoto. It is approximately 30-45 minutes by train from each of the cities. It is also included on the JR Rail Pass, for those who purchase one. We flew into Osaka, and after spending some time there, we took a morning train to Nara and an evening train to Kyoto, where we spent three days.
One day in Nara is really all you need to see and experience the highlights, although there were definitely a few temples and shrines we did not have time to visit in our short time there. Once in Nara, getting around by bus is relatively easy and inexpensive. We bought day passes and were able to board and disembark freely at any bus station.
Things to see in Nara, Japan
Despite the city having more than 350,000 residents, Nara feels much smaller than many of the other cities in Japan that are over-crowded and busy. Nara is the former capital of Japan, and the history is evident by the sheer number of ancient temples and shrines within the city. In fact, there are seven UNESCO World Heritage sites in Nara. With so much to see and do, you could probably spend at least two days in Nara. Here are a few highlights and things to see in Nara, Japan.
Japan's Nara Park deer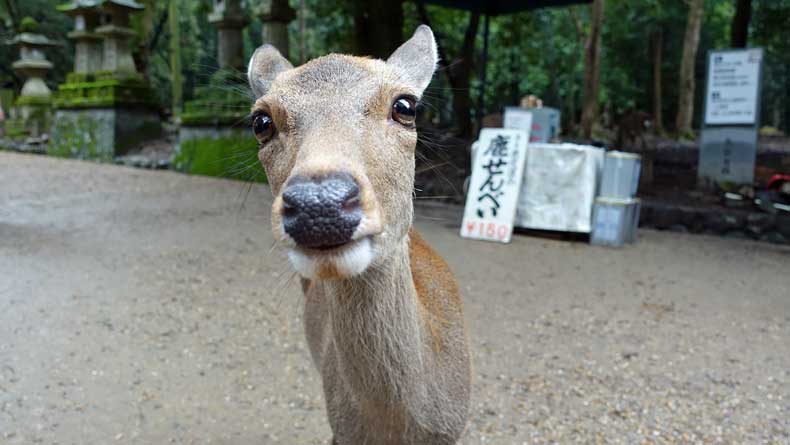 Perhaps the city's most famous residents are the Nara Park deer. Thousands of tame deer freely roam in and around the park. Nara Park offers animal-lovers a unique opportunity to get up-close and personal with one of the most graceful and gentle animals on the planet. The wild, yet tame deer roam the streets and walkways of Nara right alongside the locals and tourists.
The Nara deer have become so comfortable around people that they will approach you, let you pet them, and at times even curl up and snuggle next to you if they are feeling extra loving that day. The Nara Park deer are considered a national treasure in Japan and are protected as such. Meeting them should definitely be on every Japan bucket list!
For a small amount of money, you can buy deer crackers from a street cart and feed the deer. Be careful though, they can be a bit pushy! Although the deer are used to being around people, they may still buck, kick, or bite. They will also try to eat anything they think is food, that includes loose clothing, a small handbag, a map, or a train ticket hanging out of your your back pocket or purse.
Our 2-year-old daughter loved the deer, but we were extra vigilant and protective when they approached her.
Check out our video below feeding the deer in Nara Park.

Todaiji Temple
Located within Nara Park, the Todaiji Temple is one of the most impressive temples in the entire country. Inside you will find the largest statue of Buddha in all of Japan. Pictures truly do not do it justice. The statue inside the Great Buddha Hall is nearly 50 feet tall and towers over visitors greeting them peacefully as they enter.
Along with a pass to the Great Buddha Hall, you can purchase a pass to the Tōdai-ji Temple Museum, which houses many cultural treasures from throughout the temple's history.
Kohfukuji Temple
Kohfukuji Temple is just one bus stop or a short walk away from Nara Park. It is the second tallest pagoda in Japan. Walking the temple grounds is free. For a small fee (less than $10US), you can also visit the National Treasure Museum located on the property. Inside the museum, you will see some lovely Japanese art and statues, and learn more about the Buddhist religion, history, and the Japanese culture.
Kasuga Taisha Shrine
Kasuga Taisha Shrine is also located in Nara Park. It is one of the best preserved and most famous Shinto shrines. The Shinto people originally believed the deer were sacred messengers of the gods. Kasuga Taisha is best known for its 3,000 stone lanterns that line the walkway to the shrine.
The shrine itself also houses hundreds of bronze lanterns. When visiting the shrine, take note of the smaller shrines nearby, many of which are directly on the path.
While there are several other temples, shrines, and things to see in Nara, Japan, these few sights are all within walking distance of each other making it convenient for a quick day trip from Osaka or Kyoto. You will also find a shopping area and plenty of restaurants in the area. This merchant district is directly across from Nara Park and the bus stop where you will disembark.
Day trip to Nara, Japan – Is it worth it?
If you are considering a day trip to Nara, Japan to see the famous deer, it is definitely worth the short train ride. Seeing and feeding the Nara Park deer was a memorable and almost surreal experience. The beautiful temples and shrines were equally as impressive.
If you have a bit more time to spend, consider staying a night in Nara. Other things to see in Nara, Japan are the Yakushiji Temple, Toshodaiji Temple, Heijo Palace, Gangoji Temple, and the Horyu-ji Temple, which is the world's oldest wooden building.
Have you been to Nara, Japan? Leave us a comment and let us know your thoughts. What were your favorite things to see in Nara?
Like it? Pin this guide to seeing the Nara Park deer to save for later!