Nara, Japan is a city like no other on the planet. Home to more than 1,000 sacred deer, the capital of the Nara Prefecture is a surreal experience for visitors. For this reason, a day trip to Nara is a must if visiting either Osaka or Kyoto.
While Nara was once the ancient capital of Japan, the city is best known now for the famous Nara deer. The four-legged residents are the city's number one attraction and what makes a Nara day trip so appealing.
Visitors can experience a unique and ethical animal encounter with hundreds of protected deer that roam around Nara Park. But there are more things to see in Nara, Japan than the Nara Park deer.
It is also home to some of the oldest wooden buildings in the world and the country's largest statue of Buddha.
Our Nara Day Trip Experience
When initially planning our Japan itinerary, we debated whether to include Nara as a stop along our route. But we are so glad we did because this delightful Japanese city was the highlight of our trip!
Nara is a must-visit for those planning to travel to Japan. In fact, it is one of the top places to visit in Japan with kids, and along with neighboring Kyoto, it is considered one of the best places in Asia for a family vacation.
We flew into Osaka, and after spending some time there, we took a morning train to Nara and an evening train to Kyoto, where we spent three days.
How to get to Nara, Japan
Nara, Japan is an easy day trip from either Osaka or Kyoto. It is approximately 30-45 minutes by train from each of the cities. It is also included on the Japan Rail Pass, for those who purchase one. 
Additionally, there are luggage storage lockers at Nara Station for those who have their bags with them during their Nara day trip.
Nara Day Trip from Osaka
Getting to Nara from Osaka by train is straightforward and simple. If you're in the city center, head to Osaka Station, which is a major transportation hub in Osaka.
From Osaka Station, take the JR Yamatoji Line (also known as the JR Kansai Line) to Nara Station. The train ride takes approximately 50 minutes.
Once you arrive at Nara Station, you can easily book a public transportation day pass to explore the city and its attractions.
Trains run frequently on the JR Yamatoji Line, about every 10-15 minutes, so you generally don't need to worry too much about specific schedules. However, it's always a good idea to check the current train schedule to plan your trip.
Nara Day Trip from Kyoto
A day trip to Nara from Kyoto is equally convenient by train. From Kyoto Station, take the JR Nara Line to Nara Station. The train ride typically takes around 45 minutes. 
The JR Nara Line is a direct route connecting Kyoto and Nara.
Alternative Nara Day Trip Options
If you prefer a guided tour rather than a self-guided adventure, there are plenty of guided day trips to Nara and private tours that will take you to Nara from either Osaka or Kyoto.
A knowledgeable guide will take you around to the different things to do in Nara and take the stress of transportation out of the equation. 
Getting around Nara on a day trip
If you decide to do a self-guided day trip to Nara, getting around by bus is relatively easy and inexpensive within the city.
Nara Kotsu Bus is a local bus service that operates within the city and connects various attractions. There are different bus routes, and they can take you to places such as Nara Park, Todai-ji Temple, and other key points of interest.
We bought day passes and were able to board and disembark freely at any bus station.
The Kintetsu Nara Line is another railway option within Nara. It connects Nara Station to other parts of the city and provides access to places like Kofuku-ji Temple and Nara Deer Park.
Nara day trip itinerary
One day in Nara is really all you need to see and experience the highlights of this incredible city. Although there were definitely a few temples and shrines we did not have time to visit in our short time there, you won't feel like you missed out on too much if you only have time for a day trip to Nara.
Here is a one day Nara itinerary to follow during your day trip.
9:00 am – arrive in Nara
10:00 am – Tour Todai-ji Temple 
11:30 am – take a stroll through Nara Park and see the Nara Park Deer
12:30 pm – Visit the Kasuga Taisha Shrine
1:30 pm – Lunch near Nara Park
3:00 pm – Explore Kofuku-ji Temple and the Nara National Museum
4:00 pm – Head back to Kyoto or Osaka
Things to see in Nara, Japan
Despite the city having more than 350,000 residents, Nara feels much smaller than many of the other cities in Japan that are over-crowded and busy.
Nara is the former capital of Japan, and the history is evident by the sheer number of ancient temples and shrines within the city. In fact, there are seven UNESCO World Heritage sites in Nara.
With so much to see and do, you could probably spend at least two days exploring the city, but if you are visiting on a day trip to Nara, here are a few highlights and things to see in Nara, Japan.
Japan's Nara Park deer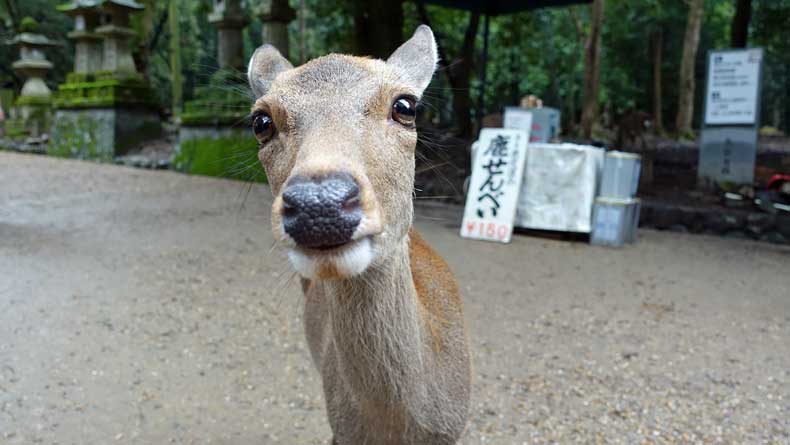 Perhaps the city's most famous residents are the Nara Park deer. Thousands of tame deer freely roam in and around the park.
Nara Park offers animal-lovers a unique opportunity to get up-close and personal with one of the most graceful and gentle animals on the planet. The wild, yet tame deer roam the streets and walkways of Nara right alongside the locals and tourists.
The Nara deer have become so comfortable around people that they will approach you, let you pet them, bow to you, and at times even curl up and snuggle next to you if they are feeling extra loving that day.
The Nara Park deer are considered a national treasure in Japan and are protected as such. Meeting them should definitely be on every Japan bucket list!
For a small amount of money, you can buy deer crackers from a street cart and feed the deer. Be careful though, they can be a bit pushy!
Although the deer are used to being around people, they may still buck, kick, or bite. They will also try to eat anything they think is food, that includes loose clothing, a small handbag, a map, or a train ticket hanging out of your back pocket or purse.
Our 2-year-old daughter loved the deer, but we were extra vigilant and protective when they approached her.
Check out our video below of our experience meeting and feeding the deer in Nara Park.
Todaiji Temple
Located within Nara Park, the Todaiji Temple is one of the most impressive temples in the entire country.
Inside, you will find the largest statue of Buddha in all of Japan – known as Daibutsu. Pictures truly do not do it justice. The bronze Buddha statue inside the Great Buddha Hall is nearly 50 feet tall and towers over visitors greeting them peacefully as they enter.
This ancient Buddhist temple, originally commissioned by Emperor Shomu in the 8th century, is a massive wooden structure that has been reconstructed over the centuries and remains one of the world's largest wooden buildings. 
Visitors are greeted by a pair of imposing wooden guardians at the entrance, emphasizing the temple's historical and architectural significance. Todai-ji Temple not only serves as a focal point for Buddhist worship but also as a symbol of Japan's enduring cultural legacy.
Along with a pass to the Great Buddha Hall, you can purchase a pass to the Tōdai-ji Temple Museum, which houses many cultural treasures from throughout the temple's history.
Kasuga Taisha Shrine
Kasuga Taisha Shrine is also located in Nara Park. It is one of the best preserved and most famous Shinto shrines. The Shinto people originally believed the deer were sacred messengers of the gods.
Kasuga Taisha is best known for its 3,000 stone lanterns that line the walkway to the shrine.
The shrine itself also houses hundreds of bronze lanterns.
The shrine's main hall, known as the Kasuga Grand Shrine, is adorned with intricate wooden carvings and exudes an ethereal charm that deepens the spiritual experience for visitors. 
As a UNESCO World Heritage Site, this sacred Shinto shrine not only preserves Japan's ancient religious traditions but also invites exploration into the tranquil beauty of its surroundings, making it a cultural and natural treasure in Nara.
When visiting the shrine, take note of the smaller shrines nearby, many of which are directly on the path.
You will also find a shopping area and plenty of restaurants in the area. The merchant district is directly across from Nara Park and the bus stop where you will disembark, and is a great place to grab lunch during your day trip to Nara.
Kofukuji Temple and Nara National Treasure Museum
Kofukuji Temple is just one bus stop or a short walk away from Nara Park. The temple's five-story pagoda stands 50 meters tall, making it the second tallest wooden pagoda in Japan.
Walking the temple grounds is free. For a small fee (less than $10US), you can also visit the National Treasure Museum located on the property.
Inside the museum, you will see some lovely Japanese art and statues, and learn more about the Buddhist religion, history, and Japanese culture.
Dating back to the 7th century, the Kofuku-ji Temple was originally established in Kyoto, but it was later relocated to its current site in Nara. As one of the powerful Seven Great Temples of Nara, Kofuku-ji holds immense cultural and historical significance. 
Aside from its distinctive pagoda, Kofuku-ji also features other notable structures such as the Central Golden Hall and the Eastern Golden Hall, both of which contribute to the temple's allure.
Day trip to Nara, Japan – Is it worth it?
If you are considering a day trip to Nara, Japan to see the famous Nara deer park, it is definitely worth the short train ride from Osaka or Kyoto.
Seeing and feeding the Nara Park deer was a memorable and almost surreal experience. The beautiful temples and shrines were equally as impressive.
If you have a bit more time to spend, consider staying a night in Nara.
Other things to see in Nara, Japan are the Yakushiji Temple, Toshodaiji Temple, Heijo Palace, Gangoji Temple, and the Horyu-ji Temple, which is the world's oldest wooden building.
Is one day in Nara enough?
One day in Nara can be enough to see many of the city's main attractions, especially if you focus on the central area around Nara Park and the major temples. A day trip to Nara allows you enough time to wander through Nara Park, where you can encounter the friendly deer that roam freely. 
You'll also have time to visit Todai-ji, a UNESCO World Heritage site and one of Japan's most famous temples and explore Kofuku-ji, another ancient temple with a 5-story pagoda, and the Kashuga Taisha Shrine.
If you're interested in the history and art of Nara, consider a visit to the Nara National Museum, which features a collection of cultural treasures.
While one day is enough to see the main attractions, keep in mind that Nara has a rich cultural and historical heritage.
There are several other temples, shrines, and things to see in Nara, Japan, but the few sights above are all within walking distance of each other making it convenient for a quick day trip to Nara from Osaka or Kyoto.
Where to stay in Nara, Japan
If you decide to spend more time in Nara, the Naramachi district is a great place to stay for a night or two. The old merchant district is charming with narrow streets, traditional houses, and small shops.
Here are a few options for hotels and lodging options in Nara:
VISITING ON A DAY TRIP FROM KYOTO? CHECK OUT OUR RECOMMENDATIONS ON WHERE TO STAY IN KYOTO
Final thoughts on a day trip to Nara
In conclusion, a day trip to Nara, Japan offers a captivating journey into the country's rich history, culture, and natural beauty.
From encounters with deer in Nara Park to the serene ambiance of traditional gardens and ancient temples, Nara leaves an indelible impression that will undoubtedly linger in the memories of those fortunate enough to visit this unique Japanese city.
Do you have a question or comment about any of the things to do on a day trip to Nara Japan? We'd love to hear from you! Leave us a comment and let us know your thoughts or questions.
Like it? Pin this Nara day trip guide to save for later!
Did you know…
When you make a purchase or book hotels, tours, or other travel services, through our links, we receive a small commission, at no extra cost to you. We only EVER recommend service providers, websites, or products we personally use when booking our own travels. Your support enables us to keep producing helpful travel content. Thank you!
This Nara one day itinerary and guide was first written in November 2016 and was most recently updated in November 2023 for accuracy and current information.