Kyoto is the cultural capital of Japan, so it is no wonder the city is teeming with unique hotels, hostels, ryokans, and townhouses. If you're wondering where to stay in Kyoto, Japan, you'll be sure to find a great place to stay in Kyoto that will fit your budget and travel style.
This guide for where to stay in Kyoto, Japan includes personal recommendations for family-friendly hotels and other accommodations for all types of travelers, as well as information on the best neighborhoods and districts in Kyoto to stay.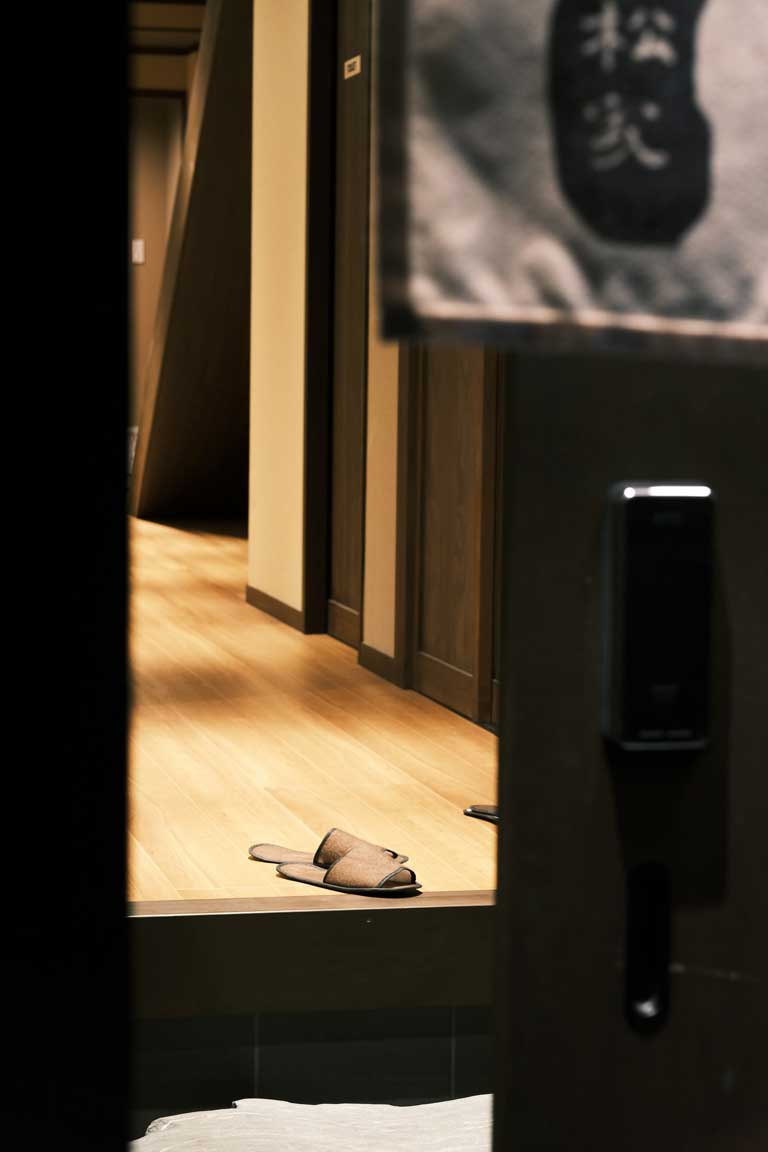 Where to Stay in Kyoto | The Different Types of Accommodations
Kyoto Japan is one of the best places to visit on a family vacation to Asia.
When planning a trip to Japan, one of the first questions you might have after determining the cities you want to visit, is where to stay. And when choosing where to stay in Kyoto, Japan, you first should determine what type of accommodations are best for your travel needs.
There are several types of lodging in Kyoto to consider. Japan has some unique accommodations that aren't necessarily common in other parts of the world, as well. 
Hotels
Kyoto is a city with nearly 1.5 million residents, and it is one of the most popular cities in Japan for tourism, along with Tokyo, Osaka, and Nara.
Because of its size and popularity, there are plenty of large hotels and western chains in Kyoto for those who are looking to stay somewhere familiar. 
Within Kyoto you'll find various major hotel brands that you will recognize such as Hyatt, Ritz Carlton, Ibis, OYO, and Four Seasons, to name a few. But there are also plenty of smaller, mid-range hotels that are great for those looking for something more authentic with a boutique feel.
Ryokan
If you are seeking a truly unique Japanese experience, you can also stay in a ryokan. These traditional Japanese inns often include communal baths or onsens.
Ryokans offer guests a unique way to experience Japanese culture and way of life.  
Hostels
Hostels are budget accommodations that often include dormitory-style shared rooms with multiple beds.
While they tend to be geared more toward backpackers and solo travelers to Kyoto, it is possible to stay in hostels with kids if your family is trying to stay on a budget. 
Townhouse
If you prefer apartments vs hotels, and desire both privacy and authenticity, you can book a stay in a traditional Japanese townhouse.
Townhouses in Japan will vary in design and size. However, most tend to include typical Japanese features, like a tatami room, minimalist furnishing, and futon style beds.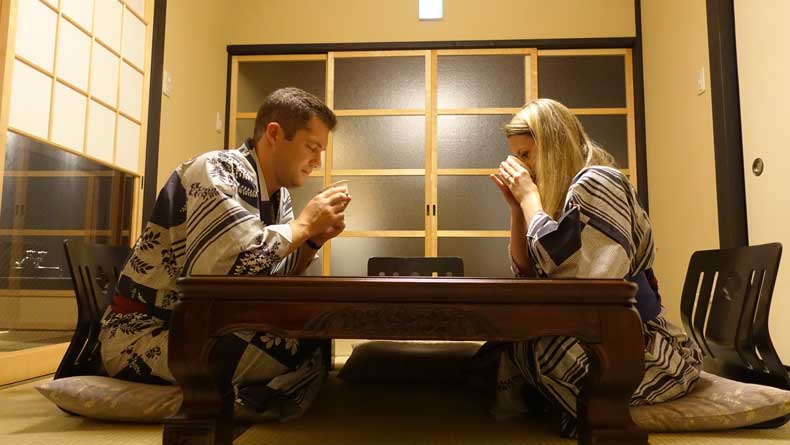 Staying in a traditional Japanese townhouse offers all the comforts of home with a dash of the culture.
A Japanese townhouse is a wonderful option if visiting Japan with kids. At night, you can relax and sit in the tatami room after the kids are in bed and enjoy a moment of peace and serenity. 
What Part of Kyoto is Best to Stay in?
The best place to stay in Kyoto depends on what you want to see and do while you are there.
There are several popular areas of Kyoto to stay in that make the city easy to explore by foot or by public transportation.
The Best Area to Stay in Kyoto for Culture: Gion District and Higashiyama
The Gion neighborhood and Higashiyama are the most historic areas of Kyoto. Gion is also known as the geisha district, because you can often catch a glimpse of a real geisha going to and from a performance or teahouse.
Staying in one of these beautiful districts is a great option if you only have a few days in Kyoto because you will be within walking distance of many of Kyoto's main attractions.
Where to Stay in Gion and Higashiyama
If you want to be near the cultural center of Kyoto, you'll find several options that are all within a short stroll from UNESCO World Heritage sites like Kiyomizu-dera Temple, Yasaka Shrine, and the beautiful and famous streets of Ninenzaka and Sannenzaka.
Rinn Gion Yasakamae
If you have narrowed down where to stay in Kyoto to a townhouse you can't go wrong with Rinn Gion yasakamae.
Rinn Gion Yasakamae is located in the heart of Gion, tucked away in a quiet alleyway. It's just a 7-minute walk from the metro station, which you can use to navigate around the city to the various tourist sites in Kyoto.
The check-in process is located off site.
If arriving at Kyoto Station by train, the check-in office is about a 10-minute walk from the main train station. After checking in, a staff member will drive you to the apartment, give you a tour, and explain the rules and how things operate. 
The two-story townhouse can sleep six people comfortably and has a full kitchen on the first floor. It would likely be too big if you are visiting Kyoto as a solo traveler or couple, but it is the perfect size for families!
Like most Japanese townhouses, Rinn Gion Yasakamae, has a small entryway where you remove your shoes and leave rolling luggage. This is a common practice in Japanese culture.
The two-story townhouse also has a washing machine and a large outdoor tub on a private enclosed patio which opens to the tatami room.
A tatami room is a traditional Japanese style room with woven straw mats covering the floor. This room is typically used as a reception or family gathering space. 
Upstairs there are two spacious bedrooms separated by a sliding room divider. One room had two full-size beds. The other had a cozy futon mattress on the floor.
The townhouse also provides complimentary lounge wear that you can use during your stay. 
Rinn Gion Yasakamae at a glance
Location: Gion
Type of Accommodations: luxury traditional townhouse
Best For: families
Ryokan Hostel Gion
Ryokan Hostel Gion is located in the Gion district in Kyoto, just two blocks away from the picturesque Shinbashi-Dori (a famous street in the heart of the geisha neighborhood) and the iconic Gion Shin Bridge.
It's less than a 10-minute walk to Kyoto highlights like Pontocho Alley, Hanamikoji Street, and Yasaka Shrine. 
The Ryokan Hostel Gion is a great-value accommodation in Kyoto. The accommodation is technically a hostel, with a large number of private pod-like dorm beds available for about $25 USD per night (limited family/private dorm rooms and double rooms also available).
What's special about this hostel though is the incredible Japanese omotenashi, or selfless hospitality, that's expected at accommodation in Kyoto much more expensive than hostels. It's the ideal place to experience a bit of luxury, at a price perfect for backpackers in Japan. 
The shared common room feels traditional Japanese with its low tables and seating cushions, while the bathrooms and showers are immaculately clean with impressive Japanese technology.
Little touches like free tiny hair brushes and hair ties, makeup remover pads and a variety of lotions available in the shared women's restroom shows how much the hostel owners care about their guests having the best stay possible.
Recommended by Erika from Erika's Travelventures
Ryokan Hostel Gion at a glance
Location: Gion
Type of Accommodations: Hostel but with the hospitality expected in a ryokan
Best for: solo travelers, groups of friends, and families looking for budget accommodations in Kyoto
Other Places to Stay in Gion and Higashiyama
The Best Place to Stay in Kyoto for Convenience: Kyoto Station Area / Shimogyo
If arriving by train with luggage, you may find the Kyoto Station area known as Shimogyo a great option.
Located in Central Kyoto, the area around Kyoto's main transportation hub is perfect for travelers who are exploring the country with a Japan Rail Pass.
Staying in the area surrounding the Kyoto Train Station allows travelers easy access to both the bullet trains and the metro. What it lacks, however, is that traditional Japanese atmosphere that you'll find in the historic districts of Gion and Higashiyama.
Where to Stay near Kyoto Station
If you are looking for convenient places to stay in Kyoto near the main train station, there are plenty of great options within walking distance.
Staying near the train station provides easy transportation access to sites like Fushimi Inari Shrine, the Golden Pavilion, and quick day trips to places like Nara and Osaka.
Shiki Suites
Shiki Suites is located a short walk from the Kyoto train station, making it a great place for those looking to catch trains to other cities nearby or elsewhere in Japan. 
It is also located within walking distance of many famous sites in Kyoto such as Sanjusangen-do Temple, Tofuku-ji Temple, and Fushimi Inari Taisha Shrine.  
Shiki Suites is family-friendly as all of their rooms are "suites" meaning there is a small kitchenette and a separated living area with a pull-out couch great for kids. Though for those with babies or young toddlers you will have to bring your own travel cots as they are not provided. 
This property is also great for couples who want a romantic evening. The Jacuzzi Suite offers a private outdoor jacuzzi that is less expensive than similar properties in Kyoto. 
The property also provides luggage storage and has an on-site restaurant but there are also countless dining options just a short walk away.
Parking is not available on property but there are plenty of paid parking areas nearby.
Recommended by Mackenzie from A Wandering Scribbler
Shiki Suites at a glance
Location: Kyoto Station area, about a ten minute walk.
Type of Accommodations: Boutique hotel
Best for: couples or families
Other Places to Stay near Kyoto Station
The best Area to Stay in Kyoto for Shopping, Dining, and Nightlife: Downtown Kyoto
Like Shimogyo, the downtown area is located in Central Kyoto, to the west of Gion and Higashiyama. Downtown Kyoto is a great place to stay in Kyoto for tourists.
This modern area has plenty of shopping and dining options and is only a short walk to Gion.
It has a large city feel and is a convenient place to stay in Kyoto to maximize your time. Downtown Kyoto is where you will find many of the international hotel chains and stores. 
Where to Stay in Downtown Kyoto
If you are interested in nightlife or just prefer modern accommodations rather than traditional Japanese lodging, downtown Kyoto has a lot of great hotels and even luxury townhouses to choose from.
Hotel Grand Bach Kyoto Select
Just a five minute walk from Kawaramachi Train Station, Hotel Grand Bach Kyoto Select offers modern amenities with Japanese elegance.
The hotel offers a complimentary communal path and a free late night snack of chazuke.
The standard rooms are small, but the hotel offers suites for those traveling with children or for those who prefer a little extra space.
There is also an on-site restaurant, and plenty of other dining options nearby.
Adults will enjoy the adjustable shower jets which are great for soothing muscles after a long day of exploring Kyoto or wrangling children.
Hotel Grand Bach Kyoto Select at a glance
Location: Downtown Kyoto
Type of Accommodations: Mid-Range Hotel
Best For: Couples or small families
Other Places to Stay in Downtown Kyoto
The Best Place to Stay in Kyoto for Museums: Nakagyo
The Nakagyo Ward sits just north of Downtown Kyoto and northwest of Gion and Higashiyama.
This district of Kyoto puts you within walking distance to the Kyoto Imperial Palace, Nijo Castle, The Museum of Kyoto, and the Kyoto International Manga Museum.
Just a 13 minute train ride from Kyoto Station, Nakagyo is another one of the best places to stay in Kyoto for tourists.
Where to Stay in Nakagyo Ward, Kyoto
The Nakagyo Ward features luxury hotels, mid-range and budget hotels, as well as ryokans and private townhouses in a range of budgets.
Hotel Excellence Enmachi Ekimae
Hotel Excellence Enmachi Ekimae is a simple Kyoto hotel that's perfect for travelers looking for an affordable stay.
The hotel is no-frills, but the rooms are clean, the service is friendly, and Enmachi Station is just a 2-minute walk away, making it easy to get to all of Kyoto's top attractions. 
The hotel offers single rooms with a twin bed, double rooms with a double bed, rooms with three twin beds, and family rooms with futons.
The hotel is very much a typical Japanese business hotel – the rooms are pretty small, but the beds are comfortable. The single rooms are perfect for solo travelers looking for the privacy of a hotel room rather than a hostel. Each room also has a private bathroom.
Hotel Excellence Enmachi Ekimae is nothing fancy, but it is an affordable and comfortable place to stay while visiting Kyoto. As a bonus, free breakfast is served each morning.
Though there aren't many major Kyoto attractions within walking distance, you can easily hop on the train or bus to areas like Gion and Arashiyama.
Recommended by Sydney from A World in Reach
Hotel Excellence Enmachi Ekimae at a glance
Location: Northwest Kyoto, near Enmachi Station
Type of Accommodations: Budget Hotel
Best For: Budget travelers or solo travelers who prefer the privacy of a hotel room
Other Places to Stay in Northwest Kyoto / Nakagyo Ward
The Best Place to Stay on the Outskirts of Kyoto: Arashiyama
Second only to the historic center of Kyoto, Arashiyama is one of the most popular places to visit in Kyoto.
If you are wondering where to stay in Kyoto that has a bit more rural and remote feel, Arashiyama is a wonderful option. Arashiyama is home to the Arashiyama Bamboo Grove and wonderful hiking and walking trails. 

Where to Stay in Arashiyama
If you are looking to feel a bit more connected with nature or stay in a place that feels more residential, Arashiyama offers some great places to stay in Kyoto that will meet those needs.
While you will not find as many hotels, hostels, ryokans, or apartments to choose from in Arashiyama as you will in central Kyoto, there are still a variety of places to stay in Arashiyama that will meet you and your families lodging needs.
Places to stay in Arashiyama
Why We Chose Gion and a Japanese Townhouse
Traveling with kids has changed our standards a bit when it comes to the type of lodging that suits our needs. We chose to stay in a townhouse for the extra space, amenities, and separate living area that makes traveling with children much easier.
We only spent three days in Kyoto and because we were visiting Kyoto with kids, the nightlife was not as important to us as the culture.
Rather than staying downtown or near Kyoto Station, we opted to stay in Gion for the historic atmosphere and scenery. It was a wonderful experience, and ultimately it is what we remember most about our time in Kyoto.  
Have a question about where to stay in Kyoto, Japan or about any of the recommended hotels, townhouses and hostels? We'd love to hear from you! Leave your thoughts in the comments below.
Like it? Pin this guide for where to stay in Kyoto Japan to save it for later.
This guide to where to stay in Kyoto Japan was first written in March 2018 and was updated in April 2022 for accuracy and current information.