Ljubljana, the idyllic capital of Slovenia, is an enchanting gem in Europe. With its picturesque old town, vibrant cafes, and lively markets, Ljubljana is a delightful destination for travelers.
Whether you have one week in Slovenia or you are just passing through Ljubljana for one day, the city's charm will surely win you over. And to maximize your one day in Ljubljana we're laying out the perfect Ljubljana itinerary that will help you explore the city's top attractions and landmarks.
This travel guide for one day in Ljubljana includes a complete hour-by-hour itinerary, a look at the best places to visit, where to stay and where to eat in Ljubljana for one day.
About Ljubljana, Slovenia
The capital of Slovenia, Ljubljana is known for two things: dragons and bridges. It is affectionately known as the City of Dragons.
The dragon is the city's official symbol and you will find dragon souvenirs in shops throughout the city. The mythical creature even graces one of Ljubljana's most famous bridges. But Dragon Bridge is just one of several notable bridges in Ljubljana.
Although the area that now makes up Slovenia has been inhabited for thousands of years, Slovenia didn't become it's one country until 1991.
Prior to that, it was part of the now dissolved country of Yugoslavia. At that time Slovenia declared independence, Ljubljana was established as the capital.
Since its establishment, the country and the city has continued to grow in popularity among travelers – and for good reason.
The country's natural beauty coupled with Ljubljana's charm and unique quirkiness make it a fascinating and fun place to visit.
Where to stay in Ljubljana for one day
If you only plan to spend one day in Ljubljana you will want to stay in the historic city centre, so you can easily walk to all the main attractions without wasting any time commuting to the main tourist sites.
Here are a few options to fit each budget:
One Day in Ljubljana itinerary
7:30 a.m. – Breakfast at hotel
8:00 a.m. – Tour the Franciscan Church of the Annunciation
8:30 a.m. – Wander through Prešeren Square and stroll across Triple Bridge
9:00 a.m. – Tour Ljubljana Castle
11:00 a.m. – Explore the booths in Central Market
11:30 a.m. – Cross back over Dragon Bridge and take a riverside stroll
12:00 p.m. – Lunch at a restaurant along the river
1:30 p.m. – Explore Metelkova Art Center
2:30 p.m. – Cross the Butcher's Bridge
3:00 p.m. – Tour Ljubljana Cathedral
3:30 p.m. – Walking tour through Old Town
5:00 p.m. – Relax in Tivoli Park – or – head to the Museum of Illusions
6:30 p.m. – Dinner along the river
8:00 p.m. – Admire the Cobbler's Bridge and the view from the glass bridge before heading back to the hotel
What to see during 1 day in Ljubljana
Preseren Square
Start your day in Preseren Square, where you'll find beautiful Art Nouveau buildings and the stunning Baroque-style Franciscan Church of the Annunciation. The coral-colored church stands prominently in the popular square facing the famous Triple Bridge.
Take some time before the plaza becomes busy to appreciate both the inside and the exterior of the church. It is free to enter and doesn't take much time to tour.
From there, admire the unique Triple Bridge across the Ljubljanica River. As the name indicates, the bridge is actually three pedestrian bridges in one.
The square and the bridge are among the most popular gathering places in Ljubljana, so by starting your day early, you may have the opportunity to experience both before the crowds descend.
Ljubljana Castle
From Preseren Square, cross Triple Bridge, and take a scenic 5 minute walk to the funicular to the iconic Ljubljana Castle. Take the funicular to the top of the castle, and enjoy the panoramic views of the city from the tower.
The castle also houses several museums, including the Museum of Slovenian History and the Virtual Castle, which offers a virtual tour of the castle's history.
Central Market
After touring the castle, take the funicular back down to the city level. Across from the entrance to the funicular, you'll find Ljubljana's daily Central Market. The market includes fresh local fruits and vegetables, artisan cheeses, and handmade souvenirs.
This is a great place to pick up some gifts for your loved ones back home.
There are also several local businesses selling cooked meals from either food trucks or vendor stalls.
Don't forget to try some local delicacies, such as burek or kremna rezina also known as Bled Cake, a cream cake that is a must-try in Slovenia. The famous cake was first invented at a hotel restaurant in Lake Bled.
Dragon Bridge and lunch along the river
After visiting the market, head to the nearby Dragon Bridge. While most of Ljubljana's bridges are pedestrian-only, Dragon Bridge was actually the first paved bridge for vehicles in Ljubljana.
Four large dragon statues dominate the corners of the bridge, but as you cross the bridge on the pedestrian sidewalk, take time to find the 16 other small dragons that adorn the bridge.
After crossing the bridge, find a nice riverside café and enjoy a relaxing lunch. Your day in Ljubljana is halfway over!
Metelkova Mesto Art Center
After lunch, head to Metelkova Mesto, which is about a 15 minute walk from the historic center and the Dragon Bridge. This vibrant alternative zone is home to artists, musicians, creative types, and honestly some questionable and sketchy people.
This unique neighborhood is actually an autonomous, or self-governed community, full of street art, quirky bars, and live music venues.
There is even a former prison that is now a hostel where you can spend a night behind bars! Every inch of every building is covered in murals and graffiti art which is interesting to see.
The self-managed zone is small and during the day quite tame. So, if visiting Ljubljana with kids, I'd recommend visiting during the day, as the atmosphere changes drastically after dark. If running short on time, this is easily an activity you could skip.
Old Town Walking Tour and Ljubljana Cathedral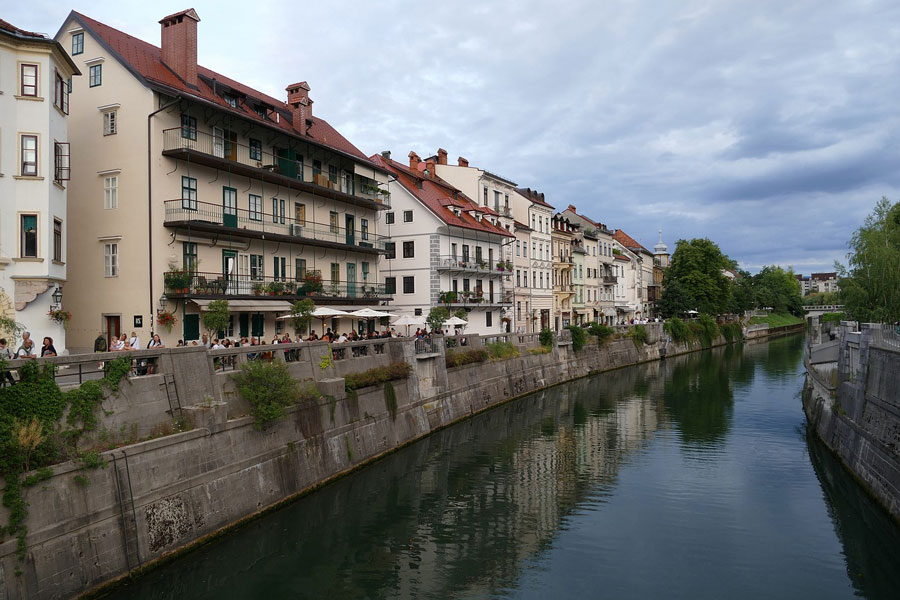 After gazing at the curious art in Metelkova Mesto, head back to Old Town where you can tour the Ljubljana Cathedral for a small fee or join a walking tour through Old Town.
Full of narrow streets, colorful buildings, and charming cafes lining the river, Old Town Ljubljana is exquisite.
Cross the Ljubljanica River at Butcher's Bridge – also known as the city's Love Lock Bridge, and wander around Old Town. Grab an afternoon coffee or a glass of wine at one of the riverside cafes and simply enjoy the views.
Tivoli Park
It's time now to leave the historic city center for a couple of hours and go visit Ljubljana's largest urban greenspace.
Located about 10-20 minutes on foot from Preseren Square, Tivoli Park is a great nature escape in the middle of your one day Ljubljana city tour.
Known for its network of walking trails, this is a wonderful place to let children burn off some energy and play for a while before dinner.
Dinner and Evening Ljubljanica River stroll
Wrap up your day in Ljubljana with a romantic stroll along the river, and take in the views of the city at night. The illuminated bridges and buildings create a magical atmosphere that will leave you with unforgettable memories.
There are lots of restaurants along the river serving everything from traditional Balkan cuisine to pizza and even ramen. So, find one that looks appealing to you and give it a try.
If the weather is nice, choose a table outdoors so you can soak in the views a little longer before your one day in Ljubljana comes to a close.
Conclusion – Wrapping Up A Magical Day in Ljubljana
In conclusion, Ljubljana is a charming city that is perfect for a one-day trip. With its picturesque old town, vibrant cafes, and lively markets, there is no shortage of things to see and do in Ljubljana.
Whether you're a history buff, a foodie, or a lover of art and culture, Ljubljana will leave an impression on
FAQs about spending one day in Ljubljana, Slovenia
Even if you follow our one-day Ljubljana itinerary exactly, it is natural to still have a few questions when visiting a new city for the first time. Here are a few of the most frequently asked questions we've gotten since our trip.
Is 1 day enough for Ljubljana, Slovenia?
Although it is the largest city in Slovenia, Ljubljana is relatively small considering it is the country's capital making it easy to explore in one day. With roughly 279,000 residents, Ljubljana's smaller size is part of the city's charm!
Many of the top things to do in Ljubljana are also centrally located in the city's historic center, so you can easily visit Ljubljana in a day. However, you may want to spend at least 2-3 days in Ljubljana to get a better feel for the city, its culture, and enjoy more of the sites.
How much time do you need in Ljubljana?
How much time to spend in Ljubljana depends on several factors including your travel style and what you want to see and do while you are there.
While you can easily see the highlights of Ljubljana in a day, if you want to explore multiple museums, sample lots of new restaurants, or take part in unique experiences like pottery classes, jewelry making workshops, or learning the art of traditional print shop techniques, you'll want to allocate more time in Ljubljana.
Is Ljubljana a walkable city?
Ljubljana's historic center is very walkable and compact. You can get to all the main attractions on foot and in much of the historic center, cars are not allowed. It is a pedestrian zone only.
Outside the city center, you will likely need a car to get to other areas around the city, take day trips, or visit some of the other beautiful places in Slovenia.
Is it better to stay in Lake Bled or Ljubljana?
It is actually best to stay in both Lake Bled and Ljubljana.
While the two destinations are less than an hour apart, there are a lot of things to do in Lake Bled that make the resort community worth visiting for at least a night or two. Ljubljana is equally worth staying in, as the city comes alive at night, and you don't want to miss the romantic feel of Ljubljana at night. 
If – and only if – you had to choose between the two, it's probably best to stay in Ljubljana and take a day trip to Lake Bled.
Is Ljubljana worth visiting?
Yes! Ljubljana is definitely worth visiting, and chances are you will fall curiously in love with this small capital city. With its picturesque architecture, beautiful bridges and castle gracefully perched on a hill above the city, Ljubljana is a dreamy city worth exploring.
Have a question or comment about what to do in Ljubljana for one day? We'd love to hear from you! Leave your thoughts on this one-day Ljubljana itinerary in the comments below!
Like it? Pin this one day in Ljubljana itinerary to save it for later!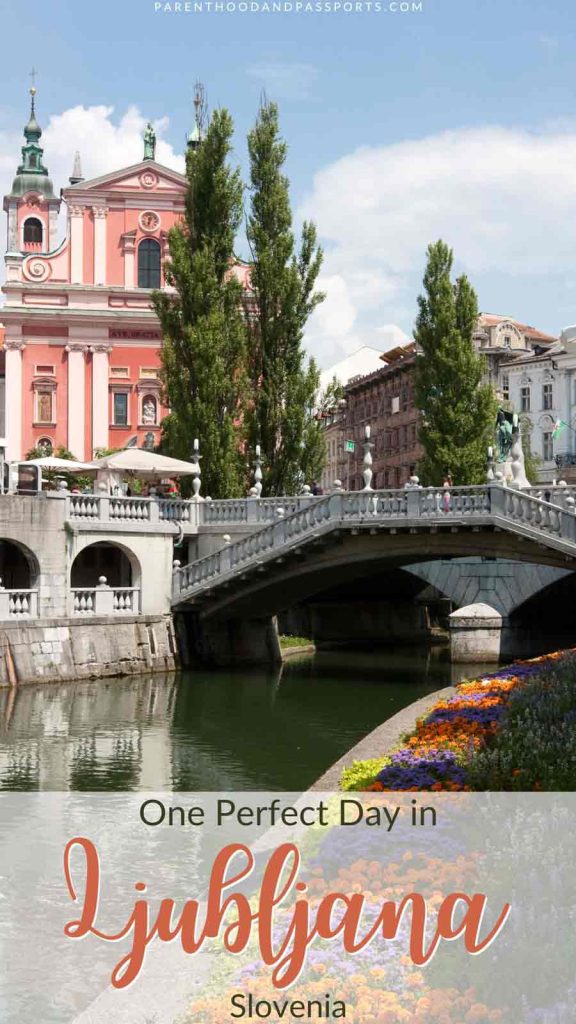 Did you know…
When you make a purchase or book hotels, tours, or other travel services, through our links, we receive a small commission, at no extra cost to you. We only EVER recommend service providers, websites, or products we personally use when booking our own travels. Your support enables us to keep producing helpful travel content. Thank you!