Iowa may be best known for its sweeping farmlands, but the state also has lots of hidden gems and unique attractions for families to visit. While it may not be at the top of your travel bucket list, don't overlook the Hawkeye state when planning your next family trip.
Whether you live in the Hawkeye State or are planning a vacation to America's heartland, there are so many incredible experiences and things to do in Iowa with kids.
From scenic state parks and lakes to exciting amusement parks and museums, we've compiled a list of 26 of the best Iowa attractions for families. Check out some of the best places to visit in Iowa with kids of any age to get inspired to plan a vacation to this often overlooked state.
About Iowa
Iowa, often referred to as the "Hawkeye State," is a Midwestern state that doesn't get enough love.
The state is home to plenty of fun photo spots and quirky attractions for families, like the house in the famous "American Gothic" painting, and the world's largest strawberry sculpture – a 15-foot-tall monument in Strawberry Point that celebrates the state's agricultural prowess.
Beyond strawberries, Iowa is a major producer of corn and is often characterized by its vast, rolling fields of this golden crop.
The state is not just about agriculture; it has a thriving cultural scene, boasting the birthplace of Hollywood icon John Wayne in Winterset.
Whether you're exploring its agricultural landscapes, delving into its cultural landmarks, or visiting one of the fun museums and Iowa attractions for families, this state located in America's heartland will delight and surprise any curious traveler.
Best time to visit Iowa
Iowa experiences all four seasons. Summer is the peak tourist season with warm temperatures and longer days. It's a great time for outdoor activities such as hiking, biking, and water sports.
Fall sets in during the month of September and brings cooler temperatures and vibrant fall foliage. It's a great time to attend harvest festivals and the Iowa State Fair, held at the end of August – both are great things to do in Iowa for kids.
Winters can be cold and snowy in Iowa, but spring arrives in March and temperatures start to warm up. This is an excellent time to enjoy events like the Tulip Festival in Pella.
Map of the best places to visit in Iowa with kids
If you are looking for unique and fun Iowa attractions for families, we've included some of the most popular things to do in Iowa with kids, as well as some of the more off-the-beaten path places to visit in Iowa that you won't hear about elsewhere.
Here is a map of some of the best places for family fun in Iowa.
Best things to do in Iowa with kids
Many of these things to do in Iowa with kids are concentrated around Des Moines, but if you and your family enjoy the outdoors, and prefer activities like camping and fishing, you'll have to venture further from the capital city.
We've includes a good mix of both urban activities and rural activities, so you're sure to find something to do in Iowa for families that piques your interest.
1. Go wildlife spotting at Jester Park – Granger, Iowa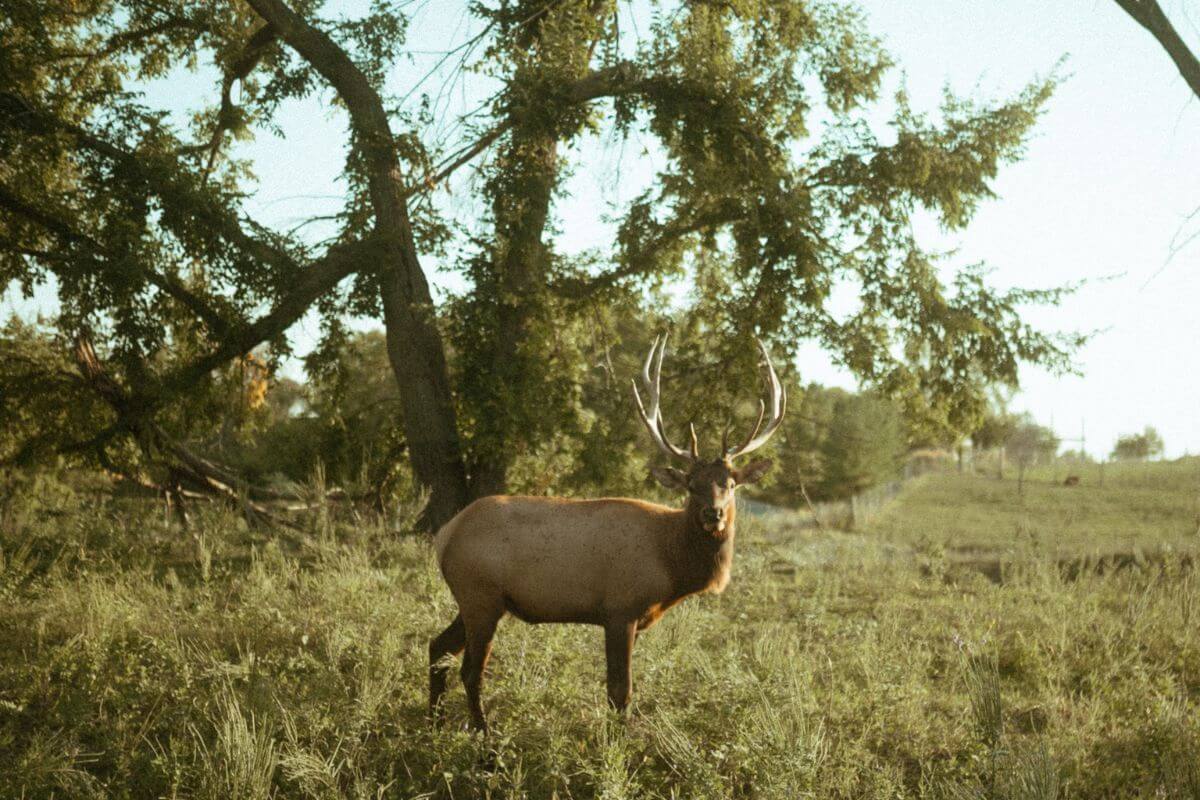 Families who want to spend more time outdoors can head to Jester Park for tons of different family friendly activities. Just 30 minutes northwest of Des Moines, you can ride horses on trails with walking guides, zip across the snow on snowmobiles or bring binoculars to spot wild bison, elk, and other wildlife.
There are only 20,500 American Bison in conservation herds in the United States, so it's a less common adventure your kids will remember forever. This park is ideal for outdoor adventurers of all ages.
LOOKING FOR OTHER PLACES TO SEE AMERICAN BISON IN THE WILD? CHECK OUT YELLOWSTONE NATIONAL PARK.
2. Hone your meteorology skills at the Science Center of Iowa – Des Moines, Iowa
Who says you can't learn something while having fun? Spend a day exploring the permanent exhibits at the Science Center of Iowa to learn about meteorology and geology together.
Your kids will love the hands-on activities and visual experiments that change a few times yearly. It's not only one of the best things to do in Iowa with kids, it's a great way to inspire an early passion for STEM in a fun and engaging way.
There's always something new to experience together.
3. Visit some of Iowa's iconic bridges
While you probably think of corn fields when you think of Iowa, the state also boasts some pretty iconic bridges.
Women of Achievement Bridge – Des Moines, Iowa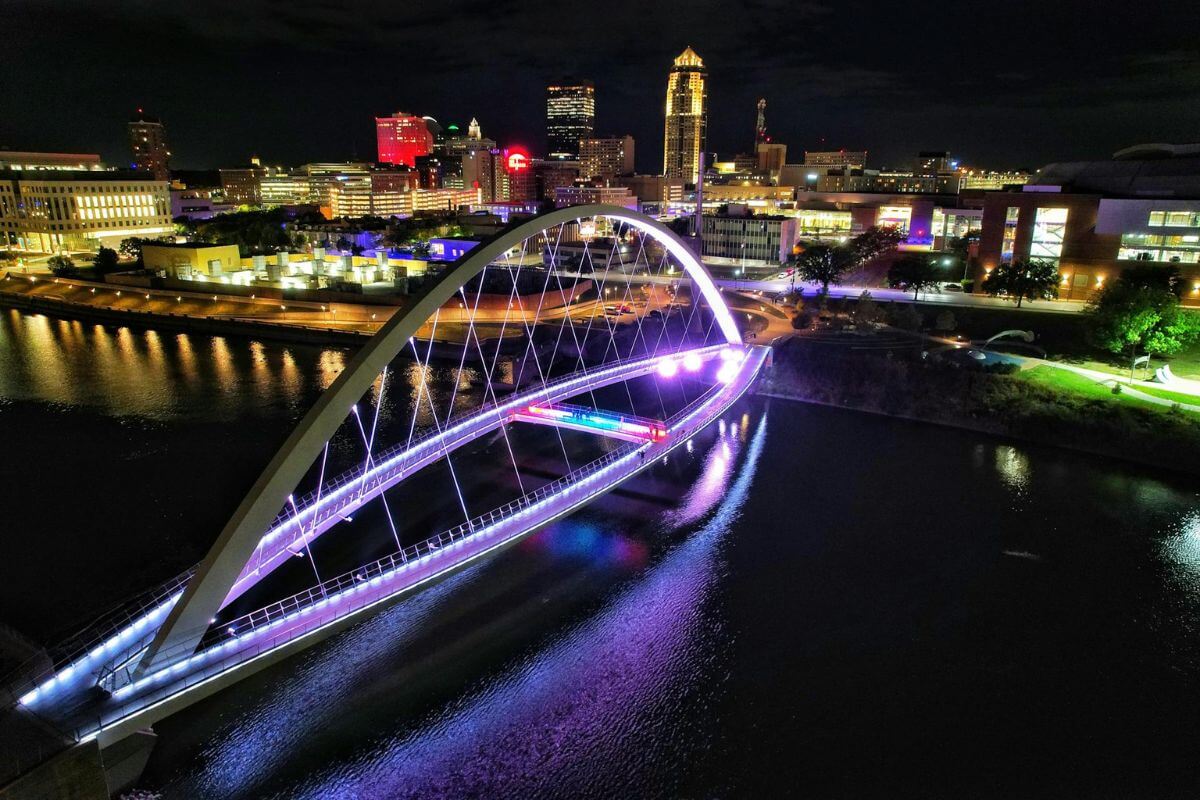 The Iowa Women of Achievement Bridge links the east and west sides of Des Moines. With two pathways – one for walkers or joggers and one for bicyclists – separated by a prominent arch, the bridge is a great place for a leisurely stroll while sightseeing near the downtown area.
Visit at night to see the bridge illuminated with colorful lights.
The bridge is dedicated to 4 Iowa women who have made outstanding contributions and achievements throughout the state and the world.
High Trestle Trail Bridge – Madrid, Iowa
Pack everyone's bikes in your car and leave town for the High Trestle Trail Bridge. It's just outside of Madrid and has a big following online. Architects designed it with slightly rotating frames to create an optical illusion.
If you go biking around sunset, you'll even see them illuminated blue like a magical getaway. Remember to pose for family photos in the fun lighting to remember your biking experience forever.
Bridges of Madison County, Madison County, Iowa
You've likely heard of The Bridges of Madison County, immortalized in literature and film. Made famous by Robert James Waller's novel and later Clint Eastwood's film adaptation, Iowa is home to a few covered bridges, originally constructed in the late 19th century that span the picturesque landscapes of Madison County.
About an hour southwest of Des Moines, the county is home to six charming covered bridges, each with its own distinct character, including the iconic Roseman Bridge and the Holliwell Covered Bridge, recognized as the longest of its kind in the United States.
These structures, with their weathered wooden exteriors and rustic charm, attract visitors from near and far. They are not only famous Iowa landmarks, the Bridges of Madison County have become symbols of enduring love and the quiet beauty of rural Iowa.
4. Adventureland Resort, Altoona, Iowa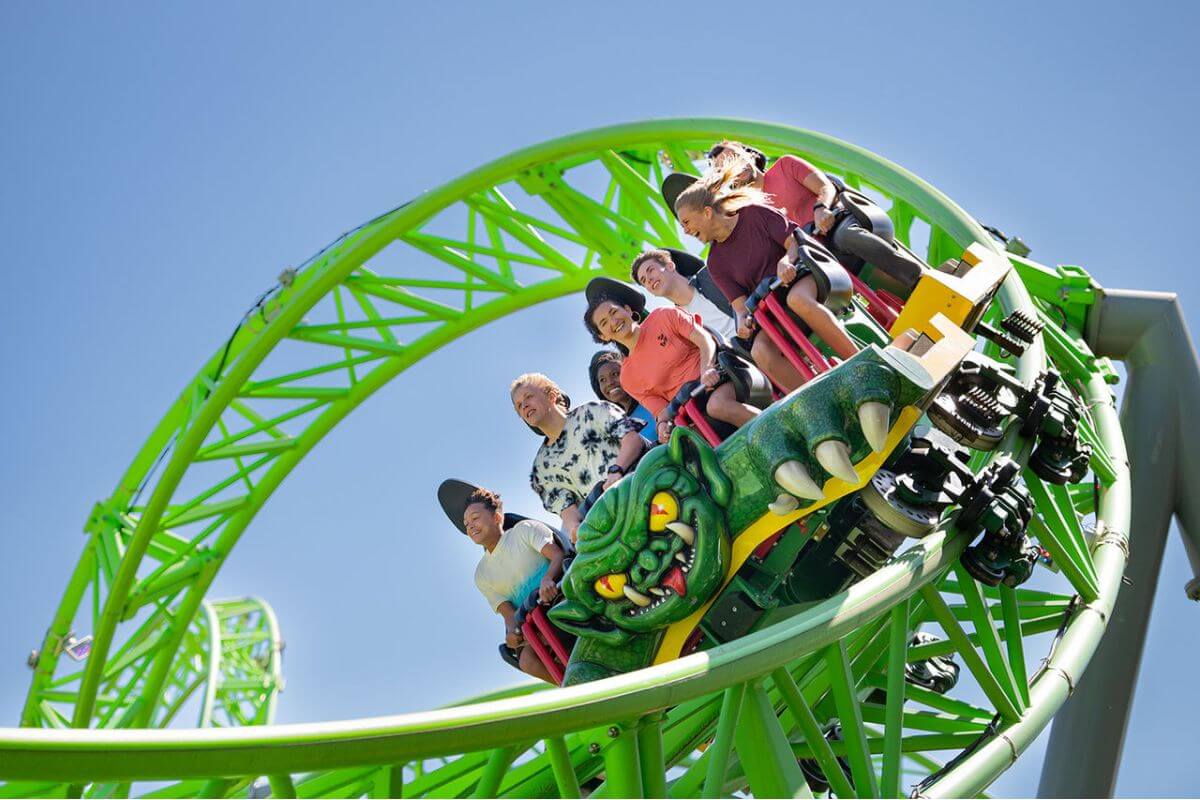 People from Iowa and beyond have visited Adventureland Resort for nearly 50 years. The theme park in the suburb of Altoona, northeast of Des Moines, offers thrilling rides and also features a water park, plus lots of shopping. Don't worry about picky eaters — the many food vendors have plenty of kid-friendly options.
The amusement park has over 100 rides for kids of all ages. Your little ones won't wait around bored while the older kids have all the fun. Spend a weekend riding roller coasters, sliding down water park tubes and watching magic shows without ever leaving Adventureland.
5. Paddle Boat at Gray's Lake Park – Des Moines, Iowa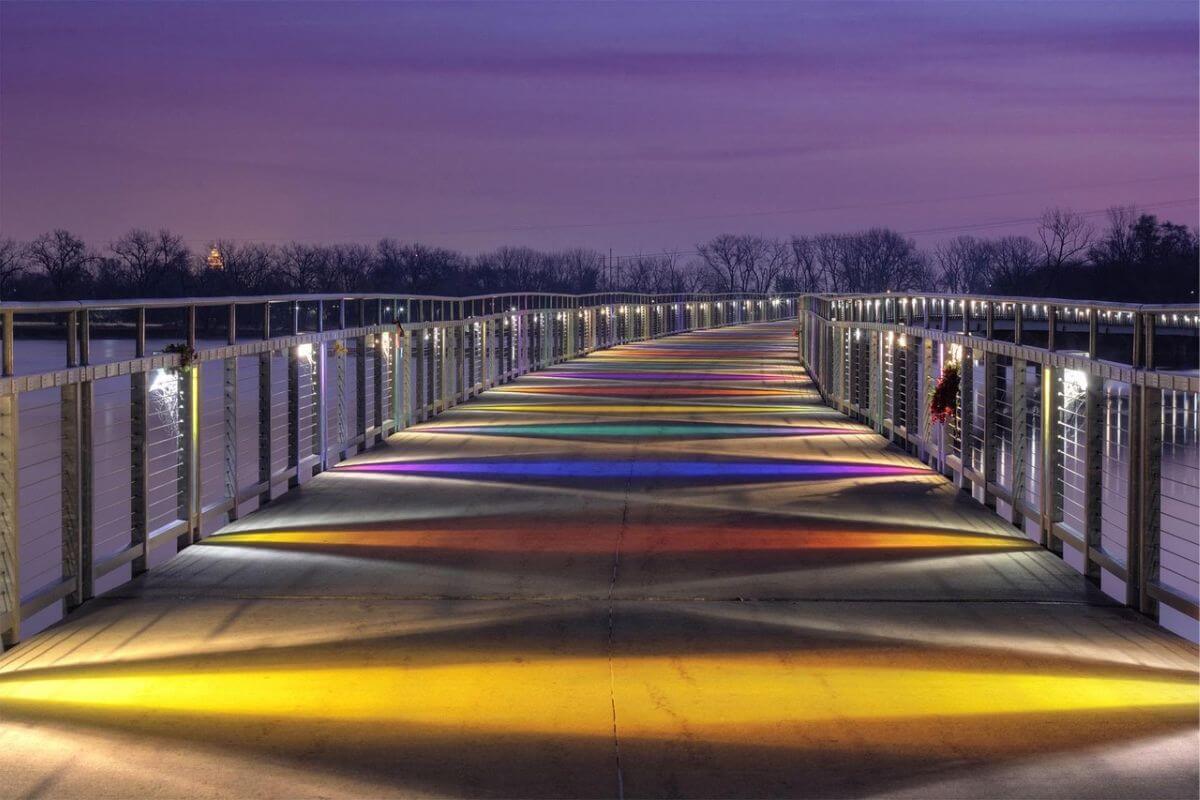 The people who designed Gray's Lake Park had the ultimate family-friendly destination in mind. There's a playground with bucket swings for toddlers and bike rentals with sizes for everyone.
Don't forget to check out the paddle boats. They're the ultimate way for everyone to exercise when you finish swimming on the popular beach along the lake.
Located within the capital city of Des Moines, the park spans 166 acres and has paved trails, kayak, canoe, paddleboard and paddle boat rentals, and a concession stand where you can purchase cold drinks and snacks.
6. Visit a Quaint Dutch Settlement – Pella, Iowa
About an hour east of Des Moines, Pella is a picturesque Iowa town founded in 1847 by Dutch immigrants.
Maintaining a strong connection to its roots, Pella's meticulously preserved architecture, cobblestone streets, and iconic windmill will remind you of The Netherlands. 
The Molengracht Plaza, with its canal and drawbridge, adds a touch of European flair to the town, while the Vermeer Mill stands tall as the tallest working Dutch windmill in the United States.
Renowned for its annual Tulip Time Festival, Pella bursts into vibrant colors each spring, showcasing thousands of tulips and celebrating the town's Dutch heritage with traditional costumes, parades, and wooden shoe dancing.
7. Go for a River Cruise on the Celebration Belle – Moline, Iowa
The Celebration Belle paddlewheel boat will be waiting for you and your family in Moline.
The cruise line takes people out on the Mississippi River daily, guiding 800 passengers at a time through gorgeous views of Iowa while they eat the provided lunch or dinner.
Get your tickets ahead of time — the popular attraction sells out quickly. This is an excursion you will all remember for a long time.
8. Go camping at Ledges State Park – Madrid, Iowa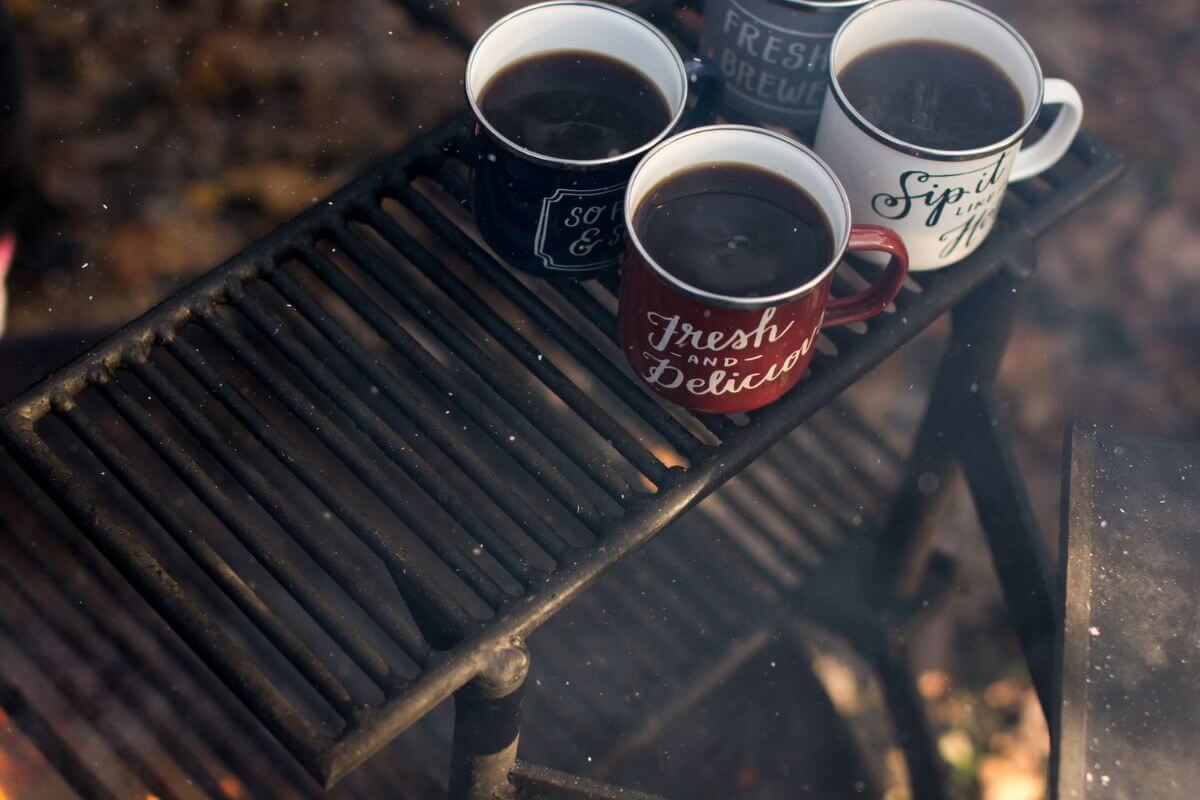 Take your family hiking and camping at Ledges State Park. It has plenty of parking even during the busiest spring and summer seasons, so you're guaranteed a fun day in the great outdoors.
If it's a hot day and your kids need to cool off, guide them to Peas Creek. It's a low stream that's easy for toddlers to walk through without the water getting past their shins. They might enjoy cooling down with a few splashes as the sun shimmers through leaves overhead.
9. Go up the world's steepest, shortest railway – Dubuque, Iowa
Downtown Dubuque might already be on your bucket list for Iowa travel destinations. If so, don't forget to visit the Fenelon Place Elevator Co. cable car while you're there.
It's often called the world's steepest, shortest railway" and ascends the steep hill downtown to overlook the Mississippi River.
Check it out before it closes for the year at the end of November. Your kids will feel like they're touching the clouds once they reach the top of the hill. Be sure to get lots of pictures of the stunning scenery.
10. Go for a drive through Amish country – Kalona, Iowa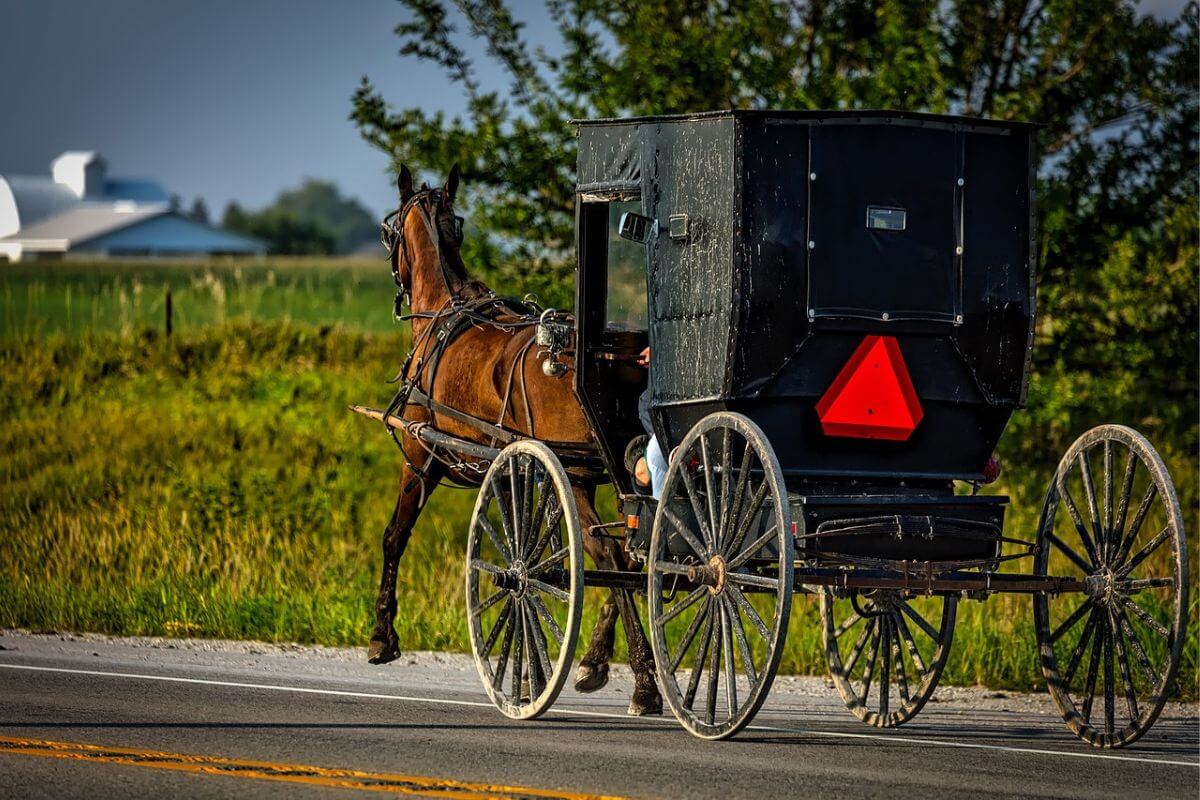 Iowa's Amish country, particularly in the eastern part of the state, provides a glimpse into a simpler way of life that feels like a step back in time.
The Amish community in Iowa, known for its dedication to traditional values and sustainable living, thrives in towns such as Kalona.
Visitors can experience the charm of horse-drawn buggies traversing scenic countryside roads, witness skilled craftsmen creating handmade furniture and quilts, and enjoy the taste of fresh, locally-produced goods at farmers' markets.
The Amish adhere to a lifestyle that avoids most modern conveniences and technology. So exploring Amish country in Iowa offers a unique glimpse of a culture that values simplicity and tradition.
11. Play a round of pickleball at Smash Park – West Des Moines, Iowa
The founders of Smash Park wanted to create a place where Iowa residents could socialize while working out and being active, so they built their facility with pickleball in mind.
With 6 indoor and outdoor courts, tournaments and even lessons, it's the best place in Iowa to join in this popular sport which is quickly becoming more popular by the day.
Your family can also play arcade games, cornhole and bocce ball. Restaurants are ready to serve meals, snacks, and hard or soft beverages when everyone needs a break.
Aside from the location in West Des Moines, you'll also find Smash Park locations in Pella, Iowa, Nebraska and Minnesota.
12. Meet the animals at the Blank Park Zoo – Des Moines, Iowa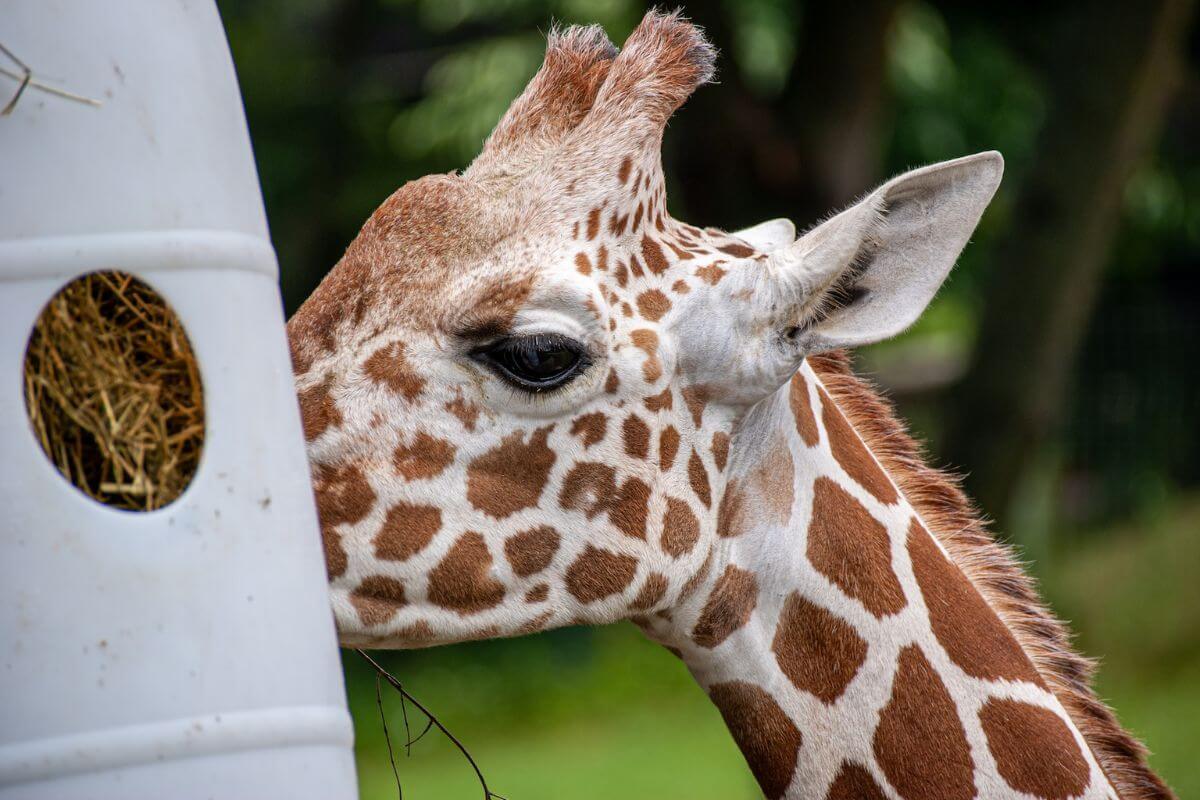 Parents can't go wrong by taking their family to a zoo. The Blank Park Zoo is one of Iowa's best. Everyone will get to see lions and giraffes, but your kids will get even more excited about the more exclusive exhibits featuring less common animals.
Take pictures in front of the red panda and wallabies' exhibits. Whether your family loves the red river hogs or the okapis, they'll see animals that aren't typically at other zoos.
Depending on when you visit, your little ones could even join a live story time event where Ruby the red panda reads to an audience.
13. Ski Bellevue Water Ski Show – Bellevue, Iowa
You've heard of ballets and musicals, but have you ever watched a water ski show? It's a unique and entertaining experience.
Bring your family to see the performers dance around each other on their skis, make human pyramids and even leap across the water.
Your kids will always remember seeing an incredible show like this, especially if they love being in the water. Watch it all from the banks of the Mississippi River for free and pack a picnic to add even more to the fun.
14. Go underground at Maquoketa Caves State Park – Maquoketa, Iowa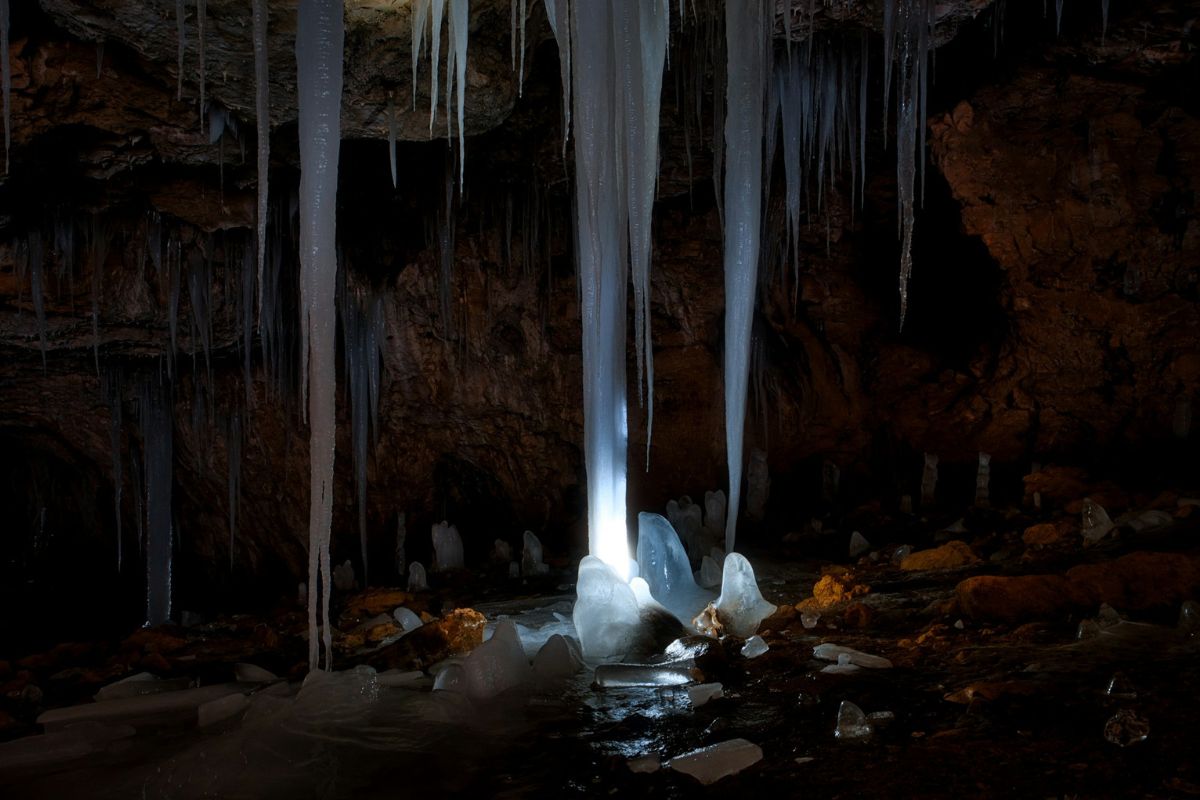 Challenge your family to explore the depths of the earth by visiting Maquoketa Caves State Park. People visit every week to join caving tours.
An expert guide can show your kids how to navigate the cave systems while pointing out incredible rock features and explaining the park's history.
There are also other activities like hiking various trails and staying at camping sites in case you want a longer visit. Bring comfy shoes and extra water bottles to stay hydrated while you have fun exploring limestone formations and see multiple caves of different sizes.
15. Superior 71 Drive-In Theater – Spirit Lake, Iowa
Anyone can watch a movie in a regular theater, but your kids could get the exclusive experience of a drive-in instead. Take them to the Superior 71 Drive-In Theater between spring and fall for showings of old and new movies.
There are only 321 left in the country, making this an extra fun activity during the warmer months of the year.
A drive-thru concession stand has everything you need to snack and sip during your film. You can watch from the comfort of your car, lay blankets in the back of your truck or set up picnic chairs around your trunk.
It's a magical experience that might inspire other fun movie nights at home with a projector in your living room.
16. Visit an Asian Garden – Des Moines, Iowa
The Robert D. Ray Asian Garden is a short stroll from the Women of Achievement Bridge in central Des Moines. This serene and contemplative haven was created in 2013, to honor the late Governor Robert D. Ray and his dedication to cultural understanding.
The garden showcases Eastern design principles, featuring tranquil water features, sculptures,, and symbolic elements such as the bright red pagoda pavilion that sits on the waterfront.
Your family can meander along peaceful pathways, visit the Character Garden, taking in the beauty of the carefully chosen plants.
17. Ride ATVs at Whispering Meadows Resort – Spragueville, Iowa
Families who love outdoor adventures and adrenaline rushes should check out Whispering Meadows Resort and ATV Trails. Located in eastern Iowa near Maquoketa, the rustic property features ATV and UTV trails. Book a guided tour so your little ones can experience a four-wheeler safely or rent a few for everyone to ride.
There's also horseback riding, canoeing, hayrides and golfing available on the property. Visit for the day if you live nearby or book one of the cabins to stay in comfort over a weekend. You'll have a blast together either way.
18. Explore Pappajohn Sculpture Park – Des Moines, Iowa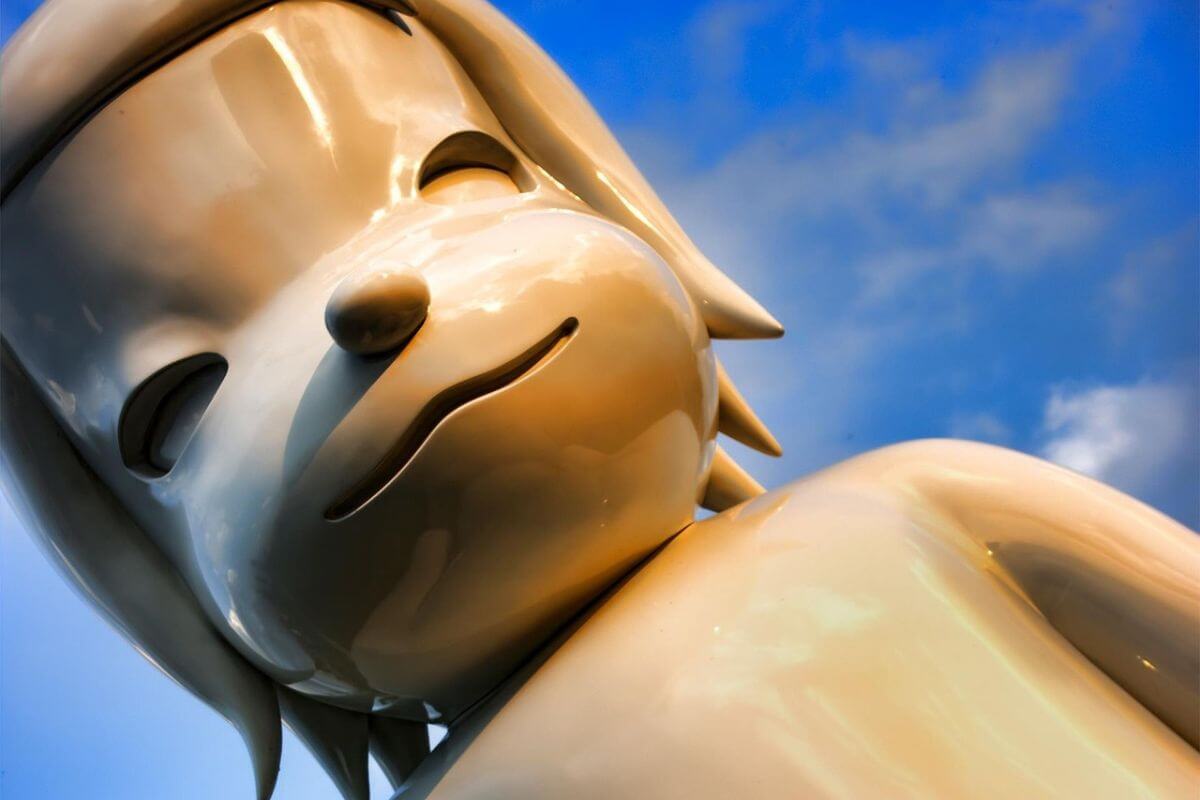 The Pappajohn Sculpture Park is another great place in downtown Des Moines where kids will have plenty of outdoor space to roam.
The park, which was established in 2009, spans 4.4 acres and features a remarkable collection of unique, contemporary sculptures. This free space serves as an open-air museum, providing an accessible space for the public to engage with art in a relaxed setting.
Kids will enjoy the quirkiness of the sculptures, and parents will enjoy watching their children curiously pause to enjoy some of the more peculiar works of art.
19. Cast a line at Lake Anita State Park – Anita, Iowa
Parents who love fishing look forward to teaching their children the sport in the perfect location. Your usual fishing spots around your town are great, but your kids could fall even more in love with fishing if they try it at Lake Anita State Park.
The park has fish like bluegills, bass, catfish and more. See what you can catch from exclusive shorelines or out on the water. When you need to cool off, there are plenty of swimming sites around the lake.
20. Tour the Iowa State Capitol – Des Moines, Iowa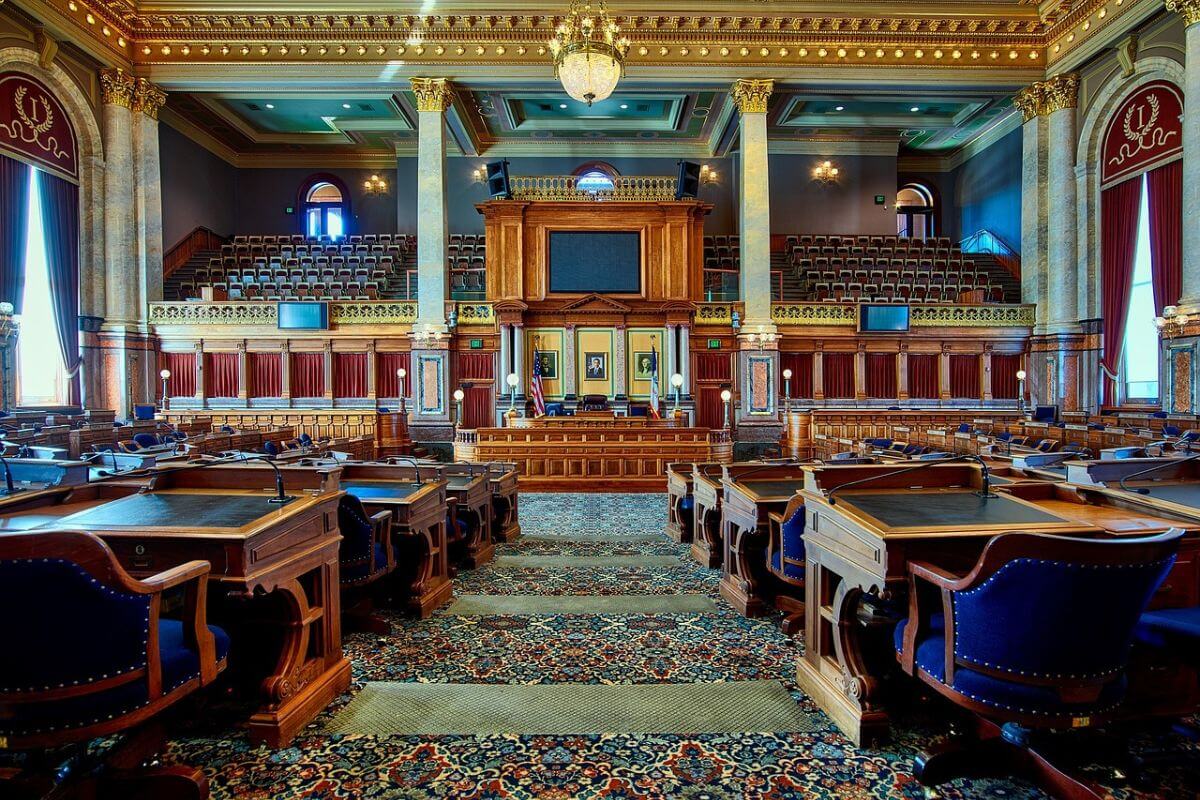 The Iowa State Capitol stands prominently in Des Moines as a striking example of 19th century architecture. Completed in 1886, the building is the only five-domed capitol in the country. Its central dome is adorned with a gleaming golden statue titled "The Iowa Gold."
Beyond its impressive facade, the Capitol houses a wealth of historical artifacts and artwork, including murals, portraits, and intricate mosaics that tell the story of Iowa's rich heritage.
As one of the best free things to do in Iowa with kids, families can see the legislative chambers and take a tour to the top of the dome for panoramic views of the city.
21. Go whitewater rafting – Charles City, Iowa
Outdoor adventures wouldn't feel complete without whitewater rafting. Charles City Whitewater has some of the best rafting opportunities in Iowa.
Join people gliding over the water through the downtown area. The river extends to locations with various speeds and skill levels for enthusiasts of all ages.
You could also rent stand-up paddle boards and enjoy the water off the downtown Riverfront Park. There are so many ways to have fun outdoors in Charles City, especially if you bring swimsuits and a bottle of sunscreen.
ENJOY WHITE WATER RAFTING? PLAN A VISIT TO OKLAHOMA CITY – AND GO RAFTING AT ONE OF THE BEST MAN-MADE WHITE WATER RAFTING COURSES IN THE NATION.
22. Eat deep-fried everything at the Iowa State Fair – Des Moines, Iowa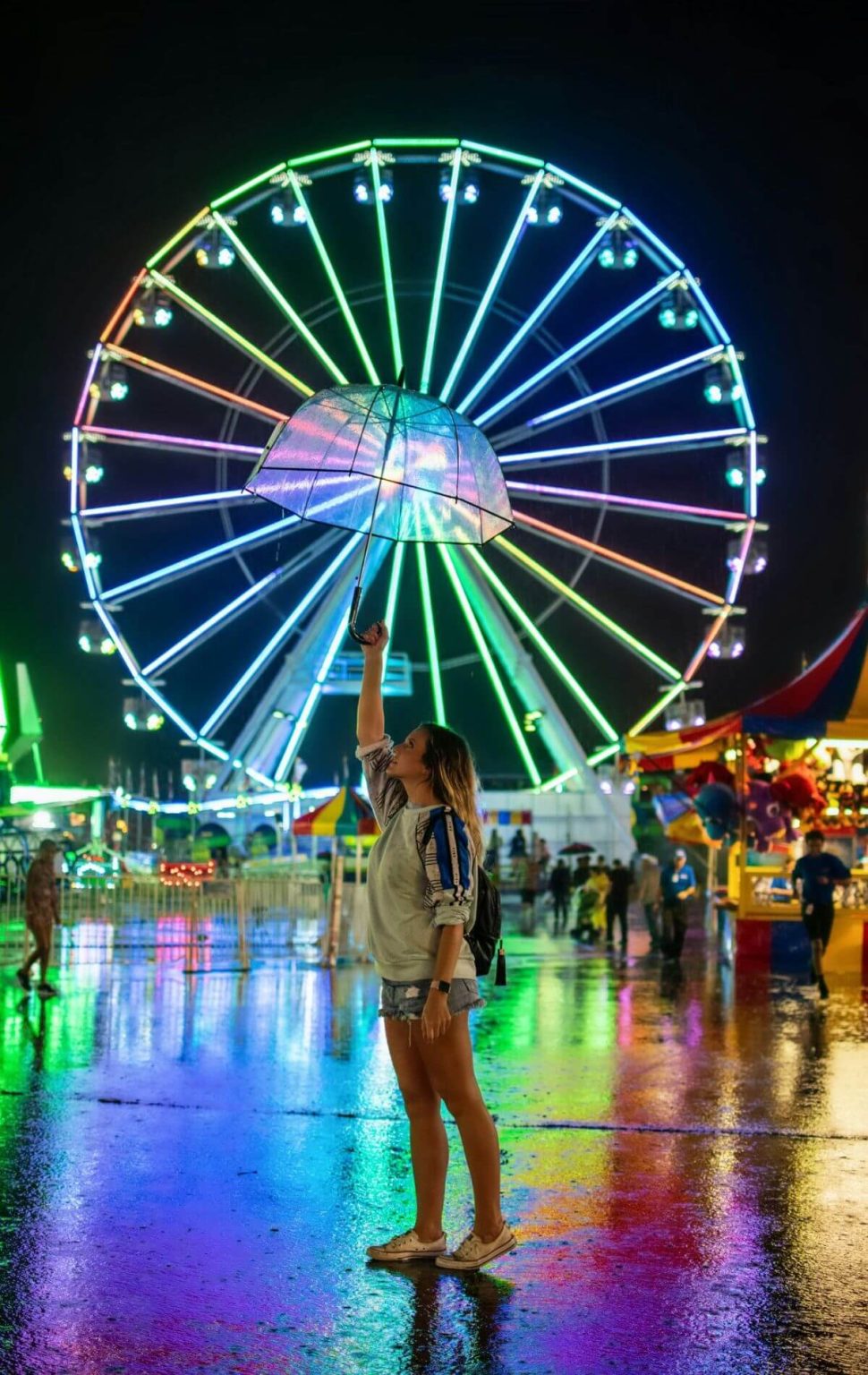 The Iowa State Fair, held annually in Des Moines, is a celebration of Iowa's agricultural background. Dating back to 1854, it has become one of the largest and most renowned state fairs in the United States.
Lasting for 11 days in August, the fairgrounds come alive with a kaleidoscope of sights, sounds, and colorful attractions. From carnival rides and livestock competitions to live musical performances and delicious fair food, including the famous deep-fried butter, the Iowa State Fair is a tradition for many Iowans.
Drawing people from all corners of the state, the fair is one of the best things to do in Iowa with kids.
23. Cheer on the Hawkeyes or Cyclones at a College Sporting Event – Iowa City or Ames, Iowa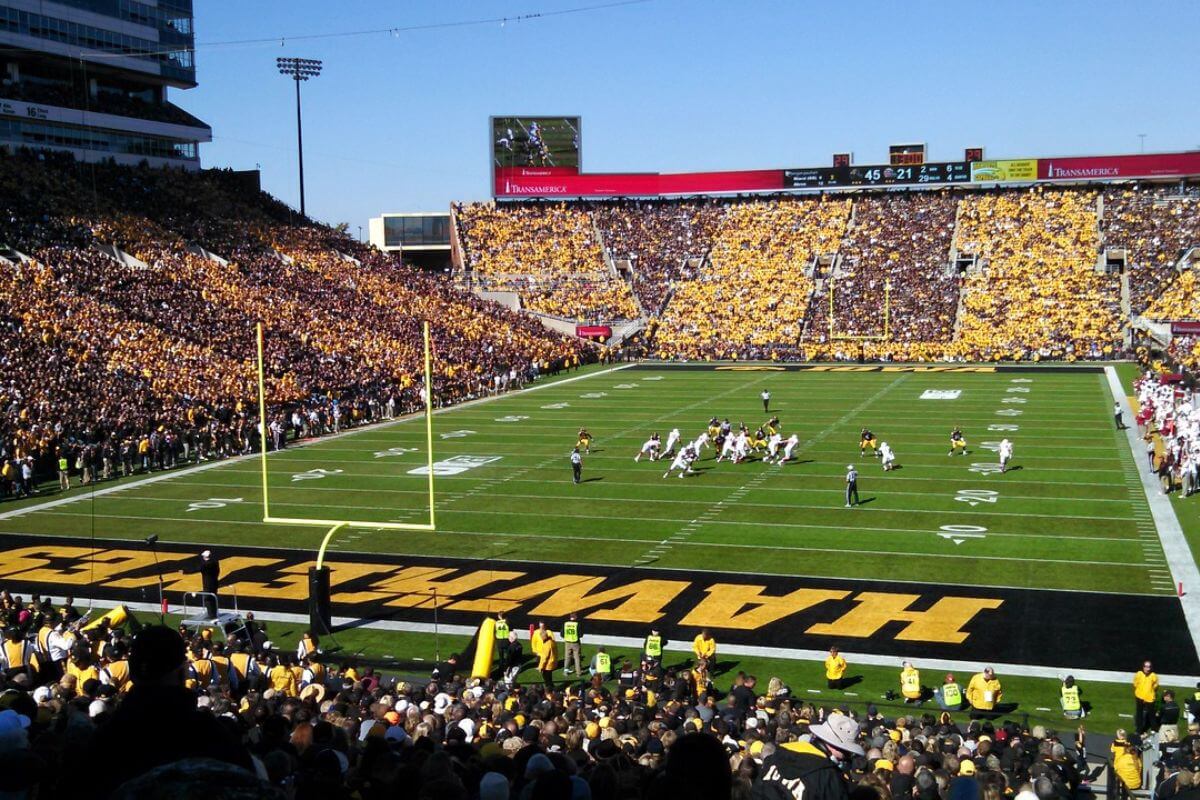 Iowa is a state where college football is king! Actually, college sports, in general, bring about an infectious community spirit.
Attending an Iowa State game or a University of Iowa game stands out as one of the best things to do in Iowa with kids. Families will love the passionate atmosphere within the stadium, whether it be for a football match or a basketball game.
Beyond the thrill of the game itself, the lively tailgating traditions contribute to the overall experience.
Whether your child is a sports enthusiast or not, attending a college sporting event in Iowa is undoubtedly one of the best ways to connect with Iowans and experience how friendly and welcoming the state can be.
24. Tour an old English mansion – Des Moines, Iowa
The Salisbury House is a historic home built in the 1920s. This grand Tudor-style mansion is adorned with an impressive collection of art, rare books, and antiques, showcasing the original owner's passion for collecting and preserving cultural treasures.
You can take guided tours of the mansion and its surrounding woodlands and gardens that are beautifully landscaped.
25. Pose for a photo in front of the American Gothic House – Eldon, Iowa
You may have never heard of Eldon, Iowa, but chances are you've seen it depicted in a painting.
A small white cottage with a distinctive Gothic-style window put Eldon on the map. The house served as the backdrop of Grant Wood's renowned painting "American Gothic," which depicts a stern-faced farmer and his daughter standing in front of the house.
Built in the 1880s, the house has become a symbol of American rural life and small-town values. Today, the American Gothic House Center welcomes visitors from around the world who come to see the Iowa landmark and pose for a photo in front of the home, wielding a pitchfork.
While some children may roll their eyes at the idea of recreating the famous painting, others will gleefully grab the pitchfork and strike a stern-faced pose – making this one of the most unique things to do in Iowa for families.
26. Have an Ice Cream in the Ice Cream Capital of the World – Le Mars, Iowa
The small town of Le Mars, located outside of Sioux City in western Iowa, proudly wears the title of the "Ice Cream Capital of the World". As the headquarters of Wells Enterprises, the largest family-owned ice cream manufacturer in the United States, Le Mars plays a pivotal role in shaping the nation's sweet tooth.
Home to the Blue Bunny Ice Cream Parlor and Museum, families can sample a variety of ice cream flavors, including some unique creations exclusively available at the parlor.
Whether your family comes to simply indulge in a scoop of Blue Bunny or tour the museum to learn about the fascinating process of ice cream production, a visit to the Ice Cream Capital of the World is a must if visiting Iowa with kids
Is Iowa worth visiting?
While Iowa isn't often considered one of the top destinations in the United States, the underrated Midwest state can be a fun getaway for families.
Whether you are exploring the many attractions in and around the capital city of Des Moines or venturing into the heartland for a glimpse at rural life, covered bridges, and rolling farmland, Iowa is definitely worth visiting.
There are plenty of things to do in Iowa with kids that will make for a memorable family vacation.
Conclusion: Iowa for Families
Consider a few of these destinations when visiting Iowa. Your kids won't get bored while away from home, whether you prefer riding four-wheelers or wandering through a zoo. Make a list and ask everyone to vote if you're unsure where to start — you're sure to have a blast no matter where you go.
Do you have a question or comment about any of these things to do in Iowa with kids? We'd love to hear from you. Leave your thoughts in the comments below.
About the author of this guide to the best things to do in Iowa with kids: Cora Gold is the Editor in Chief of women's lifestyle magazine, Revivalist. She loves to write about travel, family and adventure. Follow Cora on LinkedIn and Twitter.
Like this guide to the best things to do in Iowa with kids? Pin it to save these kids activities in Iowa for later!
Did you know…
When you make a purchase or book hotels, tours, or other travel services, through our links, we receive a small commission, at no extra cost to you. We only EVER recommend service providers, websites, or products we personally use when booking our own travels. Your support enables us to keep producing helpful travel content. Thank you!