Tulsa, Oklahoma is an unassuming city that boasts a surprising arts scene and a treasure trove of family-friendly activities. With interactive museums, quirky roadside stops, and one of the best parks in the United States, Tulsa offers a diverse range of experiences.
Having lived in Oklahoma for more than a decade, we visit Tulsa frequently and have personally explored many of the best attractions in Tulsa for families.
This guide to the best things to do in Tulsa with kids includes the top 20 family-friendly activities and places to visit in this northeast Oklahoma destination.
Things you should know about Tulsa before you visit
Whether you are on a historic Route 66 road trip and looking for unique places to stop along the way or you are exploring all the best places to visit in Oklahoma on a statewide vacation, here is a little information about Tulsa to prepare you for your visit.
Tulsa is the second largest city In Oklahoma. With roughly 412,000 residents in the city of Tulsa and more than 1 million in the metro area, only Oklahoma City eclipses Tulsa in size.
Located in the northeast corner of the state, Tulsa spans approximately 187 square miles.
Like many other cities in the United States, public transportation is not a convenient way to explore the city, so if you are flying into the Tulsa International Airport, you will need to rent a car to truly appreciate the city.
As the home to private Christian college Oral Roberts University, Tulsa is often referred to as the "Buckle of the Bible Belt". But that isn't all Tulsa is known for.
The city also has a thriving art, music and nightlife scene and tends to attract large concert tours thanks, in part, to its state-of-the-art indoor event venue, the BOK Center. In fact, Tulsa is often considered the trendier younger sibling to Oklahoma City – which also boasts a lot of fun things to do for families.
Where to Stay in Tulsa with Kids
The downtown area is the most convenient place to stay in Tulsa for families. Staying downtown situates you near several top attractions, like the Center of the Universe and Woody Guthrie Center, while also within a short drive from Route 66 attractions, the Gathering Place and Discovery Lab.
Here are a few options for great places to stay in Tulsa:
Top Things to Do in Tulsa with Kids
Whether you are visiting Tulsa for an event, passing through on Route 66, or you are a local just looking for fun things to do in Tulsa with kids, here are some of our top recommendations.
Nature and outdoor activities to do in Tulsa with kids
For an urban area on the edge of the Great Plains, Tulsa offers so many options for outdoor activities where you and your kids can feel immersed in nature.
Explore the Gathering Place
Ranked one of the best places in the United States by Time Magazine, the Gathering Place is a vision that breathed life into Tulsa's waterfront. The 66-acre park along the Arkansas River is truly one of the best urban parks in the United States. 
Opened in 2018, the park boasts a skatepark and BMX Tracks, sports courts, a beach and massive pond filled with fish, an adventure playground, walking trails, and so much more.
Whether you want to relax on a tuft of grass or a park bench and watch the ducks, walk through the perfectly manicured trails, or let your children roam and play on their world-class playground, the Gathering Place is one of the most popular places to visit in Tulsa with kids.
Stop to Smell the Flowers at the Tulsa Botanic Gardens
The Tulsa Botanic Garden is a serene oasis in the northwest part of the city. Spanning 170 acres, the garden showcases a diverse collection of plants and flowers with different themed gardens.
If visiting Tulsa with kids, your little ones will love the enchanting Children's Discovery Garden which has a whimsical wonderland feel.
During the Christmas season, the space is transformed into the Garden of Lights. With holiday music, twinkling lights, and S'mores cooked over fire pits, the illuminated experience is one of the best things to do in Tulsa for families during the holiday season. 
Go for a Hike at the Turkey Mountain Urban Wilderness Area
The Turkey Mountain Urban Wilderness Area lets families explore the outdoors in Oklahoma in its most natural state. Located on the west bank of the Arkansas River in south Tulsa, this 600-acre expansive wilderness area includes winding trails through tall, native trees that are perfect for hikers, trail runners, and mountain bikers. 
The wilderness area also hosts a variety of events throughout the year, like Haunted Trails and Mountain Biking races.
Go on a Nature Walk at Woodward Park
Just 3 miles from downtown Tulsa, Woodward Park is an historic park renowned for its stunning landscaping, featuring formal gardens, wooded areas, and walking paths.
The Tulsa Garden Center, housed within the park, is a hub for horticultural education and activities, adding an enriching dimension to the visitor experience. One of the park's highlights is the iconic Tulsa Rose Garden, a breathtaking display of thousands of roses in a spectrum of colors. 
Be sure to visit the Linnaeus Teaching Garden where you can learn about sustainable gardening practices and the Conservatory Greenhouse, which underwent significant restoration bringing the 100-year-old glass greenhouse back to its original glory. 
Get Lost in the Beauty at the Oxley Nature Center
Last but not least among nature activities to do in Tulsa with kids – the Oxley Nature Center in Mohawk Park is another great place for outdoor exploration where families can embark on a learning journey about the region's natural ecosystems. 
The nature center spans over 800 acres and includes woodlands, prairies, and even wetlands. With its well-maintained trails and educational exhibits, the Oxley Nature Center is great for nature enthusiasts, birdwatchers, and families wanting to go on an easy hike.
Educational adventures in Tulsa for kids
While there are plenty of educational opportunities found in nature, there are also lots of great places to visit in Tulsa specifically designed with education in mind.
Here are a few of the best educational, yet fun things to do in Tulsa with kids.
Learn through Play at Discovery Lab
Discovery Lab is an interactive and engaging space designed to ignite curiosity and foster a love for learning in children and families.
Located across from the sports courts and skatepark at the Gathering Place, this hands-on science museum offers lots of fun exhibits and educational programs that cater to a wide range of ages. 
From exploring the wonders of physics and engineering in the Tinkering Garage to delving into the principles of biology and nature in the Little Lab, your little ones will have a blast at Discovery Lab.
The museum encourages interactive play and experimentation, allowing young minds to discover the joy of scientific exploration.
Meet the Marine Life at the Oklahoma Aquarium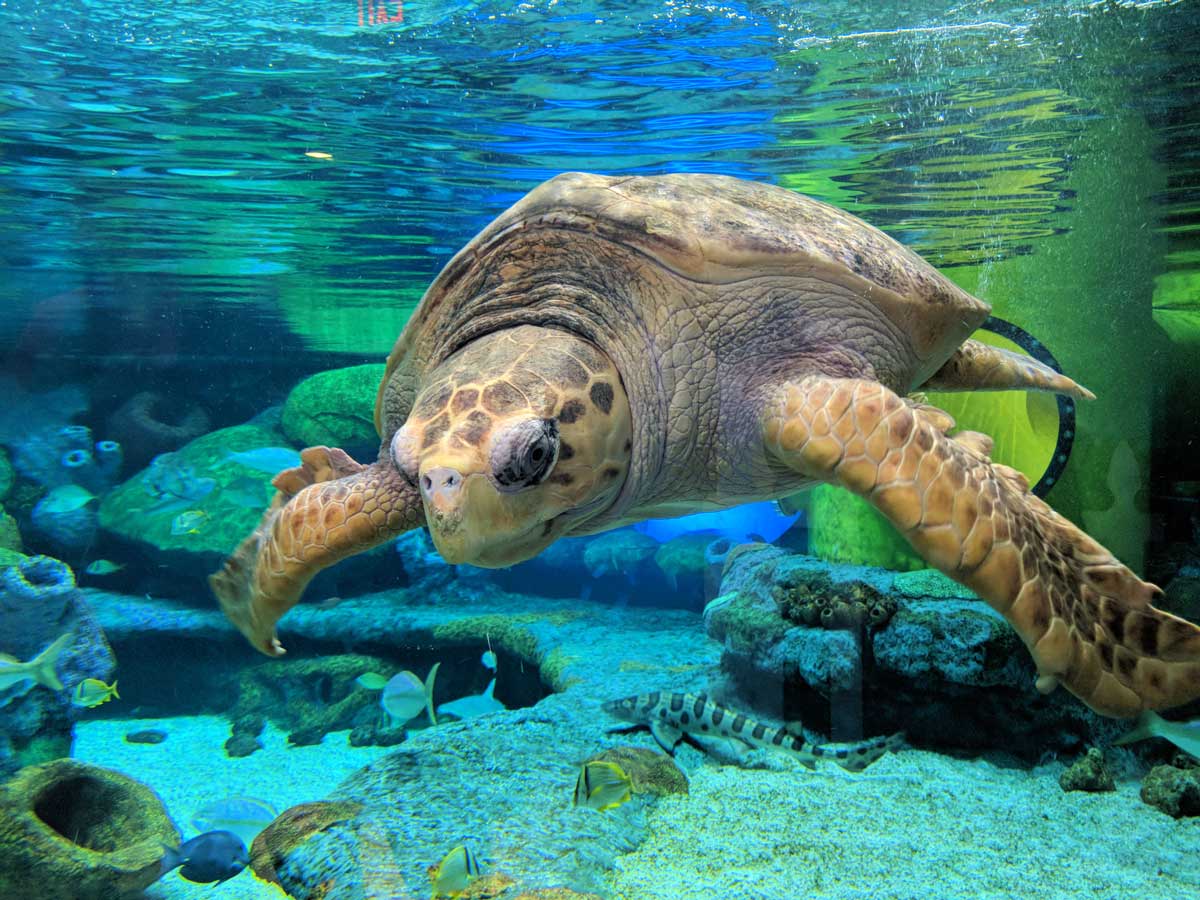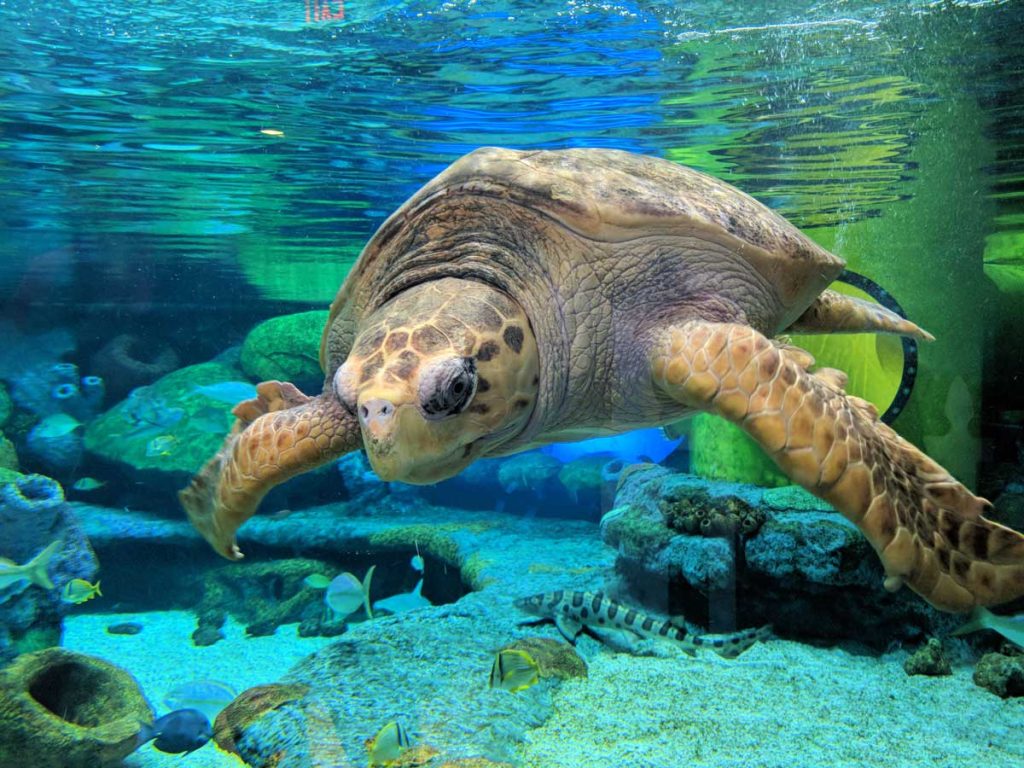 The Oklahoma Aquarium, located in the southern suburb of Jenks, is the best aquarium in the state – if not the entire Great Plains. 
This state-of-the-art facility showcases different aquatic ecosystems, from vibrant coral reefs to native habitats of Oklahoma's waterways.
Sea Turtle Island and the mesmerizing Shark Adventure are among the highlights of the aquarium, providing an educational and close up look at the wonders of the underwater world. 
The Oklahoma Aquarium also has hands-on learning experiences, like a touch pool, hurricane simulator, virtual reality ride, and shark feeding tours.
Visit the Tulsa Air and Space Museum
The Tulsa Air and Space Museum and Planetarium pays homage to the aviation heritage of the city. Situated near Tulsa International Airport, this museum offers a fascinating journey through the evolution of flight, featuring collections of aircraft and aerospace artifacts. 
From historic planes that have played pivotal roles in aviation history to interactive exhibits, the museum showcases the city's pivotal role in the development of aviation technology.
What role has Oklahoma played in aviation, you ask? Aviation and Aerospace is Oklahoma's second largest industry – and the world's largest commercial airline maintenance base is located in Tulsa. 
Walk on the Wild Side at the Tulsa Zoo
The Tulsa Zoo is a fun day out in Tulsa with kids – particular if your little ones love animals. The zoo is home to approximately 175 different animal species from around the world, thoughtfully arranged in exhibits that mimic their natural habitats.
From the African Plains, featuring majestic elephants and giraffes, to the lush rainforest environments housing playful primates and exotic birds, the Tulsa Zoo offers a journey through various ecosystems.
Big cats, like lions and tigers, are among the popular exhibits, as well as the Asian elephants, sloths and red pandas. 
As a non-profit organization, conservation efforts are at the forefront of the zoo's mission. The Tulsa Zoo serves not only as a source of entertainment but also as a vital force in promoting environmental stewardship and wildlife preservation.
Cultural activities in Tulsa for families
If you're looking for attractions to broaden your family's cultural horizons, here are some of the best museums and culture-enriching things to do in Tulsa for kids.
Tour the Philbrook Museum of Art
While we don't often recommend art museums for kids, as most children do not truly appreciate art and find museums boring, the Philbrook Museum of Art is an exception! 
This cultural gem blends exquisite art collections with stunning architecture and lush gardens. It is housed in the former mansion of oil mogul Waite Phillips.
While the museum boasts an impressive range of art spanning various periods and styles, families will enjoy wandering through the elegantly furnished rooms where the paintings, sculptures, and decorative arts are displayed.
The museum's gardens particularly provide a beautiful backdrop for outdoor sculptures. Children will appreciate the tranquil grounds and will love exploring the picturesque landscapes.
Pause for a Photo at Route 66 Historical Village
Route 66 not only runs through Tulsa, but the city is often referred to as the "Birthplace of the Mother Road". The Route 66 Historical Village serves as a nostalgic homage to the iconic highway, capturing the spirit and history of the historic Route 66. 
This living museum offers a journey back in time, with cute, vintage buildings and artifacts that once dotted the landscape along the historic highway.
Pause for a photo by a recreated Phillips 66 gas station that evokes the bygone era of cross-country road trips on America's most famous highway. 
The village also features exhibits and memorabilia, providing a glimpse into the cultural and social significance of Route 66 during its heyday.
Embrace your Inner Musician at Woody Guthrie Center
The Woody Guthrie Center is dedicated to preserving the legacy of one of America's most influential folk musicians, Woody Guthrie. 
Housed in the Brady Arts District, the center showcases Guthrie's life, music, and enduring impact on American culture.
You can read Guthrie's personal writings, look at photographs, and view his iconic instruments, that not only highlight his profound influence on folk music but his commitment to social justice.
While your children likely have never heard of Woody Guthrie, they have likely heard his song "This Land is Your Land".
Touring the museum is one of the best things to do in Tulsa with kids because it not only helps them develop an appreciation for folk music but teaches the importance of standing up for what you believe.  
Quirky and Unique things to do in Tulsa with kids
With such a thriving arts scene, Tulsa undoubtedly has several quirky attractions. Here are some of the most unique things to do in Tulsa with kids.
Buck Atom's Cosmic Curios
Buck Atom's Cosmic Curios is one of the most whimsical and distinctive roadside attractions in Tulsa. This retro-themed gift shop is home to a 21-foot-tall space cowboy known as Buck Atom, who greets visitors with his larger-than-life presence. 
Offering a quirky mix of space-themed souvenirs, nostalgic Americana, and kitschy novelties, Buck Atom's is a fun place for travelers seeking a lighthearted and memorable experience.
The shop embraces the nostalgia of the Mother Road, inviting patrons to take a step back in time when Route 66 was in its heyday.
Ponder the Mystery at the Center of the Universe
One of the more quirky and enigmatic attractions in Tulsa, the Center of the Universe is located in the Brady Arts District.
This peculiar spot captures the curiosity of visitors. Why? Because if you stand on the circular concrete platform, marked by a small, unassuming metal circle, sound takes on a surreal quality. 
Whether you speak or simply make a noise, the acoustics create an eerie phenomenon where the sound appears to echo back only to the person standing within the circle.
This peculiar auditory experience adds an element of mystery and quirky charm, drawing in those seeking a unique and slightly surreal encounter in the heart of Tulsa.
Stand Beneath the Golden Driller Statue
Tulsa was once known as the "Oil Capital of the World". So, it makes perfect sense that the city would boast a giant Golden Driller statue. The statue stands tall, towering 75 feet, as a proud symbol of the city's oil heritage.
This colossal figure of an oil worker, wearing a hard hat and holding a gigantic oil derrick bit, depicts the significant role the oil industry played in shaping Tulsa's history.
Erected in 1966 for the International Petroleum Exposition, the Golden Driller has since become a beloved landmark and a quirky representation of Tulsa's connection to the energy sector.
Tour the Cave House
The Cave House is a peculiar house that captures the fascination of passersby on Charles Page Boulevard.
Also known as the "Grotto House", this unconventional residence features a facade constructed with artificial rock and cave-like formations, creating an otherworldly appearance.
The Cave House was designed by a local artist in the 1920s as a private residence. Over the years, it has become a landmark in Tulsa, sparking curiosity and intrigue due to its unconventional design. 
The interior is only accessible to the public if you call to arrange a tour with the owner, but it is a well-known spot for those interested in exploring Tulsa's quirky and eclectic side.
Grab a bite to eat at the Route 66 Mother Road Market
The Route 66 Mother Road Market is a community-focused culinary destination located in the Kendall Whittier neighborhood. The market brings together different local eateries, artisanal shops, and community spaces under one roof. 
Situated directly along the iconic highway, this makes for a great pit stop where you can sample a wide range of cuisines from tacos to sushi, barbecue to gourmet pastries.
As a modern interpretation of the historic highway's essence, the Mother Road Market is a way for Tulsa to embrace and preserve the history of the famous highway that runs through the city.
Fun-filled entertainment in Tulsa for kids
Not everything has to be a tourist attraction, some of the best things to do in Tulsa with kids are simply great family fun.
Jump High at Sky Zone
What kid doesn't love a trampoline park!? Sky Zone is a great rainy day activity, or a place to let restless kids burn off some energy after a morning of sightseeing. 
With plenty of trampolines for freestyle jumping and tumbling, a ninja warrior course, dodgeball and basketball courts, plus climbing walls, and a foam zone your kids will arrive excited, leave happy and probably a little sweaty!
Go Ice Skating at Oilers Ice Center
The Oilers Ice Center is a great facility for public ice skating year round. 
Home to the Tulsa Junior Oilers and serving as a hub for local hockey leagues and figure skating enthusiasts, the ice center provides a fun environment for skaters of all skill levels. 
The facility provides ample space for public skating sessions and offers both figure skating lessons and competitive hockey programs for kids.
The Oilers Ice Center also offers skate rentals and skate aids for those still learning who might need a little help standing on ice skates.
Make a Splash at Paradise Beach Water Park
Paradise Beach Water Park is the perfect place to spend a hot summer afternoon. With water slides, a wave pool, and a lazy river, your kids will have a blast while staying cool. 
Most waterslides require kids to be 42 inches tall, but there is a kids splash zone for toddlers and younger kiddos.
With other amenities like cabanas, concessions, and ample space for relaxing in the sun, Paradise Beach Water Park is a tropical, family friendly escape from the Oklahoma heat.
LOOKING FOR OTHER UNIQUE PLACES TO VISIT IN OKLAHOMA? CHECK OUT THE SMALL TOWN OF MEDICINE PARK AND THE STATE'S ORIGINAL CAPITAL – GUTHRIE!
Like it? Pin this travel guide of fun things to do in Tulsa with kids to save it for later!
Do you have a question or comment about any of these fun things to do in Tulsa with kids? We'd love to hear from you. Leave your thoughts in the comments below.
Did you know…
When you make a purchase or book hotels, tours, or other travel services, through our links, we receive a small commission, at no extra cost to you. We only EVER recommend service providers, websites, or products we personally use when booking our own travels. Your support enables us to keep producing helpful travel content. Thank you!
Photo credits: 1. Jon Grogan from Unsplash | 3. John Tidwell from Unsplash | 4. Kyler Payne from Unsplash | 7. LaRae Luttgen from Pixabay | 8 and 10. Mick Haut from Unsplash | 9. Katie Mourn from Unsplash | 11. Jametlene Reskp from Unsplash | 12. Garrett Vogele from Unsplash