One of the cutest small town destinations in the United States, Medicine Park is a unique gem in Oklahoma. With a population of fewer than 500 residents, this tiny town in Southwest Oklahoma balloons with tourists and day trippers during the summer months.
Despite being a tiny town, there are a lot of fun things to do in Medicine Park, Oklahoma to keep visitors entertained for a full weekend.
This guide to the best things to do in Medicine Park provides fun activities in Medicine Park for families, couples on a weekend getaway in Oklahoma, or anyone wanting to explore this unique town in the Sooner state.
About the town of Medicine Park, Oklahoma
Medicine Park is located in Comanche County near the Wichita Mountains. The small town dates back to 1908. Its original founder wanted to develop Medicine Park into the first resort town in Oklahoma.
The town got its unique name because the waters in Medicine Creek were said to contain medicinal, healing properties by the Plains Indians, the Indigenous tribes who once settled the area. For this reason, Medicine Park was to be a health and wellness resort town.
In its first few decades, the town was a getaway for everyone from President Roosevelt to Bonnie and Clyde.
Today, while it doesn't attraction the same level of notoriety, much of the history of Medicine Park remains. Although the town isn't the roaring resort area it once was, this charming small town is a worthy getaway and one of the best places to visit in Oklahoma.
Looking for other charming small towns in Oklahoma? Check out Guthrie, Oklahoma!
Things to do in Medicine Park, Oklahoma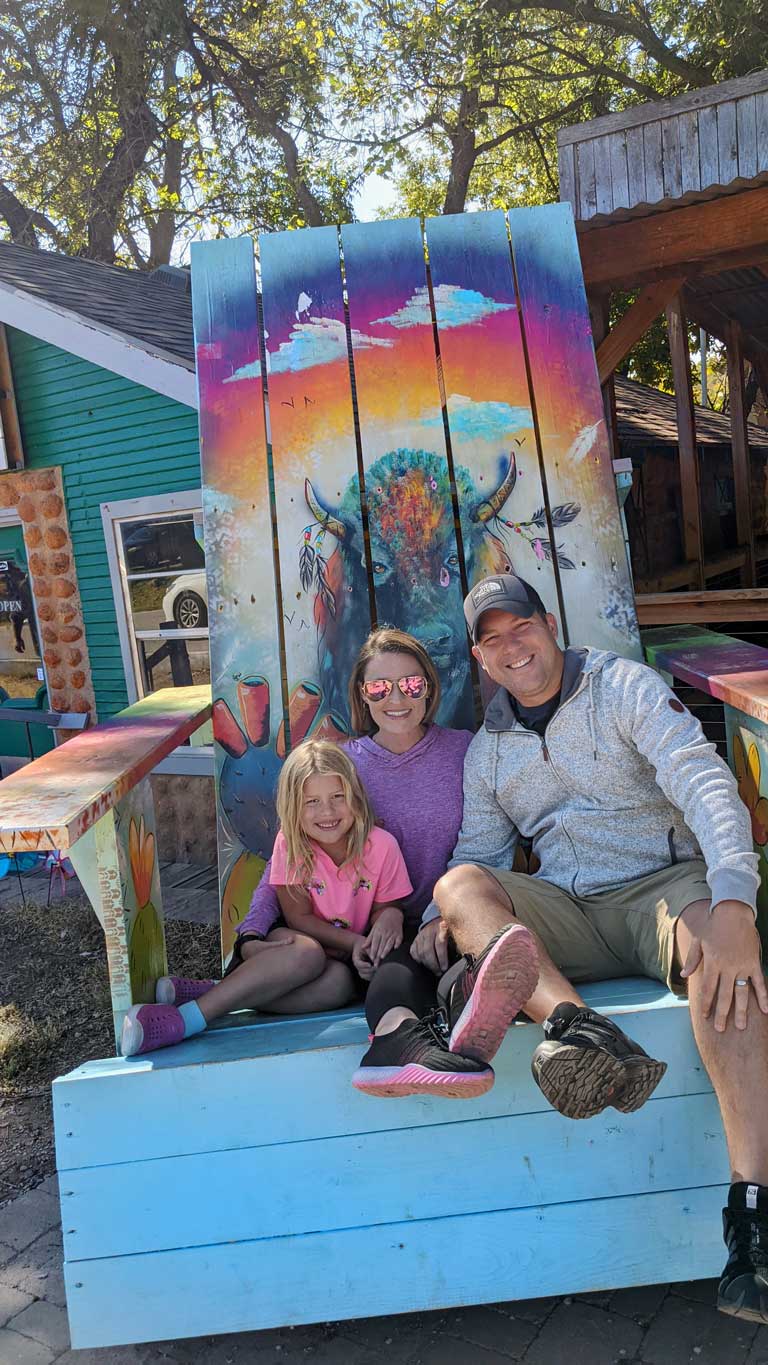 It may be small in size, but Medicine Park boasts a lot of activities for visitors and tourists. In fact, with a variety of things to do in Medicine Park, Oklahoma and the surrounding area, it is a popular getaway for many in the Oklahoma City metro area.
The town itself and the nearby Wichita Mountains offer natural beauty and entertainment for those looking for a unique escape.
The town is a great day trip or even a weekend trip from Oklahoma City or from Dallas and Fort Worth, Texas. To make planning your trip easier, we've laid out all the best things to do in Medicine Park, Oklahoma.
Walk along Medicine Creek or swim in a natural swimming hole
Medicine Creek runs directly through the town adjacent to the main street and all the businesses. The creek has lovely, paved walking trails that give you the opportunity to take a stroll along the water.
There are plenty of shady trees and seating areas along the pathway if you need to take a break, or just want to sit and enjoy the view.
Also, there are several lovely bridges that cross the creek which give a different perspective and view of the area. Be on the lookout for turtles! They love to sunbathe on the rocks along the water's edge.
Relax at Bath Lake
In the heart of the small town, you'll find a natural, public swimming hole known as Bath Lake. Bath Lake is operated by the town of Medicine Park.
During the hot summer months, you can take a refreshing dip in the calm waters for just $3 per person. The swimming area has a shallow, calm section separated from the rest of the creek which is perfect for young kids.
Adults and older kids can venture out into the deeper areas and even relax by the waterfall. Don't expect clear or blue water at Bath Lake, though.
Keep in mind, this is a naturally creek-fed swimming area, so the water is murky and has a greenish-brown hue, much like many of the lakes in Oklahoma.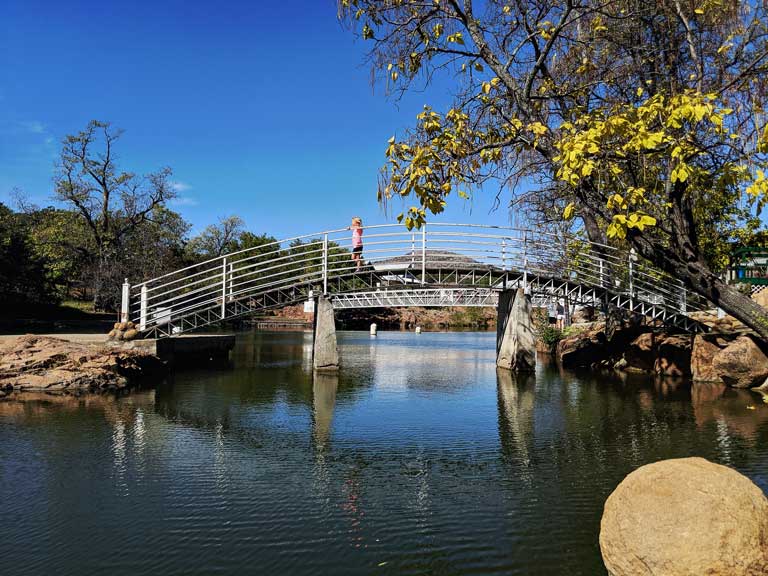 Another thing to consider if you want to take a dip in Bath Lake, there are no public changing rooms or restrooms, so wear your swimsuit under your clothes and bring a cover up to wear afterwards until you dry off.
Shop along Cobblestone Row
While Medicine Park may have once been known as the playground for the rich, famous, and infamous, it is now perhaps better known as one of America's cute cobblestone communities.
Many of the town's buildings are constructed using cobblestones, which are abundant in the area. These native geological stones give the town its distinctive appearance.
Take a stroll down the tiny town's main street, shop, and then enjoy a meal at one of the restaurants overlooking the creek.
Known as Cobblestone Row, you'll find plenty of unique stores to duck into, including an old-fashioned emporium, trading post, and several souvenir shops.
You can sample different olive oils at Medicine Creek Olive Oil Company or enjoy the scents of homemade soy candles at Redneck Candles.
Visit Mount Scott, the tallest peak in Oklahoma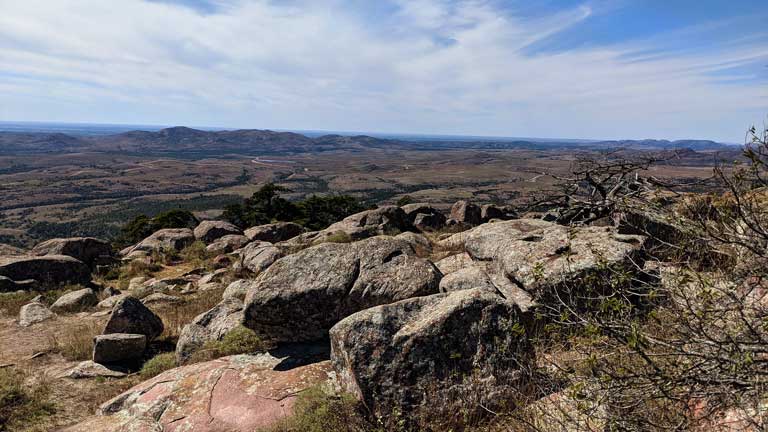 Mount Scott is the highest point in Oklahoma. Located just outside of Medicine Park, the views from the summit of Mount Scott are stunning.
At 2,464 feet, this rugged, rocky mountain doesn't quite compare to the elevation of the mountains in Colorado or Wyoming that often tower 14,000 feet above sea level.
But a visit to Mount Scott is quite impressive regardless. And, bonus, you won't have to worry about altitude sickness for the epic view!
You can hike and even rock climb at Mount Scott if you are up for an adventure. But if you're looking for something a little less strenuous, take a scenic drive to the summit where you can enjoy panoramic views from various lookout platforms with minimal effort.
From the top, you can enjoy scrambling down the large boulders and exploring around the mountain.
Go for a hike in Wichita Mountains
If you enjoy hiking, or you're looking for an easier hike than a physical trek up Mount Scott, head to the Wichita Mountains for some of the best hiking trails in Oklahoma!
The Wichita Mountains offer rocky cliffs, sandy trails that run along the river, and if you're lucky enough to visit after a good rain, you can even find some beautiful waterfalls!
For an easy and scenic hike you can do with kids, check out the Forty-Foot Hole Trail. This 1.4 mile trail takes you to the edge of a cliff that overlooks the river.
After a good rain, the trail ends at a waterfall. But most of the time, there is no water cascading down the large boulders. Instead, you'll find small puddles of water at the base of large rocks.
After hiking to the overlook, you can climb down to the bottom, where kids will have a blast climbing on the rocks or wading through the puddles.
Go bison and longhorn spotting in the Wichita Mountains Wildlife Refuge
One of the most popular trails in the Wichita Mountains Wildlife Refuge is called Bison Trail, and for good reason.
The refuge is home to roughly 650 bison, as well as longhorns, elk, and deer. Take a scenic drive through the 59,020 acre refuge and see what animals you can spot along the way.
If visiting in spring or early summer, you might also spot some beautiful Oklahoma wildflowers in the refuge.
Where to stay in Medicine Park, Oklahoma
If you're looking to spend a weekend in Medicine Park, you can expect a lot of relaxation and serenity while you are there. Book a stay at a cabin with mountain views or a rustic, charming cottage on the hilltop.
Medicine Park is a great place to escape the hustle and bustle of one of the larger cities in the area and truly slow down and enjoy the beauty of Oklahoma's rugged landscape.
Where to eat in Medicine Park, Oklahoma
Dining at one of the locally-owned restaurants is one of the best things to do in Medicine Park, Oklahoma.
There are several restaurants that all line Medicine Creek and the main road through Medicine Park. For a great atmosphere with outdoor patio seating, check out Small Mountain Street Tacos.
Riverside Cafe is another great option for dining in Medicine Park. And if you are looking for some traditional Oklahoma food, The Old Plantation Restaurant specializes in southern-style cuisine, like chicken fried steak and fried catfish.
Finally, no trip to Medicine Park would be complete without a stop off at Cobblescones. Grab a delicious fresh-baked pastry and pair it with a cup of coffee and you'll leave Medicine Park happy!
Why you should visit Medicine Park, Oklahoma
Medicine Park is a unique part of Oklahoma history. And for those looking for a fun escape or a quirky little town to visit in Oklahoma, Medicine Park is toward the top of our list!
There are so many great things to do in Medicine Park, and some of the state's most beautiful scenery surrounds the small town. It's no wonder this cobblestone town is one of Oklahoma's must-visit gems!
Like it? Pin this list of things to do in Medicine Park, Oklahoma to save it for later!
Do you have a question or comment about any of these things to do in Medicine Park, Oklahoma? We'd love to hear from you! Leave your thoughts in the comments below.
This post on the best things to do in Medicine Park was first written in March 2022 and was most recently updated in May 2023 for accuracy and current information.