Discover the best things to do in Dickinson, North Dakota, roam the prairies, explore the grasslands, and take in the scenery at Theodore Roosevelt National Park. This trip was sponsored by the North Dakota Tourism Board.
Dickinson, North Dakota is the perfect destination for families looking for wide-open space to explore, hike, and enjoy the great outdoors. With easy hiking trails, kid-friendly museums, and one of the most scenic US national parks just a short drive away, there are so many things to do in Dickinson, North Dakota for families.
If you're planning a getaway or a trip to North Dakota this guide to the best activities in Dickinson, ND will help you craft an itinerary that the whole family will love.
About Dickinson, North Dakota
Dickinson is located in the southwestern part of North Dakota, between Bismarck and Theodore Roosevelt National Park. With a population around 25,000 residents, it is a relatively small town with a lot of charm.
Despite its smaller size, there are so many fun and fascinating things to do in Dickinson, North Dakota with kids – or without. 
Its character and variety of activities make Dickinson one of the best places to visit in North Dakota.
The town's history dates back to the late 1800s before North Dakota was even a state. However, the area was first settled many years earlier by indigenous tribes who hunted and lived in the region's prairie lands.
As with many towns in this region of the United States, Dickinson grew and developed along with the railroad. Agriculture – farming and ranching – is still one of the primary industries in Dickinson.
While the sweeping farmland is picturesque, it is the unspoiled beauty in the North Dakota prairie lands that makes a visit to Dickinson memorable.
When to visit Dickinson, North Dakota
The late summer and early fall months are when you'll experience North Dakota at its best. Temperatures average between 75 and 85 degrees Fahrenheit for highs and lows between 40 and 55 degrees Fahrenheit. This is also when the prairies put on a stunning display.
Late winter and even early spring tend to be cold with temperatures between 40 and 50 for highs and average lows around 15 to 25 degrees. Dickinson does not average its last freeze until early May.
Some activities and tours in the area only operate from June through mid-September, so if possible, plan your trip to Dickinson in late August or early September to experience both the beauty and the popular activities.
As one of the least populated US states to visit, you'll find plenty of space and untouched nature to explore regardless of what time of year you visit.
Things to do in Dickinson, North Dakota with kids
If you are planning a trip to North Dakota, Dickinson is a great town to add to your itinerary.
There are a lot of fun things to do in Dickinson, North Dakota for kids and adults alike. It promises to be a memorable trip for the entire family! Here are the top things to do in Dickinson, ND. 
Tour the Badlands Dinosaur Museum
What kid doesn't love dinosaurs? Our daughter has been obsessed with dinosaurs since she was a toddler, so naturally The Badlands Dinosaur Museum was a must-visit. This museum has a ton of fascinating things to see!
With six full dinosaur skeletons, life-like replicas showing what some of the dinosaurs may have looked like, plus hundreds of fossils and minerals, and lots of hands-on activities for kids, the museum is one of the top things to do in Dickinson, ND for families.
The museum houses the largest collection of dinosaur fossils in the state. It also has a research lab inside where you can watch paleontologists work on future exhibits.
In addition to all the dinosaur fossils, we loved the interactive topographic sand and the digital magnifying glass activities in the museum.
Cost: $6 per adult | $4 per child
Learn about early life in Dickinson at Prairie Outpost Park
Directly behind the Badlands Dinosaur Museum, Prairie Outpost Park is a look back in time at early life in Dickinson, North Dakota. The public park is home to several restored, historical buildings dating back to the late 1800s.
Among the buildings is a farmhouse, church, train station, newspaper, and a one-room schoolhouse. There are also buildings that celebrate the regions Czech, German, and Scandinavian heritage.
If visiting between Memorial Day and Labor Day, you can take a guided tour and even go inside the buildings. But even without a guided tour, the park is still fun to visit and is one of the most interesting things to see in Dickinson, ND.
Cost: Free!
Visit the Dickinson Extension Research Center Floral Gardens
If you love nature, wildflowers and beautiful gardens, the North Dakota State University Dickinson Extension Research Center Floral Gardens is a quick stop where you can learn about North Dakota's vibrant native flowers.
Take a stroll along the walking trails surrounded by tall pines, beautiful flowers, and natural grasses. Walk beneath trellises and between towering trees, and don't forget to stop and smell the flowers (or the hops, or the sage).
The gardens are a quiet oasis, ideal for a moment of reflection or simply a dreamy photo op. There is also an area of the gardens where you can see the different crops, like corn, sunflowers, beans, and wheat that grow well in this area of North Dakota.
Cost: Free!
Check out the quirky sculptures along the Enchanted Highway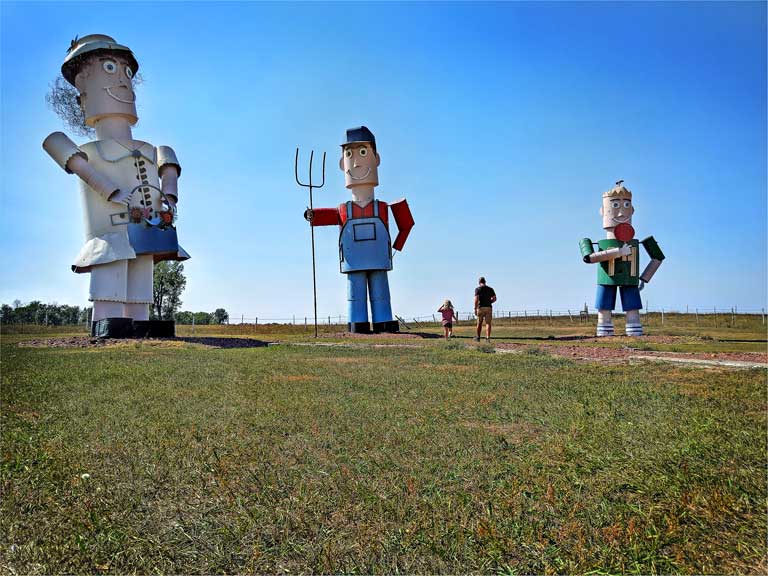 The Enchanted Highway runs from I-94 east of Dickinson to the small town of Regent. Along the roughly 30-mile stretch of road, you'll find seven giant metal sculptures lining the two-lane country road.
A leisure drive down this quirky highway is one of the most unique things to do in Dickinson, if not in all of North Dakota. 
Among the public artworks, you'll find the world's largest tin family, and the world's largest scrap metal sculpture.
All of the sculptures were created by a retired school teacher as a way to draw people off the interstate to his hometown of Regent to give the town an economic boost. 
The drive itself is incredibly scenic with gentle rolling hills of vibrant yellow and green farmland.
In the tiny town of Regent, you'll find an Enchanted Highway Gift Shop Just outside the gift shop, a final quirky sculpture welcomes visitors to town. This one is animated and comes to life with the push of a button.
Cost: Free!
Swim or rock climb at the West River Community Center
Dickinson has a state-of-the-art community center that is fun to visit any time of year. During the summer months, their large outdoor pool is the perfect place to cool down on a warm day.
With multiple water slides, a lazy river, and lots of splash features for kids, there is plenty to keep the kids entertained all afternoon. 
We visited North Dakota in September, so the outdoor pool was already closed for the year. But the West River Community Center offers a lot of great indoor things to do in Dickinson, ND, as well.
Their indoor pool has two enclosed water slides that spiral around on the outside of the building before launching you back inside with a giant splash into the pool. These slides were fast and so fun!
Our family probably went down the water slides 20 times each. The indoor pool also has a smaller slide for toddlers and young kids, a lazy river, splash features, and a giant hot tub.
If you prefer to stay dry, the community center has an indoor playground for kids and a rock climbing wall for teens and adults.
With adult day passes starting at only $8 and a child's pass costing even less, it's an inexpensive way to spend a day in Dickinson, ND.   
Cost: $8 per adult | $6 per child
Lounge by the shore at Patterson Lake and take a walk at Crooked Crane Trail
Dickinson has several parks and recreational areas that aren't just for locals, they're fun for visitors to the town, as well. Patterson Lake is perhaps the top outdoor recreational area in Dickinson, ND.
With 26 miles of shoreline surrounded by grasslands, this winding lake is the perfect place for camping, fishing, and water activities.
Around the lake, you will also find playgrounds, exercise equipment, walking trails, and even a beach area where you can lounge in the sand.
Crooked Crane Trail goes partially around Patterson Lake, and is one of the more scenic walking, jogging, and cycling trails in Dickinson. The concrete portion of the trail is roughly 1.9 miles long with lots of fun things to stop and places for kids to play along the loop.
For just a $3 daily fee per car, Patterson Lake is an inexpensive place to enjoy nature near Dickinson.
Cost: $3 per car
Visit Theodore Roosevelt National Park
Theodore Roosevelt National Park is the main draw to southwestern North Dakota. The national park is known for its jaw dropping views of the badlands and prairies.
Named after President Theodore Roosevelt, who doubled the size of the national park system and fell in love with North Dakota, the national park offers visitors plenty of public land to explore. In fact, with more than 70,000 acres of land, it is easy to escape crowds and feel completely alone in the park. 

The national park is divided into three units, the north unit, south unit, and Elkhorn Ranch unit. Give yourself at least two full days to explore this park if you plan to visit all three units.
There are a variety of hikes in Theodore Roosevelt National Park – from easy, kid-friendly trails to more moderate and challenging backcountry hikes. 
Theodore Roosevelt National Park is also home to lots of wildlife, most notably bison, wild horses, and adorable prairie dogs.
Located about 30 minutes west of Dickinson, this majestic park is an easy day trip from the town.
Cost: $30 per car
Planning to visit more than one national park in a year? Buy a national park pass and save!
Take a day trip to Medora, North Dakota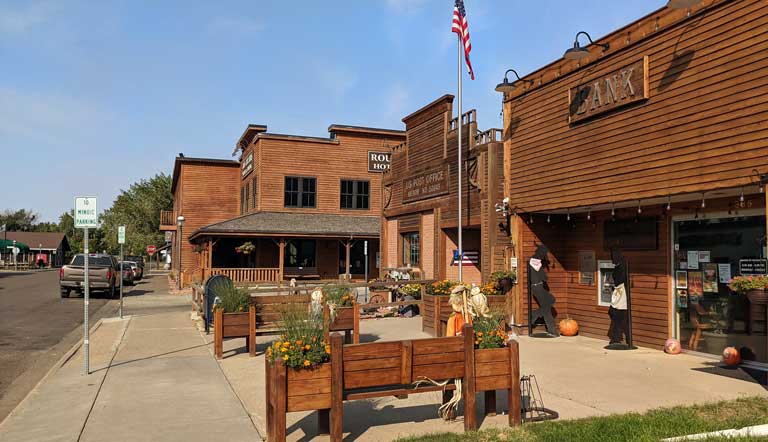 Medora, North Dakota might just be one of the cutest small towns in the United States. As the gateway town to the south unit of Theodore Roosevelt National Park, you'll definitely want to stop in Medora before or after your visit to the park.
The entire town looks like the set of a western movie. You almost expect to see Wyatt Earp or Doc Holliday walking out of one of the old-timey buildings with their charming wooden facades.
With only about 200 residents, Medora is a teeny tiny town. However, as a tourist stop, this town has a lot to offer. There are so many fun things to do in Medora for kids or adults.
If visiting during summertime the Medora Musical is a must. The musical, as well as many of the businesses are seasonal, and close in mid-to-late September. So, for the ideal Medora experience, plan to visit before things close for the season.
Find wide open space
Perhaps one of our favorite things to do in Dickinson, North Dakota is to simply appreciate the beautiful scenery that surrounds the town.
You don't have to drive very far outside of Dickinson to find vast open land with unobstructed views, big blue skies, and prairies that seem to stretch as far as the eye can see. You'll find rolling hills, natural prairie lands, and colorful fields of farmland.
Cost: Free!
Take in the beauty of the sunflower fields
Sunflower fields are abundant around Dickinson. If you visit in late summer you'll get to see these brilliant yellow fields in their full glory. Keep in mind, sunflowers are crops, so they are grown on private farmland.
Be careful not to trespass on private property if you want to take photos. Luckily, many of the sunflower fields run along the highway, so you can easily see them from the road.
You can even pull off along the shoulder to take a few photos of these giant, vibrant flowers.  
Other things to do in Dickinson, ND
Depending on how many days you have to spend in North Dakota, here are a few more popular things to do in Dickinson, ND.
Joachim Regional Museum
Connected to the Badlands Dinosaur Museum, the Joachim Regional Museum is an interesting addition to your Dickinson itinerary. The small museum details the history of the town from the year it was founded through the 1950s.
While the museum has a lot of great information to read, if visiting Dickinson with kids, your children will be most interested in the antique furniture – and the antique dollhouse – on display.
Attend a community event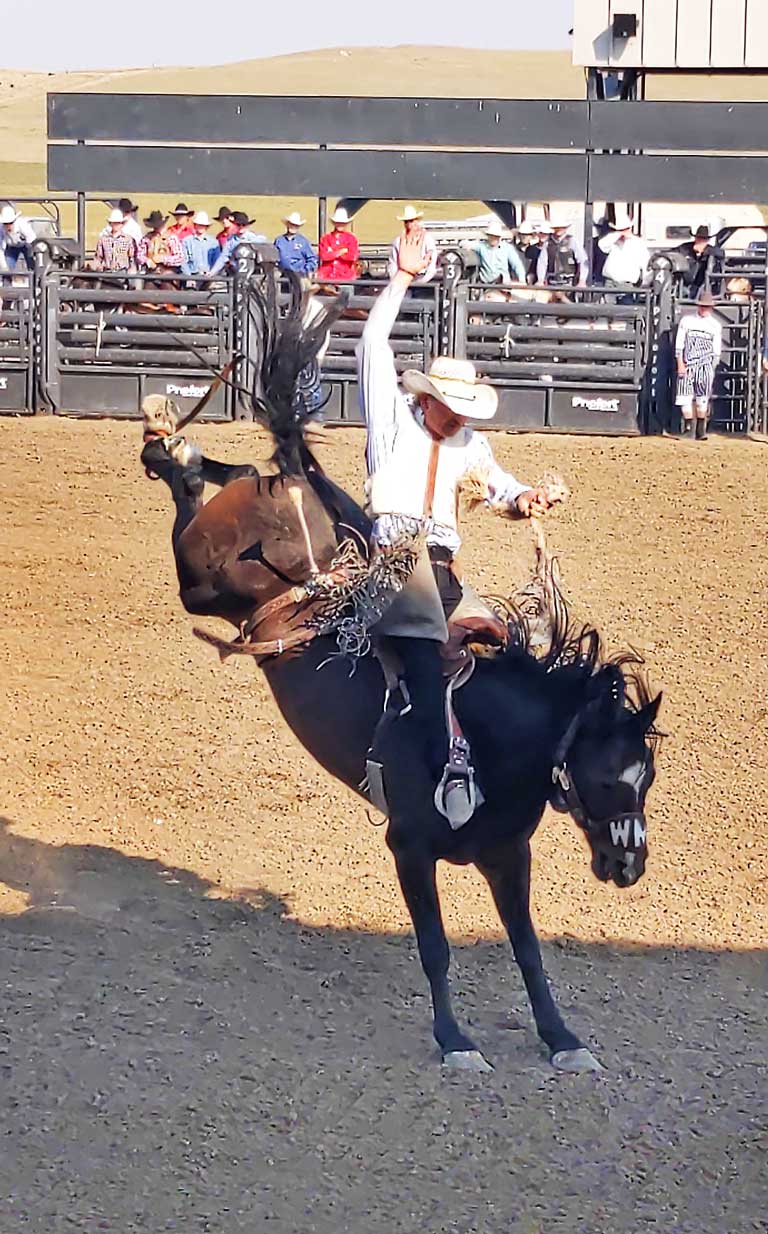 Throughout the year, Dickinson hosts several fun community events. If you happen to be visiting during one of them, it is a neat way to connect with the local residents and experience the North Dakota way of life.
We visited in September, when the Stark County Fairgrounds happened to be hosting the Wild Rides Rodeo.
We enjoyed experiencing the town's western heritage in such a lively, action-packed way. Plus, we got to see some of the nation's best cowboys and cowgirls rope and wrangle calves and ride bucking broncos.
Visit the Ukrainian Cultural Institute
The Ukrainian Cultural Institute is one of the best things to do in Dickinson, North Dakota, particularly in springtime. If visiting around Easter, book a class to learn how to make pysanky.
The Ukrainian art of egg decorating is a fascinating activity for families, and makes for a great souvenir. You can also learn about the history of Dickinson's Ukrainian settlers, and how they ended up in North Dakota.
Explore downtown Dickinson
Downtown Dickinson has maintained much of the original architecture from the early 1900s. This relatively small, walkable area has several popular restaurants housed in century-old brick buildings.
You'll also find a colorful mural or two and even a vintage looking barber shop. 
It doesn't take long to explore, but is worth walking around if you plan to eat lunch or dinner downtown.
Little Missouri National Grassland
The Little Missouri National Grassland is on the way to Theodore Roosevelt National Park and Medora. This protected area managed by the National Forest Service spans more than one million acres.
The largest grassland in the United States, this expansive public area is free to visit and ideal for outdoor lovers. With prairies, buttes, and lots of space for horseback riding or stargazing, it's important to appreciate and preserve the grasslands around Dickinson.
Try to spot North Dakota's native wildlife
North Dakota's prairie lands are home to a variety of wildlife. From bison to prairie dogs and even wild horses in Theodore Roosevelt National Park, one of the best things to do around Dickinson, North Dakota is to go wildlife spotting during your trip.
We spotted deer, bison, pronghorn, wild horses, sheep, rabbits, and tons of prairie dogs during our visit to North Dakota. Just remember, always observe wild animals from a safe distance.
Where to eat in Dickinson
For foodies looking for the best restaurants in Dickinson, you'll find a variety of great locally-owned restaurants, cafes, breweries and even a family-friendly winery. There are also several larger chain restaurants for those who prefer something familiar.
We like to sample local cuisine, craft beers, and wine when we travel, so we stuck to locally-owned restaurants to get a true taste of Dickinson.
Here are some of the best places to eat in Dickinson, North Dakota.
Phat Fish Brewing
The only craft brewery in Dickinson, Phat Fish is a family-friendly brew pub and pizzeria. There are games and a play area for kids, and great food and unique craft beers for adults.
Blue 42 Sports Grill and Bar
Located in the heart of downtown Dickinson, Blue 42 is a sports bar and grill serving up a large variety of pub food with an awesome atmosphere.
Fluffy Fields Vineyard and Winery
Located just north of town, Fluffy Fields Vineyard and Winery is a relaxing kid-friendly winery in North Dakota.
With a children's menu, light fare, and local wines, Fluffy Fields Vineyard was one of our favorite places to eat in Dickinson. It also offers outdoor patio seating with beautiful views of the vineyards, nearby mesas, and the corn fields across the street. 
Los Cabos Family Mexican Restaurant
Having lived in Texas and visited Mexico plenty of times, we are picky when it comes to Mexican food. We like authentic Mexican food like you'll find in Mexico City. And Los Cabos did not disappoint!
The food is delicious and the portions are very generous. So come hungry! 
JD's BBQ
Another one of the most popular restaurants in Dickinson, JD's BBQ prides themselves on, you guessed it, all things barbecue. Definitely a North Dakota staple, if you're a meat eater, barbecue is a must.
This is another restaurant where you will want to bring your appetite, because the plates are huge.  
Where to stay in Dickinson, ND
You'll find many of the reputable hotel chains in Dickinson from Holiday Inn to La Quinta. We stayed at La Quinta Inn and Suites. The hotel is just off the highway and down the street from the museum center.
Check rates at La Quinta Inn and Suites
How much time should you spend in Dickinson?
How much time you spend in Dickinson depends on what you want to see and do in town and nearby. Give yourself at least 2-3 days in Dickinson to see the sights, do some hiking, and explore Theodore Roosevelt National Park.
Dickinson is a great place to base yourself if you plan to visit the national park or explore the surrounding grasslands and prairies.
Why you should visit Dickinson ND with kids
Spending time outdoors is a great way for families to unplug and escape the hustle of daily life. And southwestern North Dakota offers beautiful, wide-open spaces and plenty of outdoor activities to keep families entertained.
With so many fun things to do in Dickinson, North Dakota, the town is ideal for families who want to explore nature while still having the conveniences of great restaurants and hotels. With its small town charm and family-friendly atmosphere, Dickinson, ND is definitely worth visiting!
Have a question or comment about any of the fun things to do in Dickinson, North Dakota? We'd love to hear from you! Leave your thoughts in the comments below.
Like it? Pin this list of things to do in Dickson, North Dakota to save it for later!
This post on the best things to do in Dickinson North Dakota was first written in September 2021 and was most recently updated in May 2023 for accuracy and current information.