North Dakota may not be the first state that comes to mind when planning a family vacation, but this underrated destination in the Midwest offers a wealth of activities and attractions for visitors.
From stunning national parks to quirky roadside attractions, North Dakota is teeming with unique experiences and outdoor adventures. So if you're planning a trip and want to include the best places to visit in North Dakota, we're laying out the greatest destinations for a family getaway.
This travel guide explores some of the best places to visit in North Dakota for families, so you can plan your next unforgettable adventure in the Peace Garden State.
About North Dakota
Located in the Midwestern region of the United States, North Dakota is known for its vast, wide open spaces. It is one of the least populated states in the country. But despite its small population, North Dakota is big on adventure, history, and multiple cultures.
A trip to North Dakota offers visitors a unique glimpse into life on the Great Plains. You can explore historic forts and pioneer towns, take scenic drives through the rolling hills and grasslands, or visit the state's magnificent national park.
While not as well known, North Dakota also has a vibrant arts scene, with numerous galleries, theaters, and museums showcasing the work of indigenous and local artists.
North Dakota at a glance
State Capital: Bismarck
Population: 774,948
State Nicknames: The Peace Garden State, Roughrider State, Flickertail State
Best known for: Badlands and Grasslands
Major crops: Beans, Corn, Wheat, Sunflowers
Map of the Best Places to Visit in North Dakota
North Dakota covers more than 70,000 square miles, and much of that land is covered in badlands, grasslands, and farmlands growing crops like sunflowers. Here are some of the top places to visit in North Dakota and a map to help you plan our trip.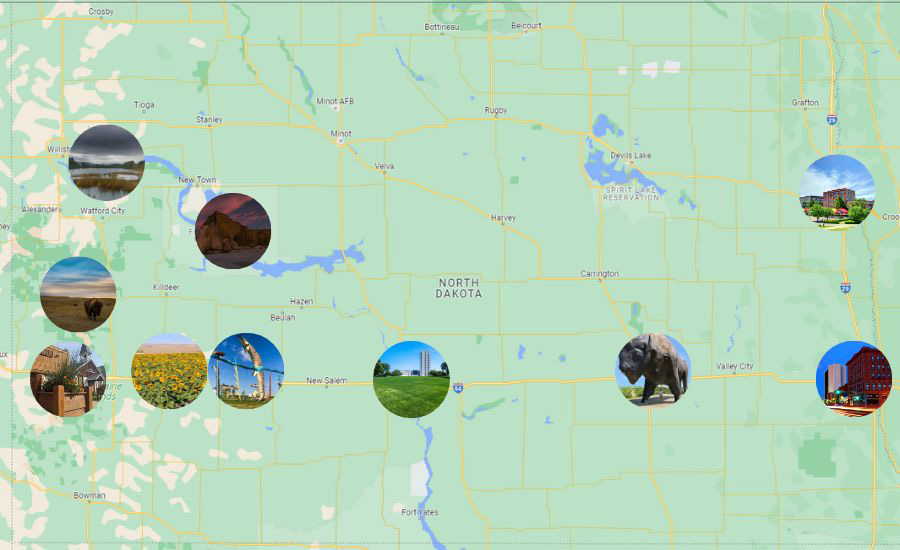 From the top left to the bottom right:
Lewis & Clark State Park
Theodore Roosevelt National Park
Medora
Lake Sakakawea
Dickinson
Enchanted Highway
Bismarck
Jamestown
Grand Forks
Fargo
Top 10 Best Places to Visit in North Dakota
So, now that we have identified the best places to visit in North Dakota, let's look at what to do in each of these fun and unique destinations.
Theodore Roosevelt National Park
Theodore Roosevelt National Park is perhaps the number one attraction in North Dakota, especially for families seeking outdoor adventures and opportunities to connect with nature.
Named after the 26th president of the United States, who first came to the area in the late 19th century to hunt bison and fell in love with its rugged beauty, the park boasts over 70,000 acres of prairies, badlands, and winding rivers.
Visitors can explore Theodore Roosevelt's numerous hiking trails, which offer stunning views of the surrounding landscape, or take a scenic drive along the 36-mile loop road that winds through the park.
Along the way, you'll likely encounter bison, elk, prairie dogs, and even wild horses that call the park home.
With its stunning vistas, and abundant wildlife, Theodore Roosevelt National Park is truly one of the best places to visit in North Dakota and one of the best national parks in the Midwest.
Fargo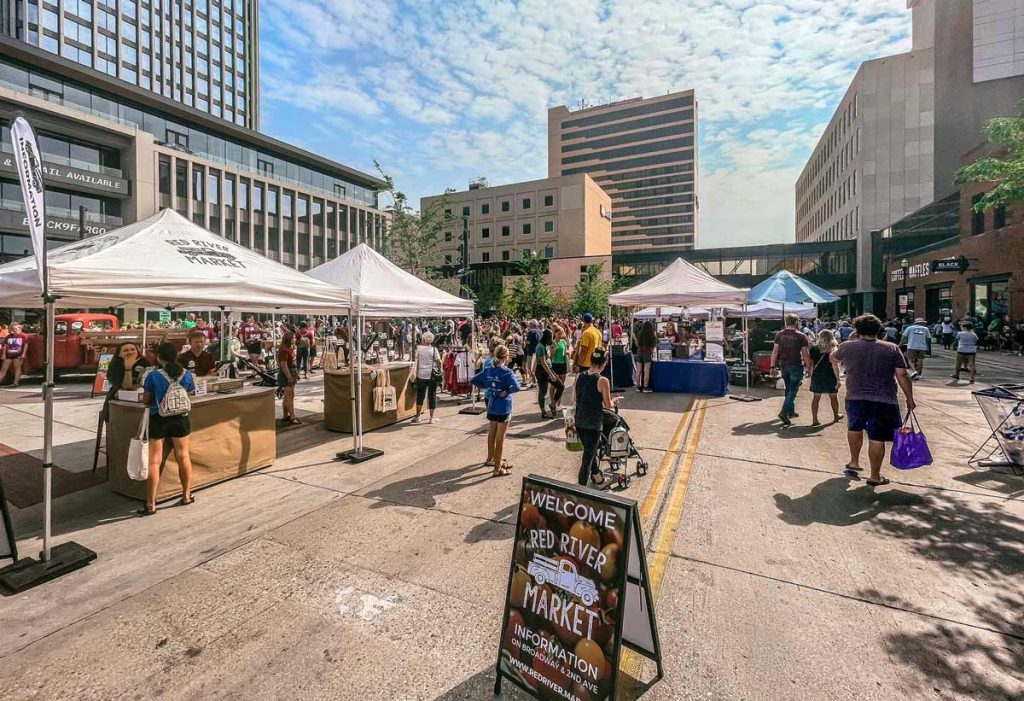 The largest city in North Dakota, Fargo is way more than what many people think of it from a movie of the same name. The city has quite a lot to offer folks visiting, with great culture, museums, farmers markets, and fascinating history.
There's a lot to do in Fargo for a weekend or even several more days.
Among the best things to check out: The Plains Arts Museum, the top art museum in Fargo, hosts an impressive collection of traditional, tribal, and contemporary art from around the west.
There's more than 4,000 works within the collection as well as the Katherine Kilbourne Burgum Center for Creativity which hosts a variety of programs and studio space for learning and the community.
The Red River Market held Saturdays during the summer features a great selection of local crafts and food from purveyors within Fargo and the region.
One of the most impressive museums in the Fargo area is the Hjemkomst Center which houses a working Viking Ship, built by a local man and sailed by his family and friends from Minnesota to Oslo, Norway.
There's also a reproduction of a Stave Church on the grounds of the center. Beyond these impressive things, there's artwork around the city, fun shops to explore, the famous Fargo Theater, museums, nearby nature, and fantastic restaurants that will more than fill your time in the city.
Fargo is great all year round, but certainly at its best in the summer when the weather makes exploration easy and more outdoor activities abound.
Recommended by Anwar from Beyond my Door
Enchanted Highway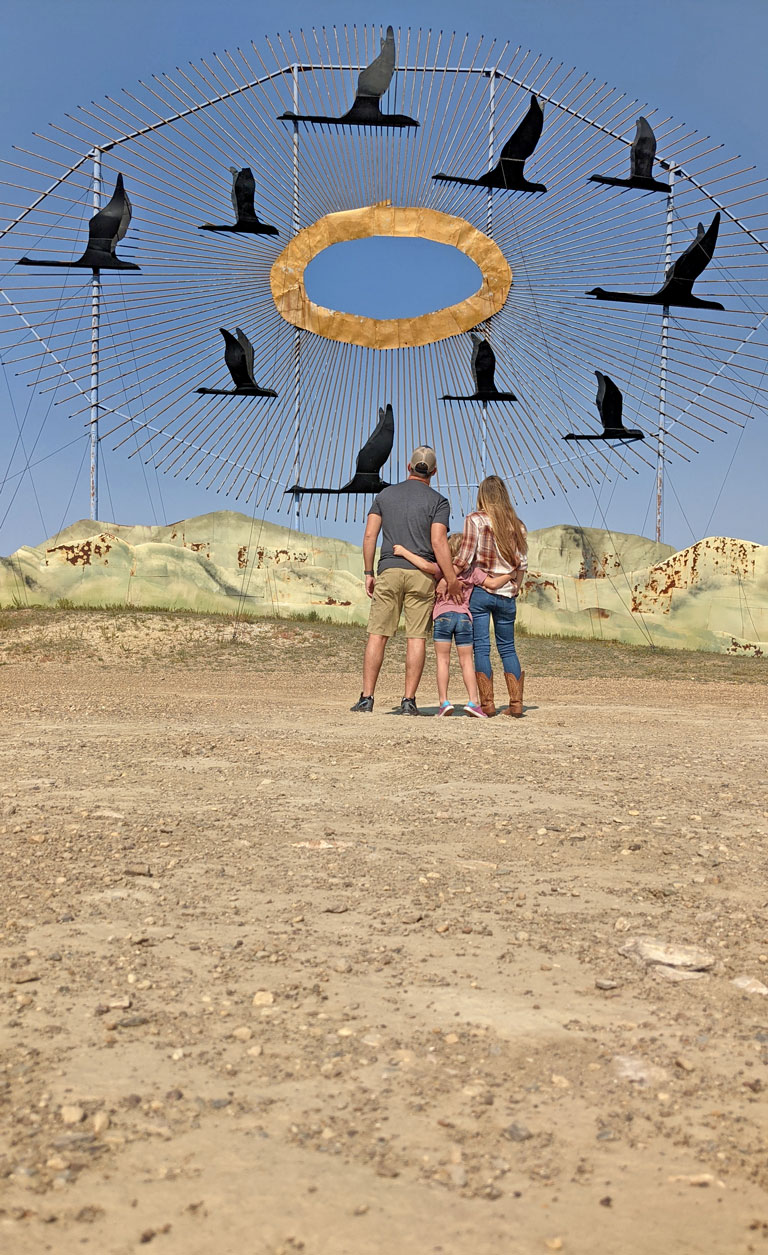 The Enchanted Highway is undoubtedly one of the quirkiest places to visit in North Dakota. It is a 32-mile stretch of road that features the world's largest scrap metal sculptures, created by artist Gary Greff.
Located just east of the town of Dickinson, the highway begins at Interstate 92 and runs south to the tiny town of Regent, North Dakota.
The sculptures include the largest Tin Family in the world, a colorful school of fish, a grasshopper in a corn field, geese flying into the sun, and many others that are sure to leave visitors in awe.
These larger-than-life creations are set against the backdrop of North Dakota's expansive prairies and provide a unique and unforgettable road trip detour.
Whether you're someone who loves to explore offbeat destinations or simply passing through and have an extra hour or so to spare, the Enchanted Highway is one of the state's coolest places to visit.
Grand Forks
Grand Forks is an unusual, yet amazing place to visit in North Dakota. Grand Forks is a small city on the border with Minnesota, its sister city East Grand Forks is just across the Red River.
Grand Forks is a charming town and an amazing place to visit in winter. There is no denying that it can get extremely cold in Grand Forks in winter. However, there are some amazing things to do there during that time of the year.
Not only is it possible to see the Northern Lights (Aurora Borealis) over Grand Forks, but on many days the ice crystals in the air form so-called sun-halos. It is a beautiful phenomenon and truly a one of a kind experience.
Many seasonal activities, like a Santa's Village and Ice Hockey Games make Grand Forks a fun destination to travel to. Check out the Japanese Gardens when covered under a layer of snow or eat some typical North Dakota fried pickles at the Toasted Frog.
Of course a trip across the river to East Grand Forks is also a whole lot of fun.
The best place to stay in Grand Forks is the Marriott Springhill Suites. The rooms are spacious and cozy, which is so nice during cold winter days. They have an amazing spa with a relaxing hot tub, that makes for a great bad weather activity.
Recommended by Sabrina of USAdventure
Lake Sakakawea
Easily one of the best places to visit in North Dakota, Lake Sakakawea is a stunning natural reservoir that was created in 1953 when the Garrison Dam was first constructed.
Over time, the surrounding area became Lake Sakakawea state park, which is one of the best state parks in North Dakota.
So, if you can try to visit in the summer when you can swim in the waters here and camp along the shores of the lake. You can also rent a boat since there is a great marina here too.
But, what this place is really known for is its incredible fishing opportunities since the lake is filled with everything from walleye to northern pike to chinook salmon.
Therefore, avid fishers can make use of the on-site fish cleaning station and boat ramps to enjoy some of the best salmon fishing in the country.
And when you're not out on the lake, spend the day either biking or hiking along amazing trails like the North Country Trail, the Shoreline Trail, the Overlook Trail, and the Whitetail Loop.
Finally, spend the evening relaxing in one of the park's cute log cabins for just $60.00 per night.
Recommended by Linda of Midwest Explored
Medora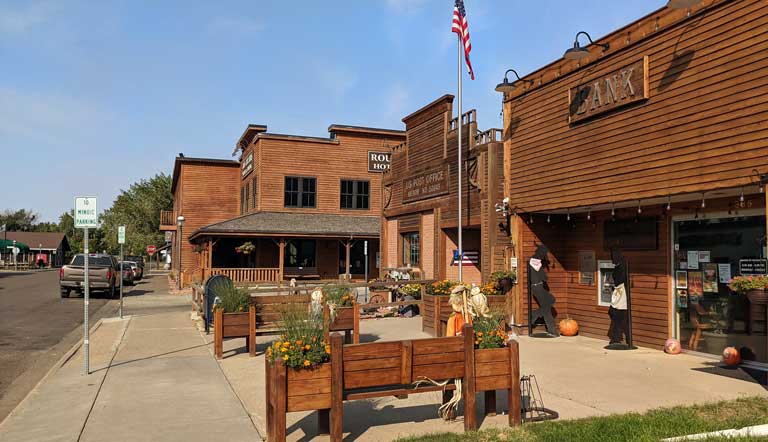 Certainly one of the most charming places to visit in North Dakota, Medora is the gateway town to Theodore Roosevelt National Park.
A popular tourist destination for its wild west feel and nightly Medora Musical performances during the summer months, Medora is not to be missed when traveling to North Dakota.
The town is home to a variety of unique shops, restaurants, fudge and old fashioned candy stores, and museums that offer a taste of the Wild West.
Additionally, on the edge of town the Chateau de Mores State Historic Site gives visitors a glimpse into the lives of wealthy French settlers to North Dakota in the late 1800s.
If you visit Medora with kids, you'll also find miniature golf, a point-to-point zipline, an awesome playground designed to look like a Wild West town, and even an optical illusions museum.
Aside from sitting at the entrance to Theodore Roosevelt National Park, it is also the starting point of the Maah Daah Hey Trail, a 144-mile hiking and biking trail that runs through the Little Missouri National Grasslands.
Jamestown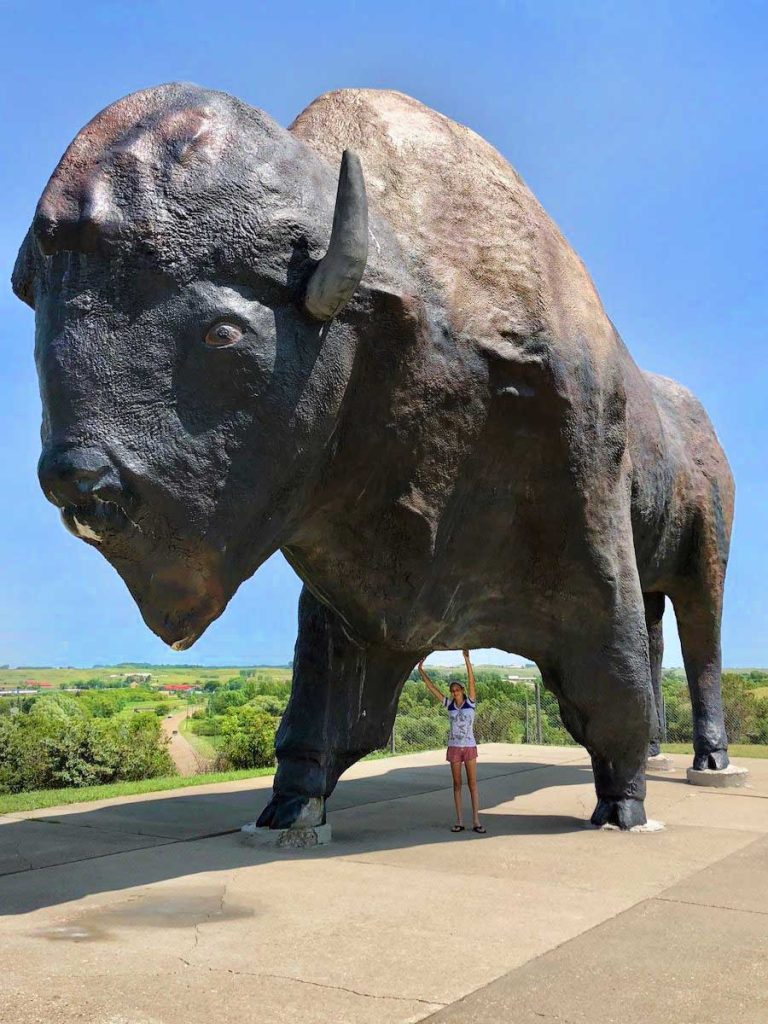 As you travel along Interstate 94 on a North Dakota road trip, plan to make a stop in Jamestown. As you pull off the highway, you will soon see the towering sculpture of Dakota Thunder, the world's largest buffalo.
While North Dakota is known for its roadside attractions, there is more to Jamestown than just an iconic photo stop. The town is also home to the National Bison Museum and an old-fashioned Frontier Village.
The National Bison Museum teaches about the natural history, cultural significance, and physiology of the North American Bison.
If you are heading to Theodore Roosevelt National Park on your trip, this is a perfect spot to learn more about the bison you will see in the park.
But even if you don't plan to visit the National Park, you have a chance to spot bison right here in Jamestown. The Museum maintains two bison herds, which are usually visible right off the highway.
Clustered right in the same area is the Frontier Village, which was created using original buildings from frontier villages across North Dakota, including a Northern Pacific Railroad Depot from 1880, along with a frontier school, church, and bank.
If you visit from Thursday through Monday, there is also an opportunity to take a stagecoach ride through the village.
Visiting Jamestown doesn't take long and it is right off the highway and easy to get to, but budget on at least one hour. If you are short on time, you can just stop for a photo and a peek at the bison herd.
Recommended by Tamara from We 3 Travel
Lewis and Clark State Park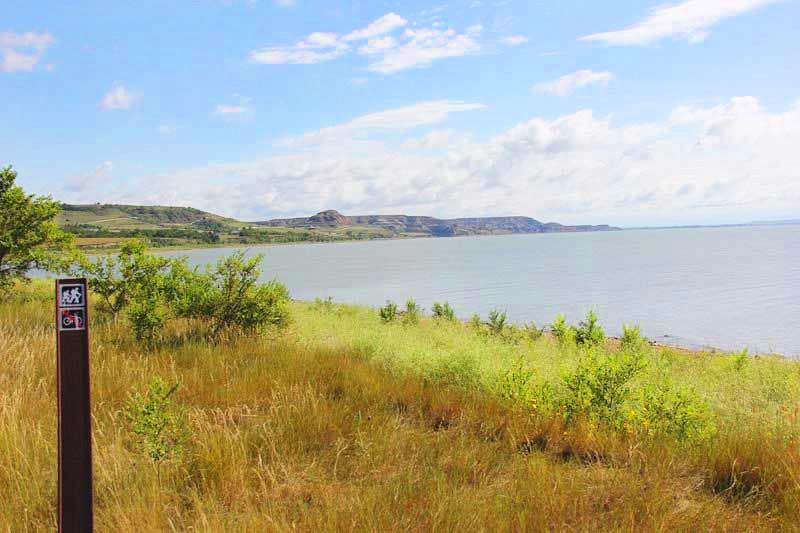 Lewis & Clark State Park is a beautiful outdoor space in Epping, North Dakota. It is situated on one of the upper bays of Lake Sakakawea.
The park offers great views of the rugged buttes of the North Dakota Badlands and is considered one of the best recreation areas in the state. It is named after the famous explorers Meriwether Lewis and William Clark, who camped nearby during their historic journey in 1805.
The park is an excellent destination for fishing and boating, with Lake Sakakawea being home to several fish species, including walleye, sauger, and northern pike. Families looking to cool off on a hot day can enjoy the park's swimming beach, which has a nice sandy area for the kids to play.
One of several hiking options is the Lewis and Clark State Park South Trail; an easy 1.6-mile loop trail along the lake and through open fields and into the unique badlands terrain. The trail is well-maintained and consists mainly of a grass path.
If you're planning to stay overnight, the park's campground is the best option. The grounds are well-maintained and offer a range of amenities, such as playgrounds, restrooms, walking trails, boat launch, pavilions, beachfront, small general store, and a marina.
The Plover Loop section of the campground is especially nice, as it has over 800 trees providing ample shade.
The park also has two seasonal cabins, the Clark and Lewis cabins, which are located in the Bluebird Loop campground along the edge of Lake Sakakawea. The cabins are situated next to each other, providing a great option for families or groups of friends traveling together.
Recommended by Alexa from 52 Perfect Days
Dickinson
Dickinson, North Dakota is an overlooked gem in the Midwest. The city is home to several fascinating museums, including the Badlands Dinosaur Museum and the open air Prairie Outpost Park.
Additionally, the city boasts a quaint downtown area with charming shops and restaurants, as well as lovely gardens and free walking trails at the North Dakota State University Dickinson Extension Research Center.
Families in particular might enjoy buying a day pass to the West River Community Center which boasts an indoor pool with two large water slides, a lazy river, and a rock climbing wall.
Finally, on a nice day, Dickinson is a great place to get out and explore nature. Take a stroll around Patterson Lake. The Crooked Crane Trail is a popular trail for walking, jogging, and cycling.
Or, head into the nearby National Grasslands or admire the colorful sunflower fields just outside the city limits.
Bismarck
The capital city of North Dakota is a vibrant and fun destination for visitors and one of the best places in North Dakota to visit. Nestled on the banks of the Missouri River, Bismarck is surrounded by stunning natural beauty.
But the most fascinating places to visit in Bismarck are the city's museums. Take some time to learn about the history of the region at the North Dakota Heritage Center and State Museum. Bismarck is also home to numerous art galleries, theaters, and music venues – all part of the city's thriving arts scene.
If driving from Fargo to the western part of the state, break up the road trip and plan to spend at least one day in Bismarck.
Families can take a stroll through the beautiful Dakota Zoo, which features over 600 animals from around the world, or explore Fort Abraham Lincoln State Park. In the state park, you can take a guided tour of the reconstructed Custer Hose, or visit the On-A-Slant Mandan Indian Village.
Best Places to Visit in North Dakota FAQs
When planning a trip to North Dakota here are some of the most common frequently asked questions you may have.
Is North Dakota worth visiting?
Absolutely! North Dakota is definitely worth visiting. From exploring the rugged badlands and winding rivers of Theodore Roosevelt National Park to learning about the state's pioneer past at the many museums and historic sites, visitors will love the unique culture and topography of North Dakota.
What is the prettiest part of North Dakota?
North Dakota has many beautiful and unique regions, each with its own charm and appeal.
Western North Dakota's Badlands, which includes Theodore Roosevelt National Park, are widely considered the most scenic. The rugged landscape features colorful canyons, rocky formations, and sweeping prairie vistas, creating a truly stunning and unforgettable setting.
However, don't discount the state's stunning grasslands, and even their massive fields of sunflowers and rolling hills of wheat and corn crops make for a picture-perfect vacation.
What is the best time of year to visit North Dakota?
Summer is the peak tourist season in North Dakota, with warm temperatures and plenty of outdoor activities available. It's also the time for many festivals and events, such as the North Dakota State Fair and the Medora Musical in the charming town of Medora.
Fall is also a great time to visit North Dakota if you're looking for beautiful fall foliage and cooler temperatures. Cultural events and festivals, such as the Norsk Hostfest, celebrating the state's Scandinavian heritage take place in fall.
Winter can be very cold and snowy in North Dakota and is the time of year with the least visitors.
And finally, spring offers gradually warming temperatures and emerging wildflowers.
Final thoughts on these North Dakota Places to Visit
While these are just 10 of the best places to visit in North Dakota, there are so many other great things to do in North Dakota. If you have more time, check out the Scandinavian Heritage Park in Minot or the International Peace Garden at the Canadian border.
Other tourist attractions include the Fort Union Trading Post National Historic Site in Williston and the Knife River Indian Villages National Historic Site in Stanton, North Dakota.
The state is fascinating, and with so much to do, see, and places to explore in North Dakota, the Rough Rider State is well worth taking time to visit.
Do you have a question or comment about any of the best places to visit in North Dakota? We'd love to hear from you! Leave your thoughts in the comments below.
Like it? Pin this list of the best places to visit in North Dakota to save it for later!