A Belize family vacation offers something for everyone.
For the adventure-seeker there is cave tubing, spelunking, zip-lining, and some of the best scuba diving spots in the world along the Belize Barrier Reef.
For the culture and history buff, Belize is a melting pot of different cultures and has numerous Mayan ruins to explore.
A foodie? You will fall in love with Belizean food. It is amazing!
For the beach bum, the islands – or cayes as they are called in Belize – offer you long stretches of beautiful sand, fruity drinks, crystal clear water, and as much seclusion and serenity as you seek. But the real fun comes from visiting Belize with kids!
Belize has a reputation as an adventure destination and is one of the best places to visit in Central America for families. So, you may be wondering if it is even worth visiting an adventurous country like Belize with toddlers, babies, or even older children? We did!
Surprisingly, we found the country to be extremely kid-friendly with a lot of family-friendly activities we could enjoy. That's why a Belize family vacation is a wonderful experience for the whole family.
This Belize travel guide details how to spend the perfect one week in Belize and what you need to know if visiting Belize with kids.
Our Belize family vacation experience
For anyone planning a trip to Belize with toddlers or young children, there are some popular activities and tours you will not be able to do. But don't let that discourage you, because there are plenty of things to do on a Belize family vacation, even if visiting with young kids.
Regardless of whether you are taking a Belize family vacation, traveling solo, or traveling as a couple, we would encourage you to check out different parts of the country, as they are all vastly different.
We spent one week in Belize and split our time between Ambergris Caye and the town of San Ignacio in the Cayo District, located in far west Belize.
While we would have loved to explore the cities of Placencia and Hopkins in the Stann Creek District, we simply did not have enough time.
The only area of the country I would not recommend spending much time is Belize City. Even the locals tell us it isn't a safe city for tourists.
Beyond that, Belize's true beauty is mainly found on its islands, along the coast, and in the country's fascinating jungles.
If visiting western Belize, a drive into Guatemala is quite easy and definitely worth a day trip from San Ignacio to the Tikal Mayan ruins.
FIND THE TOP-RATED GUIDED TOURS AND EXCURSIONS IN BELIZE HERE.
How to get to Belize
Most likely if you are visiting Belize, you will fly into the Philip S. W. Goldson International Airport located just outside of Belize City.
The airport is about a 30-minute drive from the country's capital city. Eight major airlines and five regional ones fly into the airport, including most of the US carriers such as United, Delta, American and Southwest.
The airport is relatively small, and getting through customs was painless.
Getting around Belize
Depending on where you are going in Belize, you have a few options for transportation from the airport.
You can rent a car and drive, get a taxi or arrange a shuttle with your hotel, or if you are heading to one of the islands you can take a 15 minute flight from the airport to San Pedro on Ambergris Caye.
You can also get a taxi into town and take the ferry for $20 US per person.
Many people visit Belize on a cruise, so you can also arrive in the country by boat.
Additionally, you can cross the border between Guatemala and Belize or between Belize and Mexico if traveling by land.
One week in Belize with kids
We visited Belize with our daughter when she was just a toddler, so everything we did in Belize is suitable for even young children.
If visiting Belize with older kids, you'll have even more options of things to do in Belize, like exploring the popular Actun Tunichil Muknal cave.
Although anecdotal, we found locals in Belize are very friendly and welcoming. In fact, our little, blonde toddler was a superstar everywhere she went, especially in western Belize and in Guatemala, which is an easy drive across the border.
While the country of Belize may be known for its adventure sports, there are plenty of things to do with kids in Belize, even activities that you can do with babies and toddlers.
Things to know before visiting Belize with kids
Here are a few important things to know which will make your Belize family vacation more enjoyable and easier for everyone.
Safety in Belize
Safety is a primary concern for any family traveling abroad. I always recommend checking with your country's state department for appropriate safety information as travel advisories can and do change.
The United State's state department information on Belize can be found here.
Unfortunately, Belize does have its fair share of violent crime, although it is mostly gang related and concentrated in the capital city, Belize City.
Tourists are rarely targeted in Belize, but as with anywhere else, be aware of your surroundings and practice common sense.
Language in Belize
As part of the British Commonwealth, the native language in Belize is English. In fact, it is the only country in Central America where English is the official language.
While English is widely spoken in Belize, many locals also speak Spanish, Creole (which is kind of like English with a Jamaican accent) and Maya, the native language of the Mayan Indians.
Currency in Belize
Stores, restaurants, and hotels take US Dollars or Belizean Dollars. The exchange rate is 1:2. One US Dollar equals two Belizean dollars. Make sure to always double check the exchange rate before you travel to a new country, as this information can change.
Stores and restaurants in Belize
You will not find American chains, even on the more touristy islands.
The lack of western chain stores and restaurants is refreshing, but if you have a serious Starbucks addiction or you are visiting Belize with kids that won't eat anything but McDonald's, consider yourself forewarned.
Essentials for children in Belize
You can easily find everything you need for babies and toddlers, like diapers and milk, in the grocery stores. However, if your baby requires formula I'd recommend bringing your own, as brands vary.
Snacks, children's over-the-counter medicines, and other items for older children can also be purchased at grocery stores.
How to spend one week in Belize
Belize is an incredible and inexpensive destination, making a Belize family vacation or holiday a perfect getaway.
Whether you are seeking a beach vacation or a jungle escape completely off the grid, you and your kids will love visiting Belize.
Here is a look at our one week Belize itinerary for visiting Belize with kids.
Day 1 in Belize
Arrive at the airport.
Pick up a rental car. (You will want to rent from Crystal Auto rental if you plan to cross the Belize border into Guatemala.)
Visit the Belize Zoo
Continue your drive to the San Ignacio area. Read our post on driving in Belize here.
Check into a relaxing jungle lodge and unwind after your day of traveling.
Dinner at the lodge.
Day 2 in Belize
Wander through the streets of San Ignacio
Tour the Green Iguana Conservation Project
Visit the San Ignacio market (if on a weekend)
Explore the Belize Mayan ruins of Cahal Pech and Xunantunich
ALSO READ: Things to do in San Ignacio, Belize
Day 3 in Belize
Day 4 in Belize
Day 5 in Belize
Day 6 in Belize
Day at the beach, snorkel, play in the sand, kayak, paddleboard, or just simply relax
Alternative if visiting with older children: take a guided snorkeling trip to Hol Chan Marine Reserve or the Great Blue Hole
Day 7 in Belize
Shop, eat, and drink in San Pedro
Visit Secret Beach
ALSO READ: Things to do in San Pedro, Belize
Top things to do in Belize with kids
There are so many memorable family activities in Belize that you and your kids will love. Here are our top recommendations for things to do in Belize with kids – or without.
Jungle Resorts
Deep in the jungles surrounding San Ignacio in Western Belize, you'll find various fun, luxury eco-lodges that are great for a Belize family vacation or even a romantic trip as a couple.
Chaa Creek Resort is perhaps one of the most popular for families.
It includes a Butterfly Exhibit, Natural History Center, horseback riding, an organic farm, nature reserve and an infinity pool. The resort offers lots of guided tours and vacation packages for families.
Table Rock Jungle Lodge is another 5-star luxury eco-lodge in the Belizean jungle located right on the river.
Also with an organic farm, jungle trails, and river activities available on the property, you could spend a full day at the lodge and have a blast without having to ever leave.
READ OUR FULL REVIEW OF TABLE ROCK JUNGLE LODGE HERE.
Cave Tours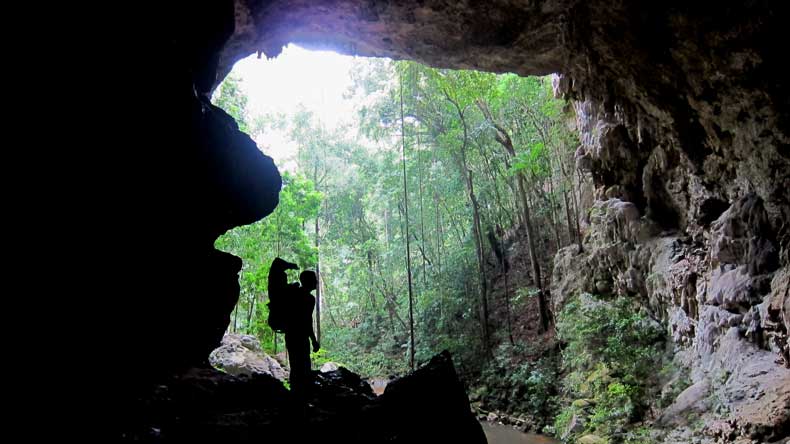 Belize is one of the best countries on earth to experience the underworld.
There are so many incredible cave systems throughout Belize that you can explore on your own or on a guided tour.
Caves had an important place in Mayan culture, so naturally many of the caves in Belize were significant to the original settlers of the area. Many are believed to have been sites for burials or important leaders and even human sacrifices.
The ATM cave is the most popular cave tour in Belize, but it is definitely geared more toward older children and adults.
Portions of the guided tour involve swimming or wading through water. Children must be at least 5 years old to visit Actun Tunichil Muknal and a guided tour must be booked in advance.
Even if you are visiting Belize with kids who are too young for ATM Cave, there are still numerous kid-friendly caves in Belize that are more suitable for those traveling with younger children.
Islands and Beaches
Belize makes for a great beach vacation for families.
On Ambergris Caye and Caye Caulker, the two most popular islands in the Belize cayes, you can find all sorts of lodging options ranging from budget hostels and mid-range family friendly hotels to luxury resorts.
Although the beaches are seaweed prone, many of the resorts clean up the seaweed each day to provide pristine stretches of sand for their guests.
Belize is also known for having some of the best snorkeling and scuba diving spots in the world.
To experience the best snorkeling and diving in Belize, we recommend booking an excursion, as the best snorkeling spots are easier reached by boat.
The two best diving or snorkeling spots in Belize are the Hol Chan Marine Reserve and the famous Great Blue Hole.
Waterfalls
Belize has its fair share of beautiful waterfalls, but a word of warning, getting to them is often a challenge.
The Mountain Pine Ridge Forest Reserve is home to several waterfalls that let you swim right up to the cascades. It is also home to one of the tallest waterfalls in Central America, Thousand Foot Falls.
Roads in the reserve are not paved and can be very bumpy, so be sure to read our guide on driving in Belize before attempting a self-drive through the reserve.
If you are up for an adventure, Rio On Pools and Big Rock Falls can be great waterfalls and natural swimming holes in Belize to visit with kids.
Mayan Ruins
Of course, you would be remiss to take a Belize family vacation and not visit at least one of the incredible Mayan ruins sites in the country.
From impressive pyramids to entire ancient communities that have been uncovered, the Mayan ruins in Belize are not only popular tourist attractions, they are important historic and cultural sites.
A guided tour is the best way to truly appreciate Mayan history and the cultural heritage sites like Caracol, Xunantunich, or Lamanai.
It is also an easy day trip across the border from Belize to Guatemala to see Tikal National Park, believed by scholars to have been the largest and most influential Mayan city of its time.
Also read: What to know when visiting Guatemala with kids
Why Belize is awesome for kids of all ages
Belize is inexpensive, easy to get to from the United States or Canada, and extremely welcoming for families.
While older children will enjoy the adventurous activities like cave tubing and ziplining, there are plenty of activities for families traveling with kids, both on the mainland and on the islands.
Whether you are looking to explore or relax, Belize has plenty of spectacular places where you can make memories your children will cherish for a lifetime.
Have a question about planning a Belize family vacation? We'd love to hear from you. Leave your thoughts or questions about visiting Belize with kids in the comments below!
Like this guide to Belize with kids? Pin it to start planning your Belize family vacation!
Did you know…
When you make a purchase or book hotels, tours, or other travel services, through our links, we receive a small commission, at no extra cost to you. We only EVER recommend service providers, websites, or products we personally use when booking our own travels. Your support enables us to keep producing helpful travel content. Thank you!
This Belize family vacation guide was first published in 2016 but was updated in August 2023 for accuracy, current travel information and additional activities you can do in Belize with kids.