As long as there has been beer on this planet, people have congregated outdoors to drink together and be merry. Indeed, nothing goes better with warm weather than a cold beer. It's no secret to anyone who reads this blog regularly that we are the type of parents who enjoy a cold one from time to time. We are big fans of craft breweries, wineries, and of course, a great beer garden!
I'm fairly certain the Germans didn't actually invent drinking, but they definitely perfected it when they created the biergarten, or beer garden as it's written in English. As much as we love visiting Germany, luckily we don't have to travel across the pond every time we want to enjoy a cold brew in a beer garden. In fact, there are a lot of great beer gardens in America. And new ones seem to be popping up every day.
So as Oktoberfest rolls around, and people everywhere are looking for ways to celebrate the awesome German tradition, we asked beer-loving travel bloggers to tell us about their favorite beer gardens in the USA.
From traditional German biergartens with communal tables and boots of beer to establishments with more of a modern interpretation of the beer garden concept, we have created a list of some of the best beer gardens in America.
What makes a beer garden great?
Beer gardens originated in Munich. So naturally, when you think of a beer garden, you probably think of the traditional concept found throughout Bavaria. Shared picnic tables in a shaded area, with waitresses in dirndls serving local beer, pretzels, and sausage. But American beer gardens don't always have the same characteristics.
However, there are a few key components every beer garden must have to great in our opinion: fresh air, a relaxed atmosphere, and most importantly, great beer! Ideally, a beer garden should be family friendly for parents like us who often have a kid in tow. It should also be laid out in a way that encourages conversation with others.
Best beer gardens in America as chosen by travel bloggers
While some of the awesome establishments listed below are as authentic as any beer hall or biergarten in Germany, American beer gardens are often different than what you'll find in Bavaria. Some include food trucks, and others are in highly populated urban areas with little room for outdoor seating, but one thing all of them have in common is an ideal atmosphere to relax and have a drink.
Here is a list of the 10 beer gardens in the United States you must visit selected by my fellow travel writers and bloggers.
Black Forest Brooklyn – Brooklyn, New York
Sarah and Justin – Travel Breathe Repeat
We have spent a lot of time in Germany and absolutely love German food and German beer (and those wonderfully long German words). So we were psyched when a German beer garden opened near our apartment in Brooklyn, NY. And we were even more excited when we learned they would be serving Alsatian cuisine including one of our favorite Black Forest foods: Flammkuchen.
Married couple Tobias and Ayana both hail from the Black Forest region of Germany, but only met in Brooklyn. As they proclaim on their website, they decided to open Black Forest Brooklyn as a tribute to their love. We're so glad they did. They offer Alsatian classics with a New York twist.
Their pumpkin Flammkuchen is Sarah's favorite, while the spicy kale that comes as a side to their Bratwurst plate is Justin's. Oh and of course the beer is great too, but that should really go without saying. Like any good German beer garden, it's a great, easy-going, fun place to treat yourself any time of day with your friends and family.
Everyone else in the neighborhood agrees – their first restaurant was so successful that they just opened a second location. If you find yourself in Brooklyn craving a good beer and a good time, check it out!
Trillium Garden on the Greenway – Boston, Massachusetts

Meghan – Through My Pint Glass
For the second year in a row, Trillium is hosting a rustic beer garden on the Rose Kennedy Greenway – by far one of my favorite places to enjoy a beer. Conveniently located in Downtown Boston, I have to admit that I spent many weekday happy hours here last summer, so I was thrilled that they opened again.
The garden has a cozy vibe, and is always being filled with young professionals, families, and dogs. With big picnic tables, local food trucks outside, and the choice of Trillium beers or local Westport Rivers Vineyard wines, there is truly something for everyone.
The twinkly lights and amazing beer make this one of my favorite places to spend a weekday summer night. Although Trillium is known for their hoppy IPAs and pale ales, some of my favorites are their wild ales and sours.
I hope you add Trillium Garden to your list of New England summer destinations. In fact, this family-friendly beer garden is just one of the reasons you'll love visiting Massachusetts with kids.
Petrifying Springs Biergarten – Kenosha, Wisconsin
Miranda – Miranda Knudtson
Though we have many beer gardens in my beer loving state of Wisconsin, my favorite one brands themselves using the German term, "biergarten", so that must mean it's authentic right?! Petrifying Springs Biergarten, located at Petrifying Springs Park in Kenosha, Wisconsin, is really one of the best places to be in the summer time. This biergarten offers outdoor and indoor(pavilion) seating and is dog friendly and family friendly!
They have 9 different German and local beers and ciders on tap, (and root beer for the kids/non-drinkers!) They also offer 5 different wines, as well as traditional and lemonade mimosas, a biermosa (using Weiss Bier) and a Radler (Weiss Bier and lemonade). My personal favorite is a biermosa, but a Spotted Cow is always a good choice (especially since you can only get it in the state!)
Of course, you really cannot come to biergarten without getting a (10 oz) Bavarian pretzel WITH obatzda dip. The dip is delicious, and you'll be thanking me later! Of course, there are other delicious options such as a traditional bratwurst, currywurst (my favorite German dish).
Throughout the summer, the biergarten always has tons of events going on. From hosting various polka bands, yoga and beer classes, and family friendly activities, you can't get bored going more than once!
Wolff's Biergarten – Upstate New York
Danielle – Wanderlust While Working
Wolff's Biergarten has several locations in upstate New York and boasts the title of second best soccer bar in America. Especially during events like the World Cup, you can find an assortment of people cheering on their favorite teams in their jerseys and drinking primarily German, Czech, and Belgian brews.
My personal favorite to order is the Paulaner or the Schofferhofer Grapefruit which is perfect for brunch on the weekends while watching those early morning games. As far as food goes, they serve typical German fare such as a variety of wursts along with typical bar munchies. My personal favorite are the fried pickles which we get almost every time we go!
Wolff's tagline is "Soccer. Bier. Peanuts.", so a word of caution to those who have peanut allergies, this is not the place for you. As an avid soccer fan, this is my favorite bar in the area and they have a lot of beers on tap you won't find in other locations.
The best times to come are during a match, in the summer as there is outdoor seating and they open the garage doors to the open air, or on your birthday, where you can get a free 2-liter boot in celebration!
Navy Pier Beer Garden, Chicago, Illinois
Ketki – Dotted Globe
One of my favorite things to do at the Navy Pier after seeing the Wednesday fireworks go off in summer is to hang out at the Beer Garden. Officially known as the Miller Lite Beer Garden, this venue has excellent views of the lake and Chicago skyline, great music and even better cold ones.
The Beer Garden frequently hosts music events and is one of Chicago's popular summer bars. It is also a great place to watch the annual Air and Water Show held on Lake Michigan.
I enjoy their Bavarian themed menu and always order the bratwurst and cheese fries. Their weekday Happy Hour has cheap drinks from 4 to 6 pm while the live music playing in the background ensures you have a relaxing time. It also has free WiFi and plenty of empty tables on weekdays so you can easily get some work done. Their prices are surprisingly reasonable for the premier location.
If you are visiting the Navy Pier in Chicago, I definitely recommend dropping in here for a cold beer.
Zeppelin Hall – Jersey City, New Jersey
Cydny – Goal Traveler
Who doesn't love a good biergarten? You don't even have to be a lover of beer to enjoy the atmosphere of a quality garten. There is something to be said about rows of benches and tables, community vibe, oversized mugs of brew, and the occasional schnitzel.
Here in New Jersey we have endless options to enjoy a beer, but one of our favorite spots is the biergarten at Zeppelin Hall in Jersey City. This spot in particular has nailed the vibe. It starts with over 100 options of imported and craft beers. I always order a flight to start.
The space is massive inside and out and is covered in 30 ft long tables. Very inviting! The menu does not disappoint with German staples like bratwurst, schnitzel, pretzels, but they do offer a variety of other bar meals to enjoy.
What draws me here is the outdoor patio. Jersey City is a buzzing city, so it's nice to sit underneath the rows of trees, completed with twinkly lights even though you are only minutes away from the concrete jungle, NYC. It's the perfect break from the city with wonderful energy all can enjoy.
Radegast Hall & Biergarten – Brooklyn, New York
Summer Salut – Do You Salut
Radegast Hall & Biergarten … a little piece of Germany tucked away in Brooklyn's most eccentric neighborhood… Williamsburg! It's hails the title of "Brooklyn's First Authentic Biergarten in the New Era". Radegast Hall has something for everyone.
If you are a beer lover they have a good amount of beer on tap (about 10 German selections). They also serve wine, cocktails, brandy and liqueur. If alcohol isn't your thing they also serve Clausthaler which is nonalcoholic beer. Every year they have a big celebration during Oktoberfest with a ceremonial keg tapping.
They have live music daily and there's NO COVER! If live bands are not your style and you're more into club bangers, have no fear; every Saturday from 11pm-2am they have a live DJ. If you can even rent the hall for events like exchanging I do's! Every time I go there its nothing but good vibes and energy, which is the Bavarian way!
Royal Bavaria – Moore, Oklahoma
Royal Bavaria is about as authentic as a German beer garden in the United States can possibly be. With communal tables underneath large shade trees, boot-shaped beer mugs, and plenty of family-friendly entertainment, this has got to be one of the best beer gardens in America!
But what makes this German beer garden even better is the high standard in which the owner runs the business. The German food rivals anything you would find in Munich, and the beer is brewed in house adhering to traditional Reinheitsgebot standard known in English as the German Beer Purity Law.
Royal Bavaria's beer garden is definitely a place where you can relax, mingle, and spend hours enjoying great food, drinks, music, and company!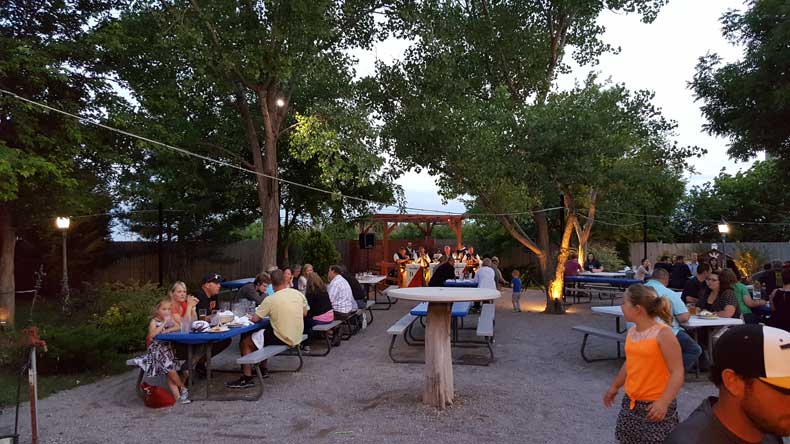 Independence Beer Garden, Philadelphia, Pennsylvania
There's nothing like having a cold craft beer while looking out over Independence National Historic Park, home of the famous Liberty Bell. And there is only one place to do that, Independence Beer Garden in Philadelphia, Pennsylvania.
The 20,000 square foot space is definitely more of an American beer garden than a true German biergarten in the United States. The menu consists of a variety of American favorites like burgers, wings, and barbecue and 40 domestic craft beers on tap.
The beer garden offers communal picnic tables under a shaded pergola surrounded by lush greenery and plants. Guests can pass the time playing games like corn hole or mingle with others inside the beautiful, picturesque space. And if visiting Pennsylvania with kids, Independence Beer Garden is family friendly!
Brewbonnet Biergarten – Wildseed Farms – Fredricksburg, Texas
While the BrewBonnet Biergarten may not be a traditional German beer garden in the United States, it's location definitely makes it worth visiting! BrewBonnet Biergarten is located inside Wildseed Farms just outside of Fredricksburg, Texas (home to some awesome kid-friendly wineries, as well.
Wildseed Farms is one of the most beautiful places in Texas. You will find field upon field of brilliant bluebonnets and other Texas wildflowers blooming every spring on the property.
The BrewBonnet Biergarten gives visitors to Wildseed Farms a place to sit down, relax, and enjoy a beer or even a glass of wine. They also have light snacks and ice cream for those wanting something other than just alcohol and a gift shop where you can buy unique Texas souvenirs.
Have you visited any of these beer gardens in the United States? What is your favorite beer garden in the US – or elsewhere in the world? Leave your comments below!
Like it? Pin this list of the best beer gardens in America to save for later!